Synopsis of (6×14): Enzo starts his convoluted plan to corrupt Sarah Salvatore while Jeremy says goodbye to Mystic Falls. Staroline finally happens (squee!) before we close out the last of the Sheriff's open cases, including the death of Elena's parents, before Liz dies.
Rating: ★★★★☆
TVD is pretty dark recently – last week Bonnie tried to kill herself, and this week Sheriff Forbes finally loses her battle against cancer. Sheriff Forbes was a great character. She was exactly the kickass mom we'd expect to raise Caroline, and that's why it's so sad to see her finally go.
Before she dies, the episode is spent finishing up the last of her unfinished business: her open cases. With Damon's help, the duo investigate the stack of files on her desk. Damon admits to the majority of the open homicide cases, leaving just one case unsolved: the death of Elena's parents.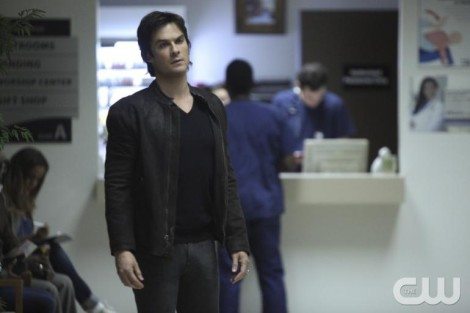 As a refresher, Elena's mom and dad died when their car careened off the bridge and into the river. Elena was the only survivor. Their deaths sound like a tragic accident; however, apparently Elena's parents had taken a longer route home on the night of their accident with a car full of luggage. There were no skid marks from when their car went off the bridge, and earlier that day, Momma Gilbert left a message on Sheriff Forbes' line that she urgently needed to talk to her about something.
Damon and the Sheriff do some investigating and find out that their deaths were accidental. There was a storm earlier that night, so the luggage was from a canceled trip, the longer route was due to an accident on the alternate route, and there were no skid marks were because the road was wet. As for the phone call, Momma Gilbert caught Delinquent Jeremy smoking a joint earlier that day and called the Sheriff to get her to teach him a lesson.
With her last case solved, the Sheriff breaks down – the parallels between their accidental death and her lack of control in the manner of her death become too much. Damon comforts her, but when he turns to get her a drink, she slips into a coma and eventually dies, but not before Caroline dream-visits her consciousness one last time at her hospital bedside to say goodbye.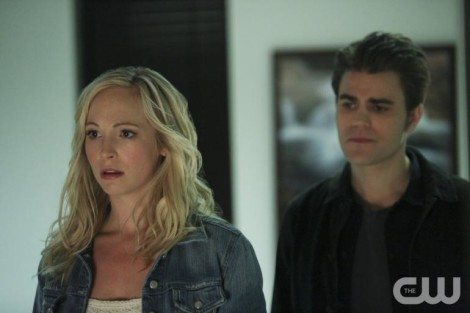 Caroline watches a memory with her mother teaching her how to ride a bicycle without training wheels. The Sheriff pretends to hold Caroline upright as her daughter keeps telling her not to let go or else she'll fall, and the scene finally ends with Caroline riding by herself down the street with her mother looking proud in the background.
All in all, it was a good tribute to the character – but for the first time in the history of the show, the music distracted from the poignancy of the scene instead of adding to it, which is partially why I knocked the episode down a star.
We also finally get Jeremy the hell outta Mystic Falls this week. Elena and Damon have compelled him out of high school and into art school… or so they think. In actuality, Jeremy and Ric have conspired to let Jeremy roam the countryside hunting vampires. Which, you know, I guess is a valid life decision. #NoJudgment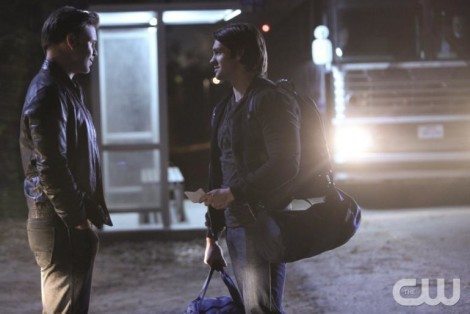 In storylines I don't care about, Enzo's inscrutable revenge plot this week involves hitting Matt with a car and healing him with vampire blood in front of Sarah Salvatore. How this possibly brings her to the dark side of humanity I will never know, but at this point, I don't really care about Enzo and I can't remember how he coerced Matt into helping him with his Rube-Goldberg scheme.
In storylines which I do care about, Stefan and Caroline finally get together this week (SQUEE!) Stefan comforts Caroline about her mother, she confronts him about his not needing to take care of her solely for her mother's sake, and the two kiss. It's pretty adorable. The scene is gorgeous, but the music is distracting again. #GetItTogetherMusicDirectors