Today has been a rather big day for new comic announcements from the Big Two. With both DC and Marvel having big universe colliding events this year, there are some changes coming down pike.
Probably the biggest announcement of today was Marvel's with the introduction of A-Force, an all-woman team that is going to replace the Avengers during the upcoming Secret Wars event lead up by She-Hulk, Medusa, Dazzler, and Nico, as well as introduce a new character named Singularity. The series will be written by G. Willow Wilson (Ms. Marvel) and Marguerite K. Bennet (Angela: Asgard's Assassin) with art by Jorge Molina.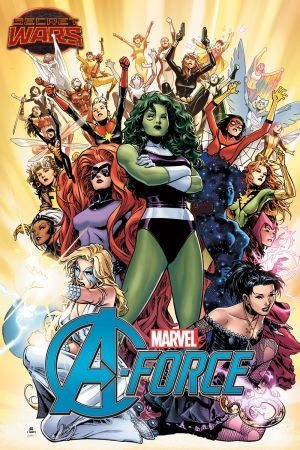 I have to admit, I haven't been overly thrilled with the Secret Wars announcements so far since they've raised more questions than answers about the state of current series running at Marvel, but the announcement of A-Force is particularly exciting to see powerful women of several Marvel Universes at the hands of two woman writers. Even Wilson has promised interesting and exciting things for the introduction of Singularity, a cosmic event that has gained consciousness and has chosen to identify as a woman.
A-Force wasn't the only exciting announcement for the women of Marvel today, though. It was also announced that Sana Amanat, the co-creator of Kamala Khan and the editor of Ms. Marvel, Captain Marvel, Elektra, Rocket Raccoon, Daredevil, and Hawkeye, is now the Director of Content and Character Development for Marvel Comics. Congrats, Sana!
Over at DC, the announcements were a little less bombastic, but it's official: The New 52 is no more. Kind of.
Boasting "new books, new creators, [and a] broader focus for the DC Universe," the company will be rolling out 24 new titles after April and May's Convergence event and will be dropping the "New 52" title from all of their comics. It's not a total reboot so much, but a refocus.
DC Comics has all the new comics listed on its website along with all the titles that will be continuing. A new Batwoman title is missing, but the Midnighter title will be the first title at DC lead by a gay man. There's also more woman creators in this new relaunch versus several years ago when the New 52 started. Really though, the title I'm most excited for is Black Canary with Batgirl and Gotham Academy co-writer Brenden Fletcher taking lead on writing and Hawkeye artist Annie Wu on art. Batgirl and Gotham Academy have been exciting sister books for DC, so it's great to see the little world of Burnside expanding.
What do you think of today's new announcements? Excited? Scared? What are you looking forward to reading? Sound off in the comments!