[youtube=http://www.youtube.com/watch?v=pRVZBLLM6Ns]
The Hundred-Foot Journey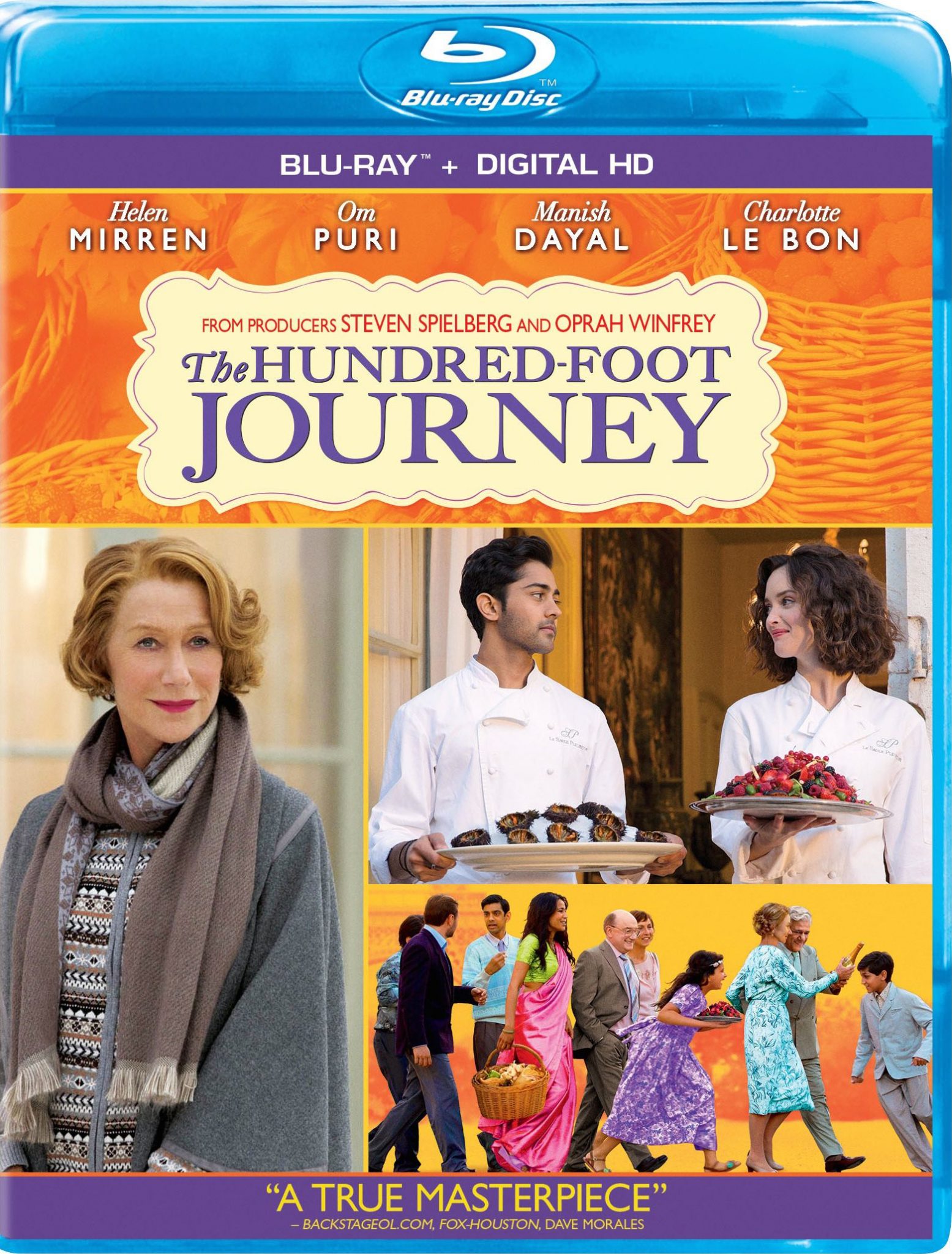 Release Date: December 16, 2014
Cast: Helen Mirren, Om Puri, Manish Dayal, Charlotte Le Bon
Director: Lasse Hallström
Studios: Touchstone Pictures, DreamWorks Pictures, Reliance Entertainment, Participant Media, Image Nation, Amblin Entertaiment, Harpo Films
Distributor: Walt Disney Studios Motion Pictures
Genre(s): Drama, Comedy, Family
Extra Feature Rating: ★★☆☆☆
Rating: ★★★★☆
Review Spoilers: Moderate
Amazon | IMDB | Wikipedia
Okay, okay, yeah. That title was super corny. But hey! It's kinda true. I really enjoyed this movie.
That's kind of incredible because I'm usually not the sort of person to really get into 'food' movies. I'm just not a big foodie. But this movie is about more than food. It's about family. It's about racism and overcoming adversity. It's an amazingly inspiring story based on what I am sure is just as beautiful of a book by Richard C. Morais.
For those of you who haven't seen the film, The Hundred-Foot Journey is about a rivalry between two restaurants in a small French town calls St. Antonin. Hassan and his family have fled India for political asylum in Europe after a devastating family tragedy. They look to rebuild and make a new life for themselves in the French countryside by opening a traditional Indian restaurant in their new home. But it's not that simple. It's a very different culture here and Madame Mallory – who owns a traditional French restaurant just 100 feet from Hassan's family's front door – seems hellbent on running them out of business.
What is poised to be nothing more than a feel-good movie turns into something much deeper as it explores issues of racism, family, and dedication. I was laughing out loud some moments, gasping during others, and even at risk of tearing up. It's a great film; light-hearted and honest.
The characters are fantastic. From Hassan's close knit family – and Om Puri who plays his father and has such fantastic lines as: "If you have a spice, use it! Don't sprinkle it. Spoon it in!" – to Madame Mallory whose life is her restaurant and the reputation she brings to it, these are people who have big and distinctive personalities. The movie would fail without them.
The Hundred-Foot Journey is about more than just food.
It's about the divide between cultures. It's about family. It's about people and the lives they lead, the things they overcome.
I didn't expect to enjoy it as much as I did and its an experience I highly recommend.
Now, that said, this isn't a movie you're going to necessarily get for the special features.
There are very few of them but at least a couple of them go into a lot of depth about the making of the movie.
The Hundred-Foot Journey with Stephen Spielberg & Oprah Winfrey
Watching Stephen Spielberg and Oprah Winfrey together is kind of surreal. Here are two incredible individuals with such amazing histories sitting together talking about something as casually as they do this film that they co-produced. They have an incredible back and forth despite the fact that they haven't officially worked together since 1985. They talk a lot about casting decisions and there's a great line from Oprah about how: "He's Stephen Spielberg. He can get Helen Mirren." This from one of the most powerful women in the world!
It was great to hear how much they enjoyed the film. Oprah in particularly really enjoyed that it was about family and being a family of the world. It was also great to hear them talk about the food in the film as a character itself. There's a lot that went into the preparation and the food meant a lot. But because the food was such a major part of the movie, Spielberg apparently lived in fear of an actor lopping off a finger after an expert gave them over the knife.
They felt they did a good job adapting the book to film. I'll have to read the book and get back to you on that one!
The Recipe, the Ingredients, the Journey
This was a fantastic featurette that looked beyond Spielberg and Oprah and at the whole process of taking the book from print to screen. We got to hear from the author who talks about how he came up with the idea and that it took around ten years to write. We got to hear from the actors themselves and the director. It was cool to hear everyone just sort of chime in on how this was meant to be a story about family, racism, and over coming racism. It's a realistic film; it's a film that in a way portrays a lot of things people go through every day.
The bits with Helen Mirren were the best obviously because Helen Mirren is the best. But apparently she was really important to the team as a whole. Her knowledge of food and France were very important in bringing the story together. Equally important was the sense of family that Om Puri established in the entire cast by bringing them together to the apartment he rented and just making food. The scenes of Hassan's family together in particular seem so authentic and real because of that early establishment of a relationship between them.
It was also really cool to hear how hard it was to find the right location. More than that, though, it was really cool to see how they got things the way they wanted and how they got around the limitations of filming in a small, authentic French village. I also really enjoyed seeing them bring out the actual chef advisors from the film and having them all talk and sort of chime in on the process.
This is probably the best special feature on the blu-ray release.
There are two others besides these two. One is "On Set with Oprah Winfrey" which is essentially just Oprah on set chiming in about the film making process. The second one is an awesome five minute Coconut Chicken cooking lesson from the head Indian chef advisor on the film.
That's pretty cool, too.
This movie is definitely worth picking up. I really enjoyed it and I highly recommend it to people who enjoy feel good family films! Plus, you know, it's about Indian food. Indian food is awesome!