Have you ever said, "Just shit on my number!" Well… you will be saying that if you're playing Urbanears's Pigeon Bingo. In order to debut their new headphones, Plattan ADV, they're having a giveaway of 600 headphones. How do you win one of these headphones? By playing some bingo. I saw it on Facebook and it was intriguing, so I clicked the link. I read the rules and picked my numbers.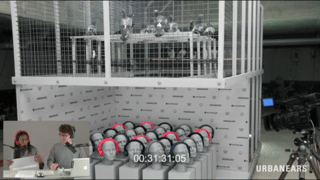 As you can see from the picture, your numbers are determined by where the shit lands from the pooping pigeons above. It's not your typical bingo either because you don't have to get a row of numbers. You just have to have any of the 5 numbers the pigeons hit. The shitting lasts for 1 hour and each game they'll give away 100 headphones. If not all 100 headphones are claimed after the hour, then it's done. You'll wait for the next game. Each game you can pick 5 new numbers and watching the live feed on YouTube is really fun.
The headphones are also claimed on a first come first served basis. In the last game there were about 150 bingo's but only 80 of the headphones were claimed. So be sure to be watching and claim it as soon as you win. Sadly, I didn't win the first game, but I'll be playing again. They even run a little mini competition on Twitter where you name the pigeons. The last winning name was Shit Happens.
So what are you waiting for? Get to Urbanears and pick some numbers then root for a shithit!