Utopia (yo͞oˈtōpēə/) noun
an imagined place or state of things in which everything is perfect. The word was first used in the book Utopia (1516)                    by Sir Thomas More.
Fox is bringing us a new reality show. The concept is much like Survivor, The Colony, and every other reality show. A group of people are sent off, secluded from present day society to form a new society and survive in the wild. However, unlike the rest, this group is striving to make the perfect society, a true utopia. Now I know we're all sure we've seen every version of reality shows known to man, but this one is different. This show, aptly named Utopia, has 15 people from all walks of life who are building a society from ground zero.
Well, almost ground zero. There is a barn, with animals, some basic items, shelter, etc. No electricity, running water, phones, or internet. They decide everything about this new society, what jobs they will have, the government, if they will have religion, etc. The only thing they don't get to pick is if they will stay. Every single person in Utopia can be replaced, and that is solely determined by the watchers. The people are on live stream 24/7 (I'm watching them right now), and through the power of social media, we the watchers determine what happens to them. While that is pretty unique, the craziest part is there is no prize. These people are entering into a social experiment where they gain nothing but the experience.
Now in order to vote for new people, or banishment of the current people, you have to sign up for a passport on utopiatv.com. There's two passport choices, the free one, or the premium. The free passport lets you watch live streams (only two of the five), votes, some video clips, and all the news. The premium passport, which is $4.99/month, gives you all the live streams, video clips, votes, and other content not currently specified on the FAQs page. I currently have the free passport, and am pretty happy with it so far. It gives me what I want, and doesn't force me into things I don't need. The live stream started 8/30 and runs until the show ends. You can watch the people as much as you want, or just wait till the edited bits come out on tv. Your choice.
Another fun part of Utopia is that you can still audition for this show. They are constantly looking for new people to send to Utopia, to replace those who have been banished, or to just generally throw a cog in the wheels of the current set up. If you're into that sort of thing, you need a video, current picture to fill out the application form, meet the requirements, and then wait. If any of you guys choose to do this, let us know so we can root for our fellow nerd!
All in all, I'm pretty excited to watch this new reality show. Granted, I'm already a reality show junkie, but this one gives me higher hopes than most. I think the best part of Utopia, and the true genius behind it, is that these people are not doing it for the money. They are purely doing it for the experience (and possible fame). They are coming together to build a new society and hopefully prove that if we ever do end up in a post apocalyptic world, we can and will prevail.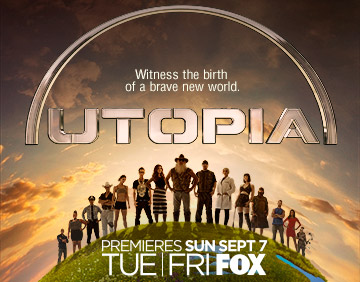 Utopia airs Sunday, September 7th . Follow Utopia on Facebook, Twitter, and Instagram.