Star Wars: Razor's Edge
(Star Wars Legends)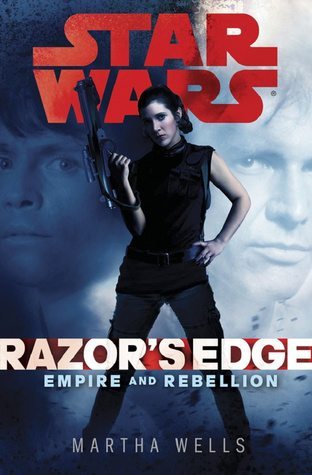 Author: Martha Wells
Release Date: September 24, 2013
Series: Empire and Rebellion #1
Publisher: Lucas Books, Del Rey
Source: NetGalley DRC
Genre(s): Science Fiction, Media Tie-In
Rating: ?????
Review Spoilers: Low
GoodReads | Amazon
I grew up on Star Wars books. I did my very first book report on Timothy Zahn's "Heir to the Empire" in the third grade and I've read pretty much every single post-ROTJ book ever released. I loveD Star Wars more than anything growing up and we're basically living in a golden age of Star Wars media.
Razor's Edge was one of the first Star Wars books I had read in a while. I admit, during in high school I sort of lost track of the books. But Razor's Edge seemed like a really classic way to get back in. The book went back to the series' roots: the original trio in the original trilogy.
It was the absolute perfect choice.
I loved it.
The book focuses primarily on Princess Leia and it presents her as a very strong, capable character putting her at the forefront of things as the Rebellion struggles to maintain momentum after destroying the Death Star. I really appreciated that. With the exception of Mara and Jaina, growing up the female characters in Star Was never seemed to get the same sort of credit and attention as the male characters. And while Luke and Han are certainly around, it's very much a book about Princess Leia.
Razor's Edge is a fantastic way to show Princess Leia at her greatest. She's trying to deal with her grief after the destruction of Alderaan while at the same time dedicating pretty much every part of her being to the Rebel cause. The story compliments the character development really well and it made it a great read over all.
Highly recommended.
A REVIEW COPY OF THIS BOOK WAS RECEIVED VIA NETGALLEY. THE OPINIONS ARE THOSE OF THE REVIEWER.