[youtube=http://www.youtube.com/watch?v=E1YbOMDI59k]
Insidious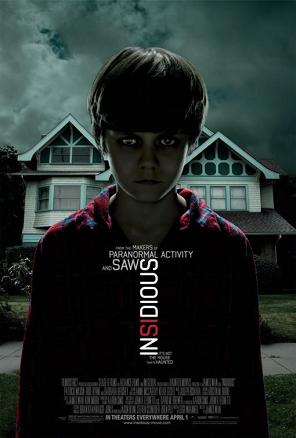 Release Date: April 1, 2011
Cast: Patrick Wilson, Rose Byrne, Barbara Hershey, Ty Simpkins, Lin Shaye,  Leigh Whannell, Angus Sampson, Andrew Astor
Director: James Wan
Studio: Stage 6 Films, IM Global, Alliance Films
Distributor: FilmDistrict
Genre(s): Horror, Paranormal Thriller

Rating: ★★★☆☆
Review Spoilers: Low
IMDB | Rotten Tomatoes | Wikipedia
Creepy kids, ghosts, and creepy household occurrences are pretty much one of the most prevalent horror movie stereotypes out there. But while Insidious may seem to hold itself out to be just another one of those movies it's really anything but the norm. In a genre that's hard to find any real innovation in storytelling, Insidious takes some of our classic tropes and uses them to tell a pretty solid horror story.
I hesitate to really call Insidious a true horror movie sometimes, though. I think if I were really trying to categorize it I would feel more inclined to call it a 'paranormal thriller.' Because while Insidious certainly has it's moments and does the creepy factor pretty damn well that isn't really the heart of the film. Not really. At it's core, Insidious is the story of a family dealing with the tragedy of potentially losing their young son to a dark world and demonic entities that they can't full comprehend.
Insidious is a smart horror film. It knows how to use it's more classical elements and it knows what to do with it's down time. For the most part, it's a pretty slow moving story. You progress through the incidents with the Lambert family and a lot of the time you're left alone with just Renai at home with the baby and Dalton – who spends the vast majority of the movie in a coma. The writers take the time to develop their creeper moments and to flesh out the broader story but at no point do you ever really feel bored. As soon as you feel comfortable, you're suddenly faced with some new ghost or some new  revelation. Plus, when they finally begin to explore 'the Further' it just adds a whole new dimension (see what I did there?) to the movie all together.
I think that telling the story primarily through Renai was a great choice. Josh goes off to work but Renai stays home with the children and she's much more directly effected. One of the best parts of the whole film was watching her fall apart not just because of what was happening to Dalton but also because of what was going on in the houses where they lived. There are moments, too, where you have to believe with her that maybe it really could just all be in her head. Though, of course, it's not. That would be far too easy.
And I loved all the other characters. Elise was a fantastic edition and I loved that the mother knew more than she was letting on. I also loved that she knew what was going on and how to handle things. I thought Elise's geeky boy nerd squad were the right kind of comedic relief and that they all came together to really drive the movie home.
Most of that falls on the actors, really. They were all pretty much spot on. I mean, Rose Byrne really kind of carries the movie but everyone else does a really phenomenal job, too. Even the kids played their parts well. It can be hard to find good child actors sometimes but Ty Simpkins especially does a pretty good job which is probably why he netted the role of the kid in Iron Man 3. But, really, everyone was great in this. Patrick Wilson does horror movies well – I think we saw that in Insidious and more recently in the Conjuring. The guy just acts well in general. Honestly, I don't know why he's not in more movies. I think he's great.
I want to tell you a lot more about this movie but at the same time I don't want to spoil anything. Insidious is a good movie with a good story and if you're looking for a good, well-paced, and not too in your face sort of horror thriller this is certainly a movie for you. The kids aren't actually creepy. The ghosts and demonic figures are. And the cliffhanger ending will leave you eager for the sequel – which comes out tomorrow!
Final Thoughts:
Insidious was a refreshingly original horror movie that pandered to the crowd with it's quick thrills and ghostly stereotypes but at the same time managed to work them into a much larger story. It serves as a fantastic standalone film but also feeds directly into Insidious: Chapter 2 in a seamless transition that will take what you know and learned in this movie and expand upon it. If you're going to watch on horror movie this Friday the 13th with creepy kids, demonic presences, and malevolent ghosts then this is definitely the one for you. Forget about Paranormal Activity – check out Insidious.