Mamas don't let your babies grow up to be dungeon masters- Actually, scratch that. Let your babies grow up to be halfling rogues, dragonborn paladins, half-elf clerics, tiefling barbarians, and especially dungeon masters. Parents who love Dungeons and Dragons know the struggle of deciding how and when to introduce their kids to their beloved pastime. Fortunately the new Young Adventurer's Guide series is here to help you guide them down the path of lifelong, nerdy obsession.
Dungeons and Dragons is seeing a lot of great, positive exposure recently thanks to nostalgia-fueled pop culture like Stranger Things, engaging 'actual play' podcasts, and more. This means the younger generation out there is primed and ready to become the next wave of players and dungeon masters.
But, let's be real.
The Dungeons and Dragons core set isn't exactly easy for a new player to pick up – especially a younger player. Beginning with Warriors & Weapons and Monsters & Creatures, the Young Adventurer's Guide books offer something of an alternative for readers of all ages looking to learn more about Dungeons and Dragons. They are essentially more accessible, kid-friendly adaptations of the Player's Handbook and Monster Manual. The idea is that kids can get their first taste of the game, learn a bit about the lore, and get hyped up to create their first characters and embark on their first adventures.
Don't think you need to be a part of the target audience to enjoy them, however. You can hand these books over to a twelve year old just as easily as you can a thirty year old newbie and they'll both come away with a pretty basic understanding of the various races, classes, monsters, and more that go into bringing a D&D campaign to life.
Warriors & Weapons is the easiest place for readers to begin. This book is formatted almost exactly like the first few chapters of the Player's Handbook featuring three sections: Fantasy Races, Character Classes, and Equipment. These kid friendly sections are obviously cutdown to size a bit. While Warriors & Weapons throws in a few extra races (Kenku, Tabaxi, and Tortles) the classes section is very limited and features only Barbarian, Fighter, Monk, Paladin, Ranger, and Rogue.
Each race and class is accompanied by an illustrated, mapped out two-page spread. There is information about the size, traits, special abilities, and more of each race while the classes are follows up by a famous figure from that particular class pulled from D&D lore. These sections are then followed up by an equipment section that packs a lot of general information into a small-but-helpful series of specialized sections.
Monsters & Creatures, meanwhile, is very much a shorter, less detailed Monster Manual. There are just over thirty different creatures – as well as a few 'legendary' monsters – listed once again with each getting a dedicated two-page spread. Each entry is accompanied by an illustration, a danger rating, and tips on what you should and shouldn't do if you encounter them. There are also hypothetical encounters with some of the creatures which prompt you to wonder what a character should do when facing one of the monsters.
While they certainly aren't stat heavy books, the Young Adventurer's Guide books do a great job of introducing new players to D&D – especially younger ones. My kids have been obsessed with the books ever since we got them. My five year old loves 'the monster book' and my twelve year old is now obsessed with the idea of playing D&D. We've gotten him the Starter Set, his first very dice set, tons of spare dice, and everything he needs to get started and get his friends involved.
As a nerdy parent, it's been awesome.
I have recommended these books to everyone I know who plays and has kids. Even if the kids aren't old enough to read them yet, I've put them on their radar. They're great introductory books that kids will find inviting and easy to read. And while they focus a lot on just general information they also set a foundation for cooperative roleplay by offering up hypothetical encounters and frequently referencing how the reader can use the information for their own adventures and character building.
The Young Adventurer's Guide books invite kids to imagine themselves playing just as much as they invite them to step into the world of Dungeons & Dragons. It's not a matter of if they'll someday find themselves running or playing in their own campaign. It's very clearly a matter of when. I genuinely believe that a lot of the kids who read these books will want to quickly take the next step and dive right in like mine did.
Warriors & Weapons and Monsters & Creatures are huge hits in our household and I can't recommend them enough. Whether you've got a kid whose interested in Dungeons & Dragons solely because they saw it on Stranger Things or you've got a hopelessly overwhelmed adult friend looking for more information on what it's all about, these books are great. We love them and we can't wait for the next two books in the series – Wizards & Spells and Dungeons & Tombs – to come out, too!
---
Title: Warriors & Weapons
Series: A Young Adventurer's Guide
Author: Jim Zub with Stacy King & Andrew Wheeler
Release Date: July 16, 2019
Publisher: Ten Speed Press
GoodReads | Amazon
---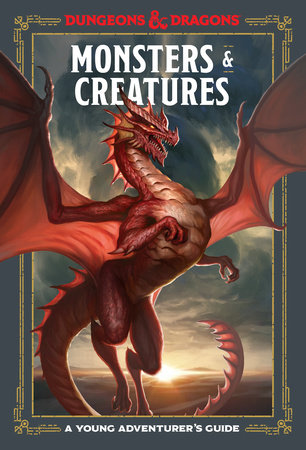 Title: Monsters & Creatures
Series: A Young Adventurer's Guide
Author: Jim Zub with Stacy King & Andrew Wheeler
Release Date: July 16, 2019
Publisher: Ten Speed Press
GoodReads | Amazon
---