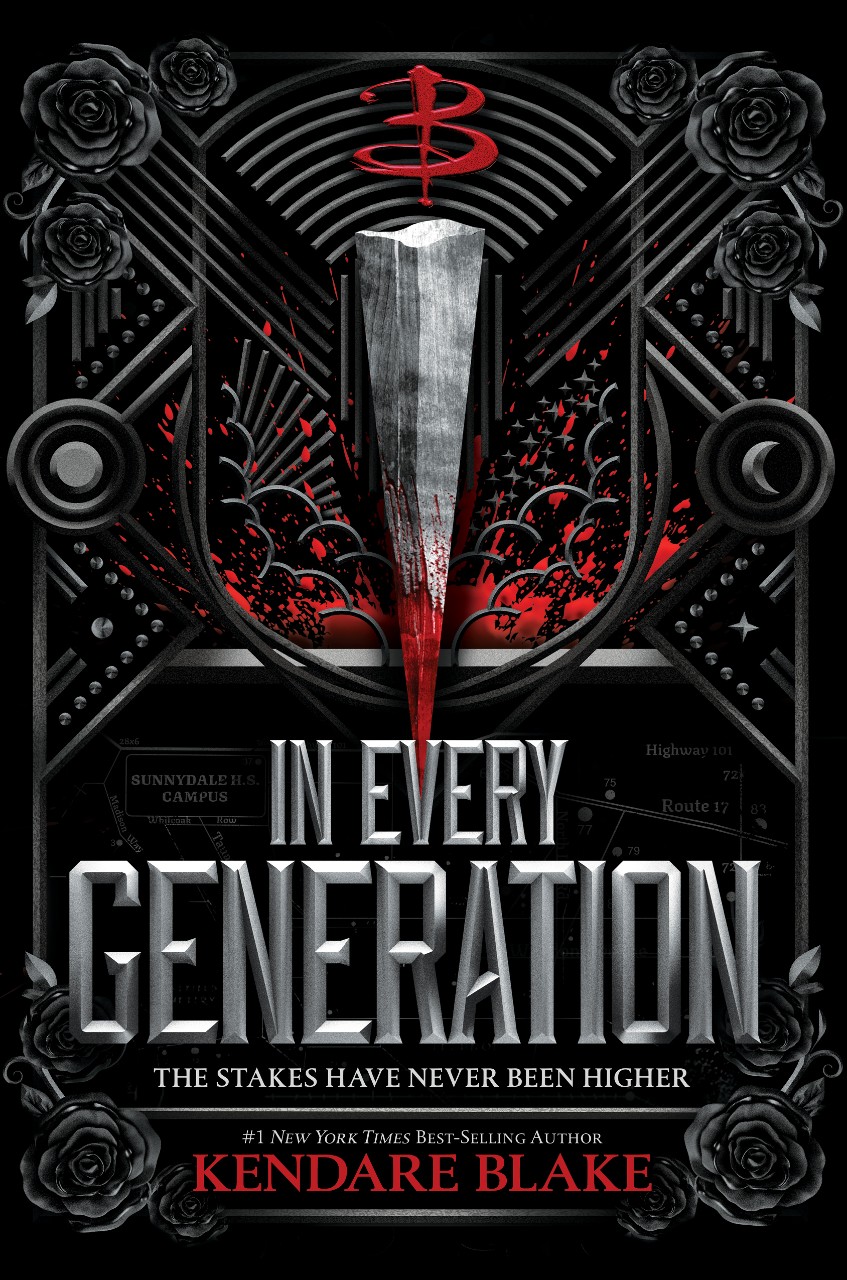 Title: IN EVERY GENERATION (Volume 1)
Author: Kendare Blake
Pub. Date: January 4, 2022
Publisher: Disney-Hyperion
Formats: Hardcover, eBook, audiobook
Pages: 400
Find it: Goodreads, Amazon, Kindle,  Audible, B&N, iBooks, Kobo, TBD, Bookshop.org
Everything old is new again these days and that seems to include Buffy the Vampire Slayer! Our older readers all probably grew up watching the series but now it's time for out kids to get in on the fun. While this isn't the first Buffyverse YA continuation in recent years, In Every Generation is the latest! And it's everything my early-2000s fanfiction loving, angsty teen heart would have ever wanted.
Set well after the final season of the iconic television series, In Every Generation envisions a new generation of Scoobies led by Frankie Rosenberg, the teenage daughter of original Scooby, Willow. After Buffy and the other Slayers are believed to be wiped out in an attack on their annual Slayer meet up, Frankie finds herself juggling both magic and Slayer powers as the possible last hope against a resurgance of vamps in the greater Sunnyvale area. (And, you know, possibly the whole world if she's the latest and only Slayer!)
Luckily she has some help.
Her mom, the beloved bad-guy-turned-good-guy Spike, Xander, Oz, and other original Scoobies are joined by a brand new cast of young characters (most with ties to some of the original characters we all grew up loving). The new Scoobies include Hailey, the sister of a missing slayer; Jake, one of Oz's werewolf cousins (who just so happens to play lacrosse Teen Wolf fans); and a sage demon named Sigmund as well as Spike himself pulling his best Giles impression in the modern era. It's a fun little group and watching them learn and grow in the sort of haphazard way Buffy and her friends did warms the nostalgic heart.
Kendare Blake does a really good job of capturing the original silly, campy fun of Buffy the Vampire Slayer while adapting it for a new, modern era and audience. In that regard, In Every Generation is probably the best Buffyverse book I've read (and I read a lot in the early 2000s). She shows a reverent respect of the original characters and story as she helps make Frankie and her friends' story something all her own.
All that said, if you take things too seriously you may not like this book. For older readers especially you've got to go back to your own YA roots, suspend your believe, and embrace the fanfiction-y feel you may get from a lot of the story. And teen young adult readers? You really need to have a basic understanding of the Buffyverse. Nothing too complicated – maybe at least through the first few seasons. (If you haven't watched it yet check it out on Hulu and Amazon Prime!)
Over all, In Every Generation is a fun read with a good story, great characters, and a real Buffy feel despite the modern setting!
About the Book
A new Slayer for a new generation…

Frankie Rosenberg is passionate about the environment, a sophomore at New Sunnydale High School, and the daughter of the most powerful witch in Sunnydale history. Her mom, Willow, is slowly teaching her magic on the condition that she use it to better the world. But Frankie's happily quiet life is upended when new girl Hailey shows up with news that the annual Slayer convention has been the target of an attack, and all the Slayers—including Buffy, Faith, and Hailey's older sister Vi—might be dead. That means it's time for this generation's Slayer to be born.
But being the first ever Slayer-Witch means learning how to wield a stake while trying to control her budding powers. With the help of Hailey, a werewolf named Jake, and a hot but nerdy sage demon, Frankie must become the Slayer, prevent the Hellmouth from opening again, and find out what happened to her Aunt Buffy, before she's next.
Get ready for a whole new story within the world of Buffy!
The first in an all-new series by New York Times best-selling author Kendare Blake continues the world of Buffy the Vampire Slayer featuring the next generation of Scoobies and Slayers who must defeat a powerful new evil.
Giveaway Details
3 winners will receive a finished copy of IN EVERY GENERATION, US Only.
a Rafflecopter giveaway
About Kendare Blake
Kendare Blake is the New York Times bestselling author of several novels and short stories. Her work is sort of dark, always violent, and features passages describing food from when she writes while hungry. She was born in July in Seoul, South Korea, but doesn't speak a lick of Korean, as she was packed off at a very early age to her adoptive parents in the United States. That might be just an excuse, though, as she is pretty bad at learning foreign languages. She lives and writes in Gig Harbor, Washington, with her husband, their cat son Tyrion Cattister, red Doberman dog son Obi-Dog Kenobi, rottie mix dog daughter Agent Scully, and naked Sphynx cat son Armpit McGee.
Website | Twitter | Facebook | Instagram | Goodreads | Amazon | BookBub
Tour Schedule
Week One:
Week Two:
Week Three:
Week Four:
Week Five:
Week Six: