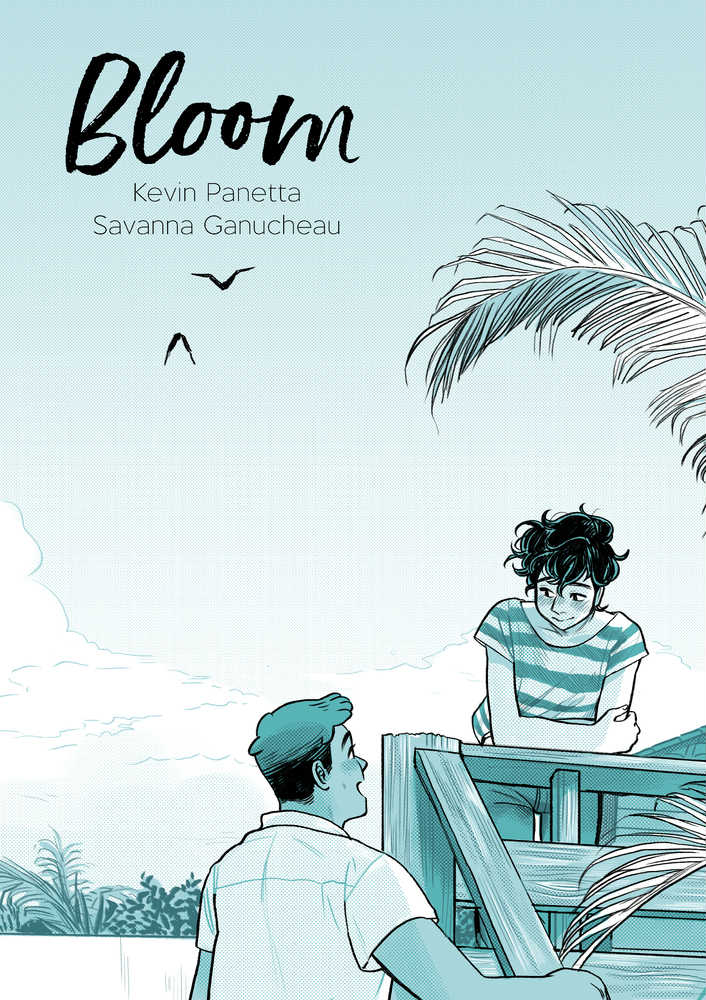 Title: Bloom
Creators: Kevin Panetta and Savanna Ganucheau
Release Date: January 29, 2019
Publisher: First Second
Review Spoilers: Mild
GoodReads | Amazon
Rating:  ★★★★★

Is it too early to recommend books for your summer reading lists? How about your spring break reading lists? Honestly, I'm not sure I'd even recommend waiting that long to check out Kevin Panetta and Savanna Ganucheau's new graphic novel, Bloom. It's a quintessential summer coming-of-age romance about two young men who fall for each other over the course of a few months and it tells what may be one of the year's most beautiful love stories.
Young Ari, our primary hero, has recently graduated high school and longs to leave behind his family's bakery to take on the real world with his band who may or may not actually be any good. He thinks they can make it big once they get to the city and resents his family for holding him back. Hector, on the other hand, is a kind and passionate about all things baking – so, in a way, all things Ari is not. Ari's plan is for Hector to replace him in his parents' bakery which means they spend hours together working in tandem and baking.
You couldn't ask for a better place for love to bloom.
But Bloom isn't just about Ari and Hector's relationship. In a lot of ways it's also about Ari's relationship with his father and the resentment he feels towards him. Like many kids from small towns he feels like his parents are trapping him through undue family obligations. And like many kids Ari learns over the course of the book that sometimes the things you're trying your hardest to avoid are the things you want for yourself the most.
Ari's entire journey through this story feels incredibly relatable. His friend group in particular reminds me of some of mine in high school. I don't know that everyone had that one douchebag friend that everyone hangs out with even though they everyone – or even just one other person – like crap but I've had them. And I've had the friends who have paired up and moved on as well as the friends who stuck around through thick and thin. He's finding himself in a way so many readers have or will.
Despite Ari's self sabotaging and any tragedies that may strike, Bloom ultimately has a happy ending and that above all else is what really makes this the love story young LGBT readers deserve. Ari and Hector could be anyone. Their lives are so realistic and their story – and budding romance – flows naturally. Young readers will easily see themselves in these characters and in this story.
Bloom is an amazing graphic novel and I can't recommend it enough. It will be a great addition to anyone's library but it has a special place in my heart for giving us such a wonderful LGBT love story. Plus, as an added bonus, it comes with Ari's family's 'famous' sourdough recipe if you happen to be the baking type (which I am definitely not). Who doesn't love that kind of attention to detail?