As you probably already know, we're pretty big fans of Downtown Bookworks' DC Super Hero-themed books. We've been in love with their board books especially for years and now that I've got a couple kiddos running around I love them even more. They've become a storytime staple in our house.
And now they have their sights set on bath time!
They're starting out the new year strong with three kid-centric DC Super Hero books including a brand new bath book, a new addition to their board book series, and a 'Big Book' of bedtime stories for the slightly older kiddos. We've been putting them through their paces the last week or so and here's what we think!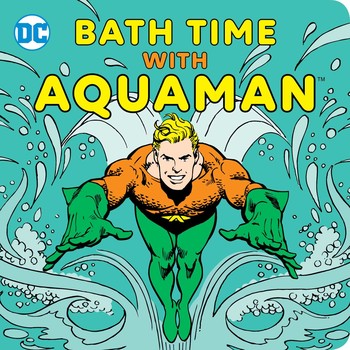 My youngest kiddo has not taken a bath or shower without Bath Time With Aquaman since we got this book. "Wait, I need Aquaman!" is a pretty standard part of our bath time routine now. Admittedly, the biggest draw of this book is the novelty of a bath book in general. Still, it's a cute little book with a handful of prompts that will engage your littler kiddos and encourage them to have fun with bath time.
There's not much of a story to speak of but the old school artwork is bright and colorful which will appeal to little readers. Plus they'll just love that it is a book that they can hold and splash with — and that will put up with some beating. It's a great way to encourage early literacy and it's an especially timely release, too, with DC's recent, standalone Aquaman film still making big waves. The big kids can talk about their Aquaman while the littler ones have their introduction to the character. (Sorry, moms. No Jason Momoa pics in this book.)
Out of all the new releases, this has surprisingly been our favorite and most used!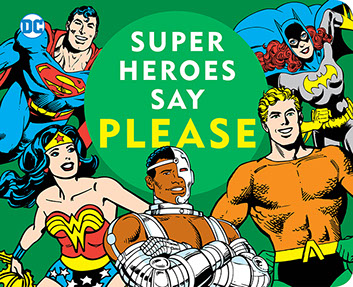 For a little more substance for your little readers, you can check out Super Heroes Say Please. Don't worry – it's not just a book of Batman, Superman, Wonder Woman, and the rest constantly saying please. It covers a wide variety of polite, everyday manners. DC's super heroes do everything from say "Please!" and "Thank you!" to introducing themselves and taking turns. They help each other save the day and rescue one another.
And they do it all politely!
If you're familiar with the other DC Super Hero board books, you'll understand the appeal for parents, too. While they teach some important lessons they also add some pretty funny speech bubbles to some classic artwork that you can probably imagine had some very different contexts originally. They're lots of fun and this one is no different!
The Big Book of Super Hero Bedtime Stories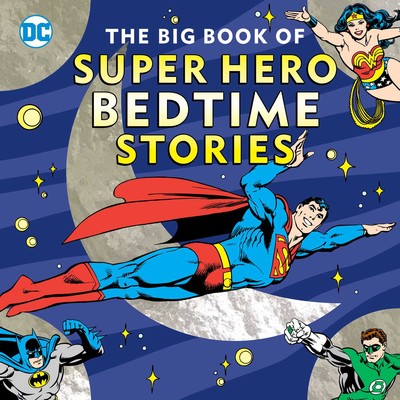 Unlike the other two books, we've been reading through this one a bit more slowly. The Big Book of Super Hero Bedtime Stories is similar to the other 'Big Book' releases but this one features short stories that can be read in just two to four pages. They're nice, little action packed stories that end with the superheroes finally settling down for a good night's sleep.
It's not really comparable to the 'Five Minute' bedtime story books that you may already be familiar with but that's not necessarily a bad thing. One of my favorite things about this book is that the stories are formatted in a way that helps kiddos get comfortable with the look and feel of traditional comic book panels. And, because they are shorter, you can read one or two a night. (Or, if you're running late getting kids into bed, you can sneak in a short story without having to go to bed without one!)
Of the three books, this is the one that I could see fewer people enjoying just because the stories are shorter and the format does deviate from most bedtime story collections. But over all we've liked it and it's easy for my kiddo to pick up just to look at the pictures of all her favorite heroes.


Looking for more DC Super Hero books for your littler kiddos? Check out Downtown Bookworks' other DC Super Hero titles.