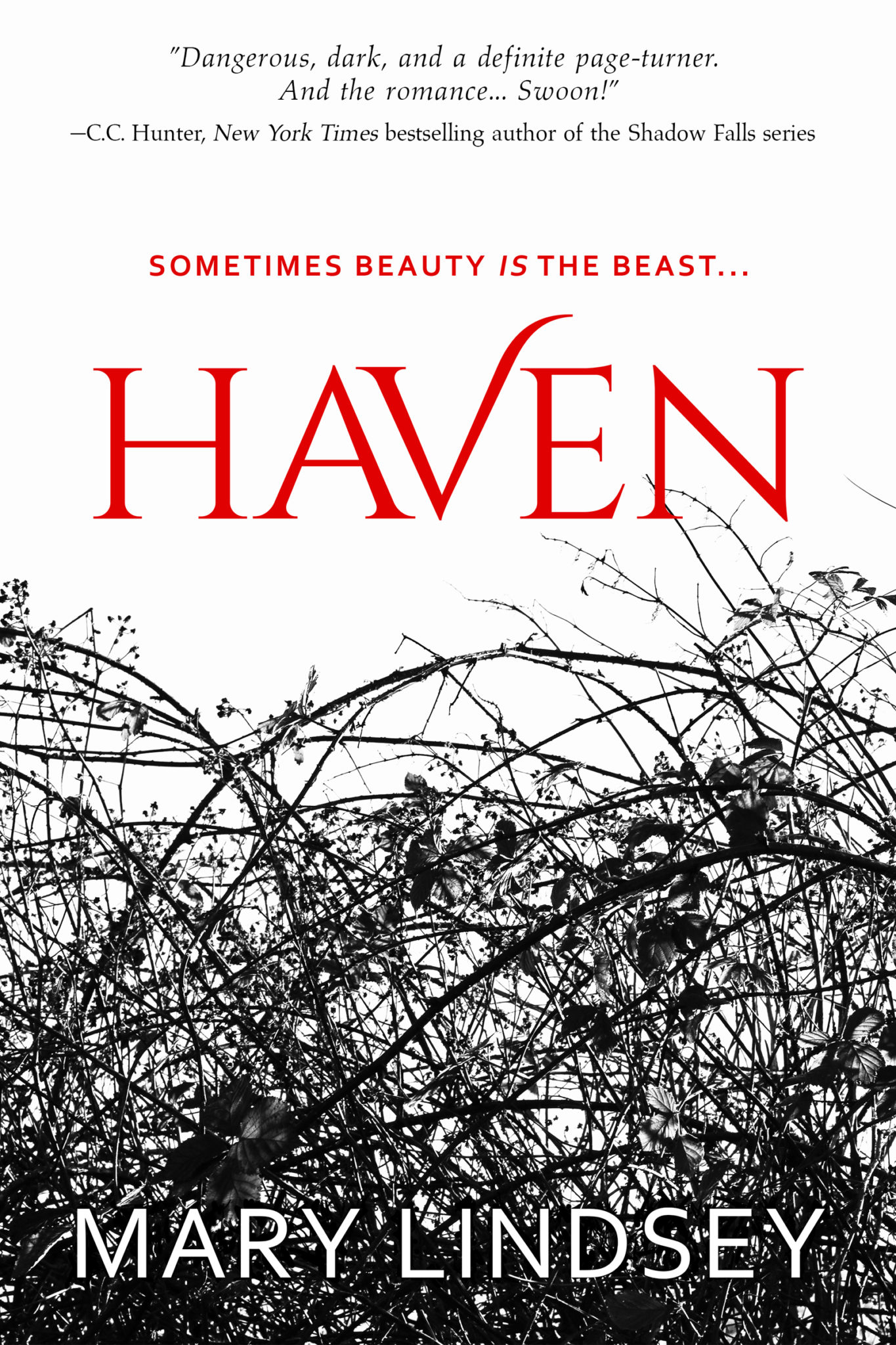 Title: HAVEN
Author: Mary Lindsey
Pub. Date: November 7, 2017
Publisher: Entangled Publishing
Formats: Hardcover, eBook
Pages: 400
Find it: Amazon, B&N, TBD, iBooks, Kobo, Google Play Books, Indiebound, Goodreads
Our Review
Aaron Ryland has always lived a life on the outskirts of society- first as a homeless youth on the streets of a big city; now, after his mother's death, as the new kid in a small town full of secrets. Aaron, nicknamed Rain, quickly falls in love with the mysterious, wild Friederike- and discovers that her secrets are a little more beastly than he ever imagined.
The promotionals for this book capitalize on Beauty and the Beast references, but I think Haven is much more like Beautiful Creatures than the Disney classic. Both involve the story of forbidden romance between two lovestruck teenagers in a small, isolated town. In Beautiful Creatures, the love interest is a witch whose fate will be determined at her next birthday – in Haven, the love interest is a werewolf whose fate as a leader of the pack will be determined when she comes of age.
Both stories mirror the conflict of a dangerous, forbidden love between a non-magical male and a magical female.
Now, Haven is a stand-alone book, so it involves significantly less lore than Beautiful Creatures. Haven is also more action-packed and less atmospheric than Beautiful Creatures.
I really enjoyed Haven as a teen supernatural fiction – it's definitely something I'll turn to when I get those Twilight tinglings. Lindsey's style was easy to read and the romance was compelling, even if I felt a little lost sometimes in the abrupt transitions between chapters or the mish-mash of underdeveloped supporting (wolf) characters.
The fight scene at the end of the novel was particularly difficult to struggle through, as the villains hadn't made very many appearances in the rest of the book, and their motivations seemed unclear. I would have liked to see more lore and world-building, but the sexual tension between the two main characters was masterfully written.
Throughout the book, I was most invested in the werewolf customs, but I also enjoyed the sub-plot about Aaron's past and how it intersected with Freddie's future. Aaron's character is well-rounded and I enjoyed his wonderfully supportive and healthy relationships with his family and friends, as well as his romantic relationship with Freddie.
I'm a big fan of realistic literary portrayals of healthy sexual relationships – and even though the sex scenes were never explicit, the tension ramping up to the point where the camera pulls away felt authentic and non-exploitative throughout the novel. Note to supernatural writers everywhere: Even if your love interest is a beast, it doesn't mean your characters' relationship dynamic has to be beastly!
Despite its small drawbacks, I really enjoyed Haven as a supernatural romance, especially for its well-trodden but well-written plot and Lindsey's sex-positive approach to young adult relationships.
Giveaway
1 winner will receive a finished copy of HAVEN, US Only.
Synopsis
Sometimes beauty is the beast…
"We all hold a beast inside. The only difference is what form it takes when freed."
Rain Ryland has never belonged anywhere. He's used to people judging him for his rough background, his intimidating size, and now, his orphan status. He's always been on the outside, looking in, and he's fine with that. Until he moves to New Wurzburg and meets Friederike Burkhart.
Freddie isn't like normal teen girls, though. And someone wants her dead for it. Freddie warns he'd better stay far away if he wants to stay alive, but Rain's never been good at running from trouble. For the first time, Rain has something worth fighting for, worth living for. Worth dying for.
Early Praise
"Dangerous, dark and a definite page turner. Mary Lindsey rocks this book."
– New York Times bestselling author C.C. Hunter
"A smoking hot hero and spine-chilling mystery = total win."
– #1 New York Times bestselling author, Jennifer L. Armentrout
"This electrifying tale will take you on an unexpected journey into a secret world of witchcraft and shape shifters. Romance, adventure, and magic! Lindsey leaves you breathless and wanting more."
– Adriana Mather, #1 New York Times bestselling author of How to Hang a Witch
"This is not your mama's paranormal! Sexy, dark and intense. Unputdownable!"
– Sophie Jordan, New York Times bestselling author of Firelight
"Lindsey writes a hero with fire and gasoline. Then she lights a match with break-neck pacing, and scorches a path to readers' hearts. Don't blink for a moment."
– Victoria Scott, bestselling author of Fire & Flood
"Gripping and gritty, HAVEN had me glued to the pages from beginning to end! Rain is the best kind of hero — tough, sexy, sweet, loyal. He charges through this action-packed tale that had me tearing up more than once, and I was perfectly happy to follow!"
– Pintip Dunn, New York Times bestselling author of Forget Tomorrow.
"An utterly gritty and satisfying resurrection of the monster genre.Rain is an intense narrator and you won't know whether to scream or swoon. Haven is an instant classic!"
– Courtney Moulton, author of Angelfire
"Darkly compelling and deliciously chilling, Haven hooks you from the first line and never lets up. Gritty, spine-tingling, and full of nail-biting tension."
– Amalie Howard, bestselling author of Bloodspell
"Dark, different, sexy, and edge-of-your-seat intense."
– Shawna Stringer, bookseller
About The Author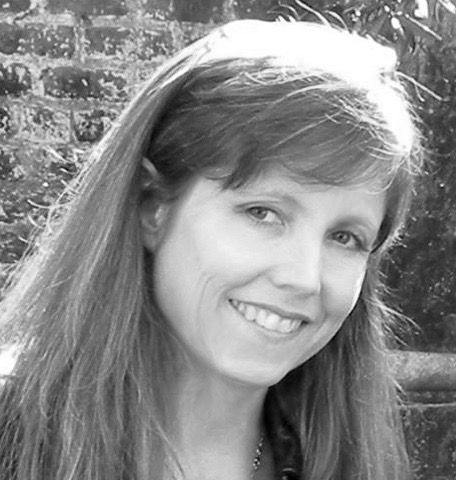 Mary Lindsey is a multi award-winning, RITA® nominated author of romance for adults and teens. She lives on an island in the middle of a river. Seriously, she does. When not writing, she wrangles her rowdy pack of three teens, two Cairn Terriers, and one husband.
Inexplicably, her favorite animal is the giant anteater and at one point, she had over 200 "pet" Madagascar Hissing Cockroaches. The roaches are a long story involving three science-crazed kids and a soft spot for rescue animals. The good news is, the "pet" roaches found a home… somewhere else.
Website | Twitter | Facebook | Instagram | Pinterest | Goodreads
Tour Schedule
Week One:
10/23/2017- Twinning for Books– Review
10/23/2017- Flyleaf Chronicles– Review
10/24/2017- Blushing Bibliophile– Review
10/24/2017- Ex Libris– Review
10/25/2017- Omg Books and More Books– Review
10/25/2017- Novelties- Review
10/26/2017- Deep Dark Feminist Reviews– Review
10/26/2017- Mama Reads Blog– Review
10/27/2017- Kendra Loves Books– Review
10/27/2017- Why I Read– Review
Week Two:
10/30/2017- Bibliobakes– Review
10/30/2017- Betwixt the pages– Review
10/31/2017- For the Lover of Books– Review
10/31/2017- Kati's Bookaholic Rambling Reviews– Review
11/1/2017- Adventures Thru Wonderland– Review
11/1/2017- Tea With Mermaids– Review
11/2/2017- Hauntedbybooks13– Review
11/2/2017- The Best Books Ever – Review
11/3/2017- Portrait of a Book– Review
11/3/2017- Nerdophiles– Review