A REVIEW COPY OF AMERICAN GODS: SHADOWS #1 WAS PROVIDED BY THE PUBLISHER IN EXCHANGE FOR A FAIR AND HONEST REVIEW. NERDOPHILES WAS NOT COMPENSATED FOR THIS REVIEW. OUR OPINIONS ARE OURS AND OURS ALONE.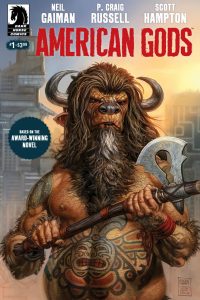 Author: Neil Gaiman, P. Craig Russell
Artist: Scott Hampton
Release Date: March 15, 2017
Publisher: Dark Horse Comics
Genre(s): Sci-Fi
Review Spoilers: Mild

Fans of
American Gods
are having a stellar year, with the show adaptation finally being picked up by Starz and set to premiere April 30 – and helmed by the beloved Bryan Fuller – and now Dark Horse is giving us a 27 issue three-arc adaptation of the novel in comic book format.
American Gods: Shadows is the first arc, in which the first issue follows Shadow Moon through the last of his prison sentence and some heartbreaking news. For anyone who has read the novel, this introduction follows beat-for-beat the first chapter of the book, with lines lifted directly from the page or modified just slightly to fit speech bubbles by P. Craig Russell. There are no new surprises or differing points of view that might have given fans a different experience with the familiar story, which in itself is a bit of a let-down.
With more room to breathe, the words and descriptions found in the novel paint a meandering pace through the days of a man who is truly counting down the hours to change, but paired with pictures and often smashed into pages crowded with small panels in order to fit in all the exposition, the comic book adaptation flounders. It reads like the audience has been given a shot of adrenaline as the characters whirl past, eyes tripping over many tiny panels often obscured by speech bubbles.
There are also no fewer than eight unique covers for the first issue and it's difficult to pick a favorite amongst the bunch and I highly recommend readers look them up, if only just to admire them. Becky Cloonan's ECCC variant is a gorgeous depiction of the buffalo head-on, while the Fried Pie variant is an ominous look at Shadow and the buffalo conversing, but it's David Mack's abstract and slightly minimalist interpretation of Shadow in the outline of a crow that seems to be one of the favorites amongst readers.
That may be why, once the comic is opened, the art by Scott Hampton is such a let-down. Even in a prison setting, there is more to it than blank concrete backgrounds and the faded hints of other rooms and areas that the sparse art depicts. Repeated panels with very little variation, as well as tiny superfluous ones that are meant to feel isolating and emotionally impactful fall flat. There is something just barely off about the faces and the facial expressions also fail to manifest – most notably when Shadow is meant to be smiling about his wife or shocked at delivered bad news.
The saving grace of the art is when the 'Somewhere in America' segment begins in the last four pages. Brought to life by P. Craig Russell and Lovern Kindzierski, there are more teases of show rather than tell and it allows for showcasing the unflinching weirdness of Neil Gaiman. As muted and conservative as the main story is with art and colors, the segment embraces pops of color and imagery that is definitely NSFW, but really embraces the spirit of American Gods.
Ultimately, I had higher hopes for a comic book adaptation of one of my favorite novels and the cover art is misleadingly splendid for how off some of the interior art feels, but the actual Gods of American Gods do not disappoint in the slightest. It's worth a look at the series, even if you've read the book, to see how the Gods have been visualized and adapted for a new medium to tide fans over before the television adaptation premieres and to see how such a complex, dense novel will be formatted into twenty seven issues.