The Dark Talent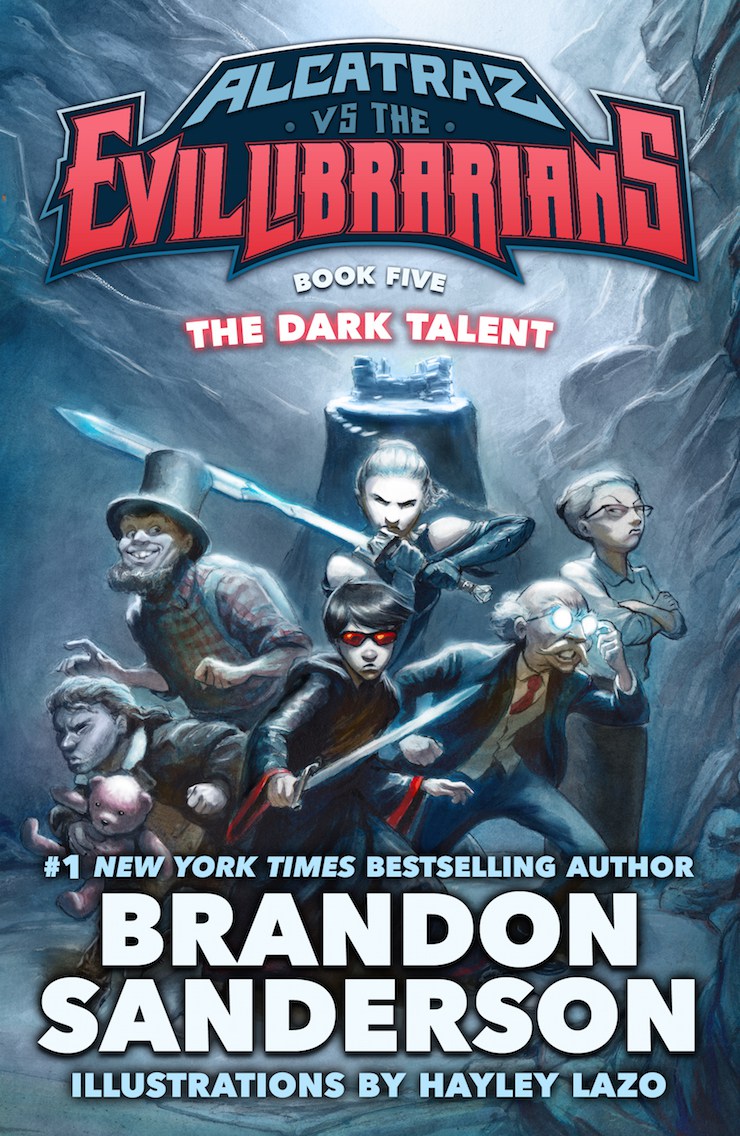 Author: Brandon Sanderson
Illustrator: Hayley Lazo
Release Date: September 6, 2016
Publisher: Starscape (Macmillan)
Genre(s): Fantasy, Action, Adventure, Middle Grade
Review Spoilers:  Low
GoodReads | Amazon

It's no big secret that I'm a huge fan of Brandon Sanderson's
Alcatraz vs. the Evil Librarians
series. If you've read any of my previous reviews you'd know that despite their quirky absurdity they are pretty incredible books. When the series was originally released by Scholastic a while back they only released four of the books despite the fact that the series was initially conceived as a five-book series. Luckily Starscape came to the rescue and the series has been re-released giving us our chance to finally read the fifth book.
I'm going to give you guys fair warning: this book gets dark.
From the very beginning Alcatraz himself is reluctant to write this book. As an only semi-reliable narrator, you might think that he's just being funny. The foreword to this book makes it very clear that this is where the series stops being all fun and games. And while you still may question him let me tell you all that he is being very, very serious.
The bulk of the plot revolves around Alcatraz and his family – including his mother, Shasta – attempting to track down his father. Once they determine that he's off to the Librarians' stronghold, the 'Highbrary,' they are determined to infiltrate the facility to stop Attica. All the while fielding rumors that the evil Biblioden may in fact be on the rise once again.
They enlist the help of another random cousin Dif, who seems to still have his Talent. (Remember, Alcatraz broke the Smedry Talents in the last book causing a lot of chaos and seriously limiting their ability to fight back against the Librarians – but at least they're still occulators!) As the plot progresses, it becomes clear just how little Alcatraz wants to finish the story because it doesn't end well for anyone.
The book has it's humorous moments, of course. It's a book about Alcatraz Smedry and it would be hard for this book to exist without that laughs and absurd world-building. As you continue through the book – a book that is sadly lacking of Bastille after her incapacitation in the last story – things seem the same. Even though Alcatraz keeps telling you he doesn't want to keep telling this story and that he's a coward and that it won't end well you keep thinking, "C'mon, it can't get that bad."
Spoiler alert: it can.
About a week ago I wrote that the Alcatraz vs. the Evil Librarians series starts to get a bit more serious and grown up in The Shattered Lens. If that is true then The Dark Talent is where the series takes a serious dive off the deep end right into a pool of angst and sadness. For those with good memories, though, it's not the first time you'll have heard a lot of Alcatraz's warnings. Throughout the book series he has reminded us that he is not a hero. He's not a good person.
And boy does he prove himself right.
I'm not going to spoil anything about the plot for you guys. You need to be read this book and be just as surprised and devastated as I was. (And trust me – you will be thoroughly shocked.)
I will say one thing, though, so if you're hyper sensitive to spoilers you need to avert your eyes now. This is not the last book in the Alcatraz vs. the Evil Librarians series. I know I said that the series was originally meant to be five books long. That's true. In a sense it is perhaps the last book because Alcatraz walks away from the story at the end of this book leaving it for someone else to pick up and tell.
And someone does.
There will be a sixth book coming somewhere down the line. I can only hope that it will be soon. If this series ended where The Dark Talent ended it would absolutely terrible. I would have rioted. As it is, all I can say is that if you've read the series up to this point you need to read The Dark Talent immediately.
It will be emotionally taxing in the way that The Order of the Phoenix was to kids who grew up in the Harry Potter generation. That's how serious I am. Read it and weep (literally) and then join me in waiting for the  next installment. We can keep each other company in our sorrow.

A REVIEW COPY OF ALCATRAZ VS. THE EVIL LIBRARIANS – THE DARK TALENT WAS PROVIDED BY THE PUBLISHER IN EXCHANGE FOR A FAIR AND HONEST REVIEW. NERDOPHILES WAS IN NO WAY COMPENSATED FOR THIS REVIEW. OUR OPINIONS ARE OURS AND OURS ALONE.