San Diego Comic Con is a marathon event: starting on Preview night, depending on what you want to see and do, it's almost non-stop from Wednesday to Sunday. Even just a few laps around the convention center to hit up all your favorite booths can easily wrack up the mileage. To combat the potential aches and pains, seasoned convention attendees know there are a few things to take into consideration when preparing for the annual event.
Good shoes are a given. Make sure they have good support and closed toes – you'll be glad should you get into an infamous traffic jam of people – and that they're not being broken in during the convention.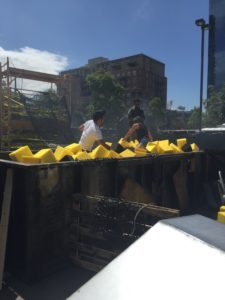 Bruises and blisters are no one's friends, save those flip flops for the leisurely after dinner stroll along the waterfront.
Along with good shoes, a comfortable bag is going to save your shoulders and back from a lot of unnecessary stress. Check out our article of considerations when picking out what bag is going to be best for you!
Don't forget to throw Airborne or Emergen-C into your bag to combat the con-crud before it can really take hold. The Nerdophiles home base never has less than three different Emergen-C flavors for any convention, along with band aids and pain relievers. Make sure you get a good night's sleep (perhaps asking a little much) and keep yourself hydrated and your convention experience should be relatively painless.
But what can you do today to prepare yourself for long walks through the San Diego Convention Center? You can join in on the #SDCCfit tag on Twitter and begin conditioning your body right now just by walking!
Favorites of the blog, Leonard of An Englishman in San Diego and Alyssa of Friends of CCI, did a fantastic show on #SDCCfit last week that included a lot of good discussion on how you can start preparations today:
One guest, Jeff Mueller, also known as The Jerd – a mash-up between jock and nerd – has a fantastic website full of resources to make this not just a temporary convention prep step, but a lifestyle change. Poke around his website to get some ideas and motivation to get started today!
And speaking of motivation, Alyssa's forum, Friends of CCI, has a couch potato thread to help you feel less alone in this process. Another guest on the Cup O' Tea vlog was Aaron Nabus, of HallH.com, who posts a lot in the #SDCCfit Twitter tag with his workouts and runs the SDCCfit twitter account!
#maythe4thbewithyou! Get that #SDCCfit#workout in today! #starwars#SDCCpic.twitter.com/YFft2xmrpV

— Aaron Nabus (@AaronNabus) May 4, 2016
It may not seem like much to take a few extra steps now, but trust someone who ran The Walking Dead Escape course on Saturday evening of her first San Diego Comic Con back in 2013! Between running up and down Petco Park stadium and crawling on concrete, my body was hurting on Sunday. Last year, some of the Nerdophiles staff went running through the Gaslamp to get those coveted Jurassic World posters. And it paid off! We succeeded!
By taking the initiative, planning and preparing this far in advance, San Diego Comic Con 2016 is going to be a breeze. Get involved with the nerd community using the hashtag or visiting the forum and make it even easier on yourself!
Tell us how you're getting #SDCCfit in the comments!