Synopsis for 1×02: McCarthy attempts to clean house while Regan and Carol both struggle with their inner demons.
Rating: ★★★★☆
In an unsettling opening scene, audiences see McCarthy has changed his appearance after evading capture last episode. He drops off a stuffed duck at a mall kiosk under the guise that he found it somewhere and the grateful sales associate accepts it easily. McCarthy goes on to draw something from the back of a struggling woman before injecting it into his own arm just as a sonic explosion rocks the mall he was just visiting.
Flynn Carol continues to move forward with a single-minded purpose by badgering Truss about information on his wife. He goes into a training session with Regan, only to abruptly learn that she's a Hunter herself; she thought he already knew. It quickly changes their dynamics, especially when the news of the mall explosion hits the office. To his credit, Truss is quick to brush off Carol's concerns about Regan, while explaining to him that he is the one that still has to prove himself to everyone else.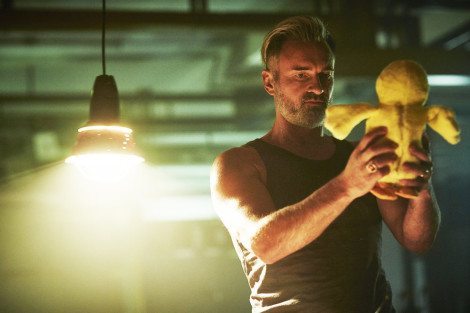 The team watches a disturbing video that McCarthy sent them, where he appears to hang himself before smiling at the camera and cutting himself down. He demands the body of Randall Slavich or there are going to be more terror attacks to come.
Instead of handing over the body, Regan and Carol visit Slavich's widow with the story that he was accused of smuggling drugs at the airport. During the car ride there, Regan goes over all of Carol's unasked questions and insists his wife was probably a Hunter. On the way in, Regan spots rabbits and explains that Hunters like… hunting them, it's in their nature.
It's revealed that the ETU has collected over 600 corpses of Hunters, but this is the first one that they've asked for back. Truss wants to know why, but the higher-ups don't care, nor do they negotiate with terrorists. They talk briefly about Flynn and the mysterious scar that he, and we as the audience, doesn't know the significance of.
Once inside of Mrs. Slavich's house, she's adamant about getting his body back as well. She doesn't believe their story about her husband and when Carol plays the song for her, it's actually Regan who becomes affected. She begins to see shapes and has to rush outside, leaving Carol to smooth things over. But before he can ask Regan what happened, he gets a call from McCarthy that promises Abby in exchange for the body.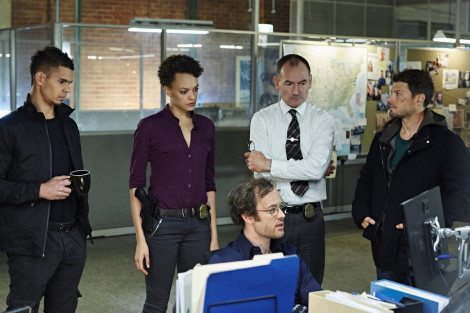 And where it could have become a clichéd lone wolf on a mission, Carol actually brings in the rest of the team for his meeting. Sadly, he still gets his ass handed to him by an even more excited than usual McCarthy. He still follows McCarthy to where he says Abby is, after he thinks Carol's told him the truth of his meeting with Mrs. Slavich and his encounter with Randall before he died.
With Carol distracted by a body that's not Abby's, Regan and McCarthy get into another fight that ends with them doing nothing more than staring at each other. For the second time, Regan allows him to escape, but not before he scratches the rash on her arm. This leads to strengthening the rift between Carol and Regan, as he rightfully questions why McCarthy keeps getting away from her.
Regan goes on to confess to Truss that she thinks the song and the clicking they hear is how the Hunters communicate, she's seeing it in her head and only just now realizing what it is. She hears and sees it at the same time, with the color coming from the sounds. It's deemed to be something like the echolocation of bats or dolphins.
Meanwhile, Carol is visiting Emme at her new school. She's trying to tell him about her life there, but he's pre-occupied with asking her questions about the case. When she doesn't recognize McCarthy, he plays the song for her and she remembers it from the Audio Attic, where she and Abby previously bought sheet music. The music was coming from someone's headphones. Carol calls the store and finds out there was an explosion there two weeks ago – McCarthy is covering his previous tracks by bombing music stores.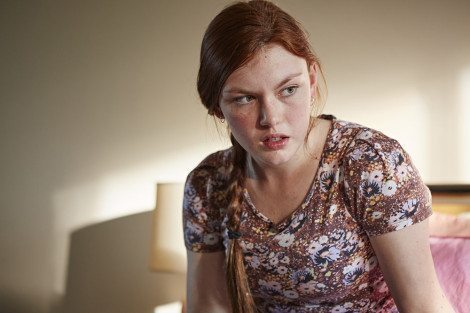 The team figures out McCarthy's next target – Blue Peak Music – just as he gets a tipoff from the mole inside the ETU. When they head over there, it's Mrs. Slavich that they find holding a cellphone detonator. She reveals that she knew her husband was a Hunter, that she didn't want him cut up, and that Hunters and their supporters are everywhere.
When she blows up the store, Regan runs out of the front, tackling Mrs. Slavich to the ground and shoving Carol away from the blast. In the chaos after, Carol sees Regan rip Mrs. Slavich's throat out in a rage. Luckily, the whole thing is covered up by the ETU rather easily. They blame Mrs. Slavich for all of the recent bombings and her "manifesto" explains why. Secretly, the found heroin in her system and plan to follow that thread, hopefully to McCarthy.
After the dust settles, Regan tells Carol about how she can manage the patch on her arm with lotion and essentially look just as normal as anyone else. Unfortunately, she then goes on to confess to Truss that she screwed up when handling Mrs. Slavich and the warehouse from last episode. She wants a treatment that weakens her because of her bloodlust, but Truss denies her in an attempt to keep her strong even as she claims she's not.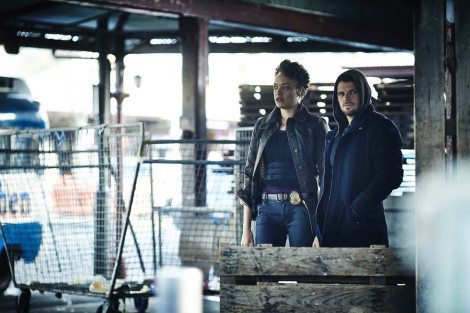 Carol heads home after the long day to another bottle of self-medicating pills in the mail. He takes some and riffles through the cabinets upstairs, pulling out all of the lotion bottles he can find. He ends up sitting on the bathroom floor amongst a forest of bottles and struggling as his worldview, and what he thought he knew of his wife, begins to shift in his mind.
And to round out the episode, McCarthy is lurking around playing music until other Hunters come out of the shadows to him. They're looking worse for wear than Regan, with one of them allowing McCarthy to stick his hand inside their chest. He drops a new name, a hint at perhaps people further up the chain than him pulling the strings and the episode ends.
Once again, Hunters manages some amazing world-building and costuming to bring the Hunters to life. With an intriguing, twisting story and already fascinating character dynamics, Hunters is shaping up to be another hit for Syfy.