Synopsis of 6×14: Denise endeavors to prove something to herself, with heartbreaking results, while Abraham and Eugene almost break up over dibs gone wrong. Also, another shadow of Negan's threatens the group…
Rating:?????
In the aftermath of the raid on The Saviors, viewers get a Groundhog Day look at Alexandria. The pantry gets stocked, Morgan practices stick stuff, the changing of the guard out front, and Carol sitting on the porch ruminating about her existence. In between, Morgan builds a jail so that Rick has choices next time and Carol and Daryl discuss their past actions and regrets.
Spencer and Rosita are a reluctant thing right now, with her obviously using him to rebound from Abraham. After begrudgingly agreeing to dinner with him, she joins Daryl and Denise in a discussion about going outside the walls. Denise found an apothecary that might have medicine still left and she wants to go with them to get it. After some arguing, she gets her way.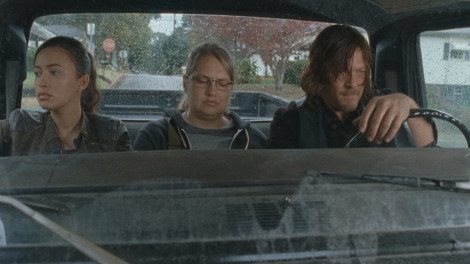 The three of them go on the most awkward car adventure ever, with Denise riding in the middle between Daryl and Rosita. She even attempts to quell the horrid screeching of the car, as Daryl struggles to drive stick (and ultimately ignores her advice). When they get to a spot in the road blocked by trees, Daryl and Rosita jump out to clear the way before getting Denise from the car. Daryl goes one way through the woods, Rosita wants to walk along the tracks, and Denise awkwardly follows Daryl.
Somewhere else, Eugene and Abraham are scouting an area and discussing Eugene's recent lifestyle changes (that ponytail!). Eugene explains, as only he can, that he's in stage two of the process, proclaiming, "I've changed, adapted, I'm a survivor now." When Abraham say to Eugene to keep telling himself that, Eugene repeats the mantra before continuing on.
Rosita makes it to Edison's Apothecary before the other two and Denise apologizes about not meaning to choose Daryl over her. She makes some small talk with Rosita, before being told to stand back while Daryl and she do all the work clearing the building.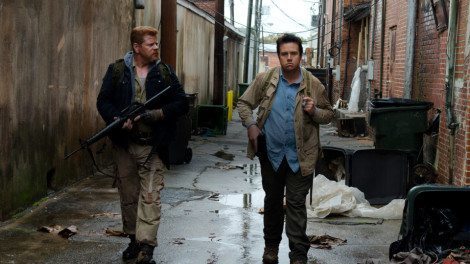 Abraham and Eugene are also breaking into a building, which Eugene scouts once they're inside. Eugene proceeds to announce that this is where they're going to make more bullets – with the Hilltop out of ammo and Alexandria with a finite supply, it will be useful to make more. Abraham is enthusiastically on board with this idea and asks about when they start. Eugene rattles off more stuff, but is interrupted by a walker that he promptly calls dibs on.
Unfortunately, Eugene tries to pike it through the hardened metal poured over its head Viserys-style and fails. While he's struggling to get a piece of rebar and hold back the walker, Abraham steps in and saves the day, which greatly upsets Eugene. They argue, with Abraham explaining that Eugene's job is to make bullets and handle intellectual things while his job is to kill stuff. Eugene counters by saying that Abraham's outlived his usefulness to him. Ouch. Abraham leaves in a huff and invites him to find his own way home.
Inside, Denise attempts once again to be helpful, but Daryl and Rosita are such a well-oiled machine that they hop behind the counter and start gathering up all the medicine without her. Left on her own, she investigates what sounds like a lone, trapped walker. It turns out to be some kind of creepy back room where, I assume, that horribly decomposed walker once ate a baby.
Flustered, Denise runs into a shelving unit on her way out the door. She's sitting outside with a 'Dennis' keychain and trying to hold back tears when Rosita and Daryl make it back http://premier-pharmacy.com/product-category/diabetes/ outside to her. He compliments her for finding this place and Rosita reminds her that she tried to tel her she wasn't ready. Thanks Rosita.
On their walk back to the car, Denise tells Daryl about her twin brother, older by six minutes, Dennis and how nothing scared him, but he was always angry. Daryl said it sounded like they had the same brother (MERLE!!!). When they get to the place they last split, Daryl goes along the tracks and reminds Rosita that she said it was faster.
Denise sees a couple of cars on the way and slips down to investigate. When she draws the rest of the group's attention to a cooler in the vehicle, they don't think it's worth the trouble. But determined to prove herself, Denise pulls the walker and cooler out of the car and dispatches it. She throws up on her glasses, which is sad and hilarious at the same time and reveals those sodas she was after for Tara were in the cooler.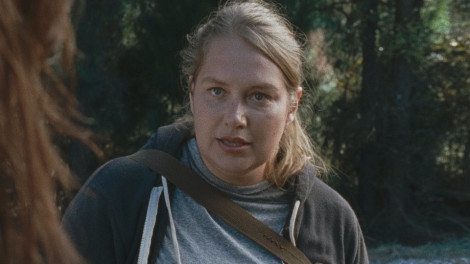 When they confront her about the stupid move, she tells them that if you want to live, you have to take chances. Denise gets her big monologue moment, revealing that she asked Daryl along because he reminds her of her brother and she asked Rosita because Rosita is alone. She's using her actual degree to help them and mid-rant she takes an arrow to the eye.
D, better known as Dwight, someone Daryl's previous encountered, emerges from the woods with a captive Eugene and forces them to abandon their weapons. He's carrying Daryl's crossbow and reveals that he wasn't even aiming for Denise, but that killing one usually gets their point across quickly. They sound just like the group that Daryl encountered and blew away on the road with a rocket launcher.
He wants to be let into Alexandria and be allowed to take anything and anyone he wants or they're going to kill them all. Eugene says that Dwight should start with their companion behind the oil barrels, a real first class a-hole. And while the group is distracted looking for Abraham, Eugene bites him in the dick, allowing Daryl and Rosita to overtake others and get their weapons.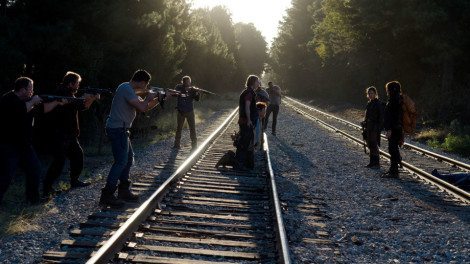 Dwight calls for his group to fall back after a massive fire fight and Daryl is only stopped from pursuing him by Rosita. At least he gets his crossbow back before they have to carry a wounded Eugene back to Alexandria. He gets patched up fairly easily and makes amends with Abraham, who welcomes him to stage two. Eugene gets the last word in by saying he's been there a while.
Abraham then proceeds to Sasha's house, where she asks him if he's okay. He tells her that she has choices too and it could be thirty years of them there and it would still be too short. She looks near tears before collecting herself and inviting him inside.
Daryl went back for Denise's body and has the Dennis keychain, sentimental marshmallow. He and Carol bury her before we hear a voiceover of Carol saying how much she loves everyone here, but that she can't and won't kill for them. She reminisces about how Rick sent her away once already and she was never going to come back, but that she ended up staying after everything happened. She admits that she can't love anyone because she can't kill for them and urges everyone to let her go without coming after her.
An absurdly long look at Morgan's face closes out the episode and the previews for next week definitely show everyone ignoring Carol's wishes. Only two more episodes in this season and I just want Negan, dammit!