Synopsis 02×09: Everyone gets a chance to live in an ideal reality where all of their desires come true. Of course, magic is at play and none of it is what it seems as Flynn races against the clock to try and save his friends from their strange new stories.
Rating: ★★★★★
After returning with the last artifact Flynn hoped to keep out of Prospero's reach, he found the Library nearly empty. Jenkins was there, as always, but when Flynn inquired into the whereabouts of the other Librarians and his guardian, Jenkins appeared puzzled. There were no other Librarians, as far as he knew, just Flynn. It was then Flynn, and the audience, realized the extent of Prospero's plan which was unleashed by a faerie at the end of last week's episode. Everyone had been sent away to some little town called Sicily, Washington, to live their idealized lives.
Flynn showed up at the scene of a missing totem pole, where he quickly found Eve in her new position. She was the Sheriff of little Sicily and explained that she'd left her military life behind to take up a new life in a small town where everyone knew each other. Eerie, how happy and content she really seemed. Along with her altered state, the rest of the team got introduced. Jake ended up as some hot shot professor teaching every subject he ever loved while also working to protect historical integrity. Ezekiel apparently ran an FBI outpost, investigating art crime, while Cassandra (teacher, astronaut, physics expert and pony owner) oversaw a bar-slash-library where they all met to compare notes and fight crime.
Even in their new stories, they found their way back to each other.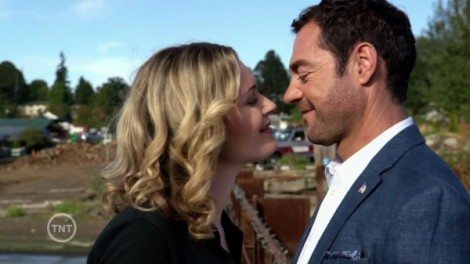 Oh, did I mention that Eve dated Moriarty? Whoops.
Panicked, and a bit confused, Flynn returned to the Library to talk with Jenkins about the situation. They decided that whatever spell everyone fell under had to be self-enforcing. If Flynn tried to oppose the delusions, then the magic would become stronger and everyone would believe their new stories all the more. The plan? He had to go along with the realities and try to toss in a little bit of doubt to get everyone to remember who they really were.
Upon returning to the town, Flynn got arrested pretty quickly. Or, at least, Eve attempted to. She and Moriarty had gone to investigate the docks which were the only way in or out of the island. Flynn hadn't come in on the ferry, nor had he come in on a private boat, so his presence on the island was unexplained. Therefore, he must have been the one to steal the totem and had to be arrested. Yet it turned out he wasn't the only one on the island who wasn't supposed to be there. Another young woman appeared at the bar and introduced herself as none other than Ariel – a faerie.
Prospero's little sprite had taken on a human form and looked to be free from the binding spell he'd put on her.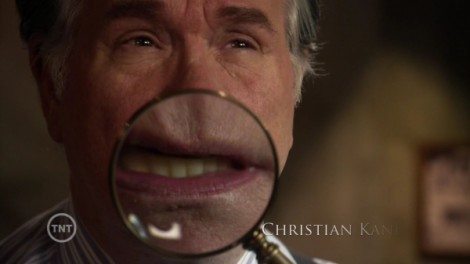 Flynn took advantage of the situation and dragged Ariel back to the Library, trapping her until she agreed to help them figure out how to break Prospero's spell. In return, he insisted he would help her break free of the binding. As she, Flynn, and Jenkins talked, the exact nature of Prospero's spell became clear. They were dealing with "story spells," narrative magic powered by people's deepest hopes, dreams, and desires. Prospero had offered the Librarians and Eve the chance to live out their perfect lives. Their idealized lives. The happier they were the stronger the spell, and the harder it would be to get them out of it.
The key was to figure out how to get them to choose their old lives. Their old stories. They had to willingly reject the narrative that had been given to them by Prospero based on each of their desires and choose to pick up their true identities. The trick would be getting them to do that when their lives seemed so perfect. Flynn, with Ariel helping, jumped back into the fray only to realize it wasn't going to be simple. Eve and Moriarty had organized a mob to track them both down, and it would be pretty hard to convince everyone that their true lives are the ideal ones while being chased down.
So Flynn lured each of them back to the Library, one by one, through the door to the annex. He trapped them in the same way he'd trapped Ariel and forced them to listen to their lives. Ultimately, though, it took "true love's kiss" to break the spell and get Eve to finally come around. The spell still lingered, as it wouldn't be defeated until they laid down the talismans they were carrying in front of the totem, but the team decided to choose their true lives instead of the false ones Prospero had given them.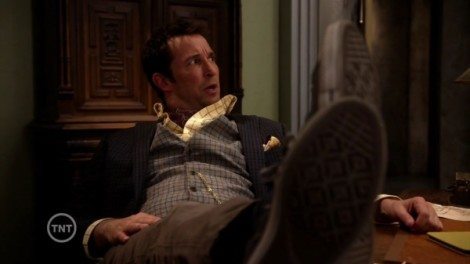 Back to Sicily they all went, then, to track down the totem. However, Prospero had one more trick up his sleeve. One last attempt to get the Librarians and Eve to choose the desires of their heart over what was right. To Jake, he offered a position at the Louvre through the curator there. To Cassandra, he offered a chance through NASA to be the first person to walk on Mars. To Ezekiel, he offered the chance for him to be an international crime solver through Interpol. Each of them, though, ultimately chose friendship over their desires and made their way to the totem.
Eve's final challenge was a bit trickier, as it involved Moriarty revealing a key piece of what led them all into the spell. He admitted that from the moment they had met, he felt a connection to her. So when Prospero planned to do the Big Bad Mysterious Thing to the world, he begged him to give her and her friends the happy ending they deserved. It would also give him the chance to be with her forever. Eve rejected him. Told him that it wasn't real love because real love (in all of its forms) wasn't supposed to be easy.
She left him, and he turned against them all and went to gather the mob.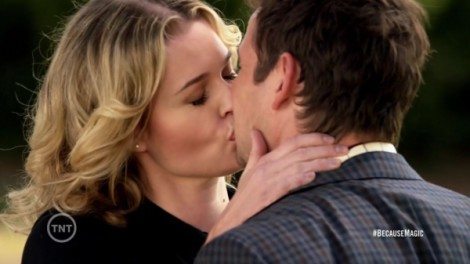 At the last minute, they all made it to the totem, discarded their talismans, and owned who they really were. Through the door to the annex they then went, except the totem followed and they did not end up inside the Library. Instead, Eve and Flynn were left to puzzle over why they still hadn't broken the spell. It turned out that Flynn, too, had been caught in the spell. His idealized life was one where he saved everyone all by himself, and could continue to solve endless puzzles on his own. Once he finally owned who he was, too (including his new identity as a Man Not Alone), the annex was opened to them and Jenkins came out bearing bad news.
They'd been trapped in the spell for three weeks, and in that time, Prospero had begun to wreak havoc.