https://www.youtube.com/watch?v=osxYhhY0gsM
Aladdin: Diamond Edition [Blu Ray]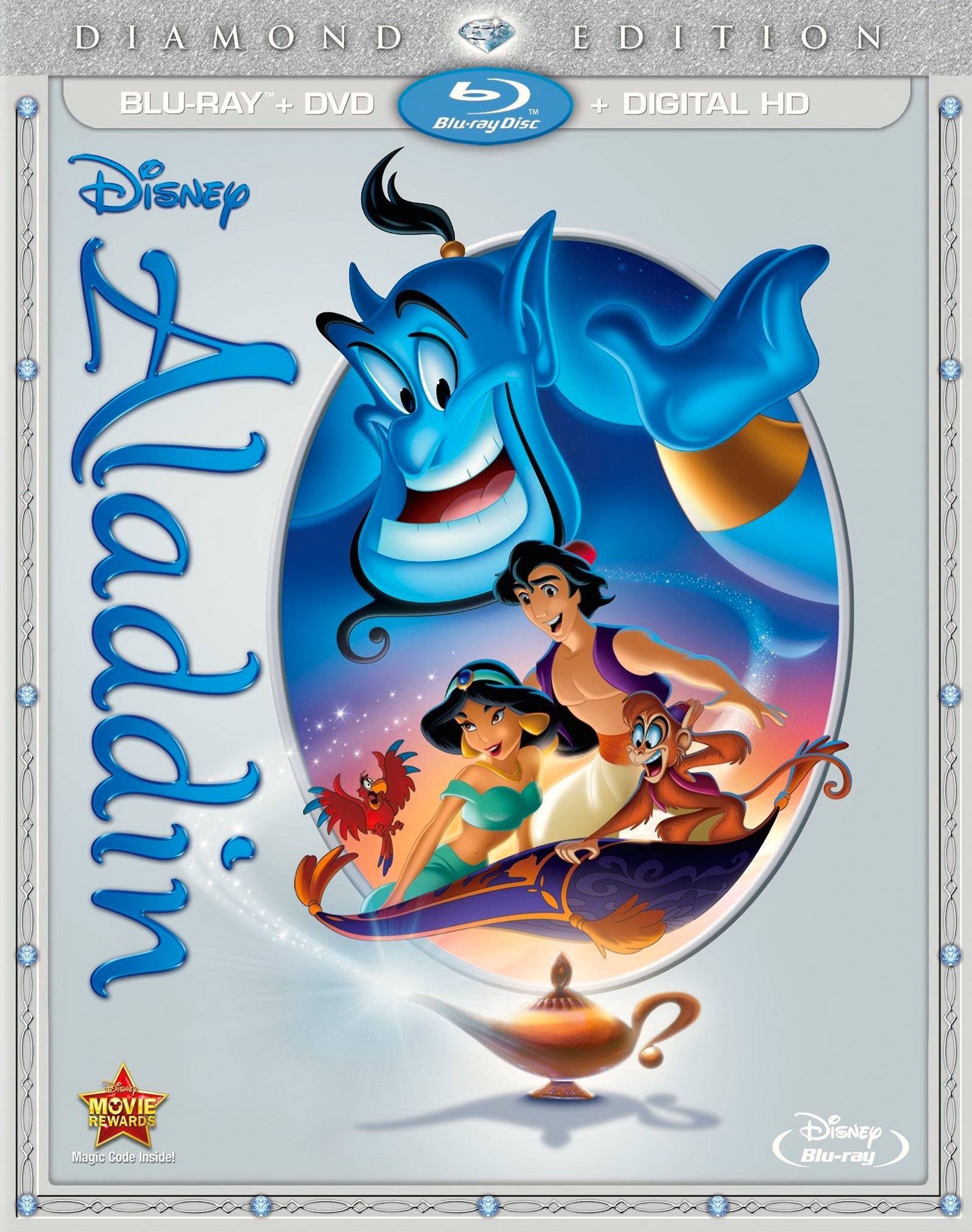 Release Date: October 13, 2015
Cast: Robin Williams, Scott Weinger, Linda Larkin, Jonathan Freeman, Gilbert Gottfried
Director: Ron Clements and John Musker
Studio: Walt Disney Pictures, Walt Disney Feature Animation
Distributor: Buena Vista Home Entertainment
Genre(s): Family, Animated
Extra Feature Rating:  ★★★★★
Rating: ★★★★★
Review Spoilers: N/A
Amazon | IMDB | Wikipedia
Aladdin is a movie that really needs no introduction. It is one of the timeless classics of so many of our childhoods. While kids these days may think of Disney and picture Frozen, p, and Brave we will always remember singing along to Beauty and the Beast, The Little Mermaid, and, of course, Aladdin. For that reason alone the Diamond Edition that releases today was a must buy as far as I was concerned.
Nostalgia doesn't get any better than this.
And more than a year after we said goodbye, it's nice to hear Robin Williams's voice again. It's good to hear him bringing the Genie to life.
I just rewatched this movie a couple days ago (twice) and it was such a great experience. I was surprised at how many songs I remembered. It was just so much fun to watch. I say this as someone who is in the latter half of her twenties with no kids. This movie rocks!
https://www.youtube.com/watch?v=sdDICg1y198
But there's more to this release than just the movie itself.
There are an incredible number of special features on the Aladdin Diamond Edition. This shouldn't come as much of a surprise. Aladdin has been one of Disney's most believed films and there have been a handful of different releases since it's initial home video release on VHS. Instead of just giving us a handful of new bonus features, this version gives us all of the older ones as well.
There aren't a whole lot of blu-rays that I'd say buy just for the special features and I guess this isn't necessarily one either. It's Aladdin. Buy it because it's Aladdin! But definitely keep the special features in mind.
Here's what you'll be getting.
The Genie Outtakes
I hope you're ready to cry because when you watch this featurette you're probably going to cry. The outtakes themselves aren't emotional. It's the commentary on Robin Williams and his passing that will get you tearing up. It's hard to believe that it's been over a year now since he passed. I had been wondering how Disney would address his loss with the impending Diamond Edition release and I think they gave us a great tribute by mixing in new dialogue and jokes from one of the world's greatest comedians with their own memories of working with him on the film. These moments alone make picking up this blu-ray release worth it.
Aladdin: Creating Broadway Magic
One of the most informative and intriguing special features I've come across in a long time, Creating Broadway Magic is an almost twenty minute documentary highlighting the challenges of adapting the classic animated film for the stage. I didn't realize how much work went into the production or how much it has changed from show to show before settling in to the highly praised rendition you can see today not just on Broadway but soon around the world. The featurette explains how they figured out what worked and what didn't work and changed it on the fly. It goes over how they had to find a way to make things seem magical without the benefits of animation. It also takes a moment to really acknowledge the cast and crew and their efforts – especially how they embrace showing diversity on stage. It's really awesome. (Though Darren Criss's unnecessary interludes are rather distracting.) It's long – but amazing.
https://www.youtube.com/watch?v=eUpZahvhUFQ
Unboxing Aladdin
If you can look past the overly exaggerated childishness of Joey Bragg from The Disney Channel's Liv and Maddie, you can learn some cool little things about Aladdin from this feature! A lot of hardcore Disney fans probably already know most of the trivia but it's fun to go over again! Did you know that the carpet was the first animated character who was mostly computer generated? Or that The Little Mermaid's Sebastian and Beauty and the Beast's Beast both have cameos in Aladdin? How about that Jonathan Freeman – who voices Jafar – has been playing the character in basically every spin-off for the past twenty years? He's even in the Broadway show which is covered more in Creating Broadway Magic!
Genie 101
Hosted by the voice of Aladdin himself, Scott Weinger, this special feature is perfect for explaining some of the more dated references in the movie. The Genie does numerous impressions of famous individuals throughout the movie but children watching the movie – and even parents – some twenty odd years after the film was originally released won't recognize all of them. (I sure didn't.) Some are easy to recognize like Arnold Schwartzenneger and Robert de Niro. But others such as Groucho Marx, Ed Sullivan, Arsenio Hall, and Rodney Dangerfield aren't going to mean much to the kids and parents born since the film was released. I won't lie to you guys. Until I saw this featurette I wasn't entirely sure who the Genie was imitating at certain points…
https://www.youtube.com/watch?v=MCjb7lqarQ8
Ron & John: You Ain't Never Had a Friend Like Me
It's bromance Disney style! John Musker and Ron Clements are a pair of well known collaborators who worked together on classics like The Little Mermaid and then Aladdin. It's kind of cute watching them chat and bicker back and forth like only people who have known each other for about forty years could. They talk over one another a lot which is terrible for the closed captioning but hey! After meeting at Disney as young men these two went on to create some of our favorite Disney movie memories. It's good to see some of the memories they have created together. I laughed harder during this feature than I did any of the others, I think, because their relationship is just so genuine. I have serious friendship goals now.
Classic Bonus Features
I'm not going to lie. Some of the classic bonus features are a little dated – like the music videos featuring Jessica Simpson and Nick Lachey. Others, though, are absolutely timeless. The deleted scenes and deleted songs, for example, with fascinate viewers of any age. And the whole release would feel incomplete if not for the making of features that have been a cornerstone of the experience for years. I highly recommend watching them – especially those focusing around the music of Aladdin and other Disney productions. In particularly, watch the introduction to the deleted song "Proud of Your Boy" which was written by Howard Ashman who passed away during the production of Aladdin. It has a very emotional introduction by his former collaborators and I think it really shows just how much this film meant to so many of the people behind the scenes.
Out if all the Disney home releases for this year I think this was probably the one I was looking forward to the most (at least until Inside Out comes out next month). I just wanted to watch Aladdin for the first time in probably a decade. I didn't realize how much I would enjoy the special features – especially the ones that had unknowingly bee available for years.
I highly recommend this one, guys! Take a little time his weekend to pick up a copy and relive a little childhood magic.


A REVIEW COPY OF ALADDIN: DIAMOND EDITION ON BLU-RAY WAS PROVIDED FOR THE PURPOSE OF THIS REVIEW. NERDOPHILES WAS NOT COMPENSATED FOR THE REVIEW AND THE OPINIONS HERE ARE OURS AND OURS ALONE.