The Spiritglass Charade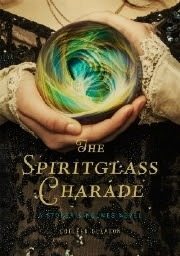 Author: Colleen Gleason
Series: Stoker & Holmes #2
Release Date: October 7, 2014
Publisher: Chronicle Books
Source: Edelweiss DRC
Genre(s): Young Adult, Steampunk, Fantasy
Rating: ★★★★☆
Review Spoilers:  Low
GoodReads | Amazon
Talk about surprises. Somehow The Spiritglass Charade is even better than the first book in the series. Colleen Gleason, you're killing me here! How am I supposed to wait until fall for the third book!? I need it now. Seriously.
The Spiritglass Charade was more of a low-key mystery, as opposed to the last book which involved a lot more widespread conspiracy. It also ties in several goings-on instead of just one overarching mystery (though things do ultimately come together in the end).
In this book, Mina and Evaline are investigating a young woman whose obsession with the supernatural may have sinister roots. Along the way they find that someone is manipulating the poor girl. Evaline also discovers that vampires may – in fact – have returned to London. And Evaline's got her own issues juggling her affections for Dylan and this thing that's clearly heating up between her and Grayling.
Usually I hate love triangles. But I like all of these characters so much that… honestly? It doesn't bother me. At all.
The whole story was great. It felt like a very classic mystery with all the additional supernatural twists you'd want considering the setting (and how can you hate a book that gives you a beagle puppy with a steampunk prosthetic leg?).
And the reveal at the end?
SHOCKER!
The only issue I had? Dylan – again. For the most part he was okay. When he wasn't doing anything major he was fine. He saves the life of the queen. He does some medical science that this period of time has no right knowing about. And… I don't know. They don't utilize him enough to make him important and that bothers me. You could take him out of the book entirely and he wouldn't mater at all.
Now, I'm sure that we're building up to something in the next book where suddenly Dylan matters a whole lot. And I'll bet I'll be super happy about. But so far he's just… there. I hope he does more soon!
Otherwise, this was an awesome continuation to the series. I can't wait to see where the story goes in the next book, The Chess Queen Enigma, which releases in September!
A REVIEW COPY OF THIS TITLE WAS PROVIDED BY THE PUBLISHER VIA EDELWEISS IN EXCHANGE FOR A FAIR AND HONEST REVIEW.