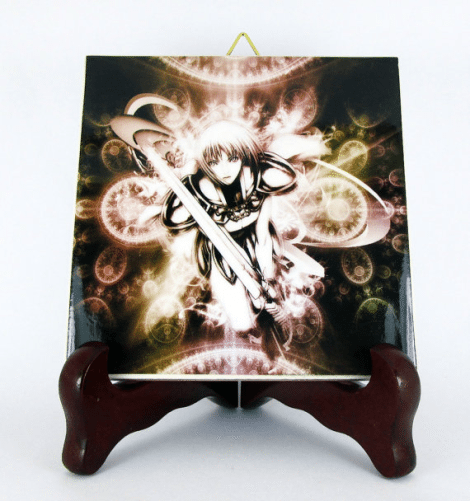 This is an interesting piece to add to any collection. This is a visually appealing, glazed ceramic tile of Clare from Claymore. It comes with a little golden hook (notice the golden triangle at the top of the tile) so it can easily hang on a wall, though it DOES NOT come with the cute stand. In the description, the store states that the glazes they use on these tiles are completely safe and water based. They also have collectible tiles for Fairy Tail, The Nightmare Before Christmas, Zelda… they even have Audrey Hepburn. If you want a nice tile, they freaking have it! They even do custom orders.
Alright, this shop has won me over. The item itself costs $9.50 and ships from Italy. Want to know the shipping? It is a glorious $o.oo! FREE! To anywhere. Just expect to wait three days for them to create it and ship it to you. They will even replace the tile for free if you receive it and it is broken from the shipping.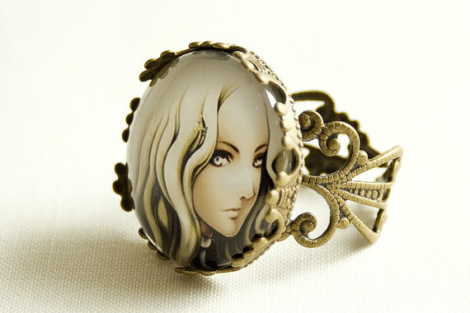 I want this, just in silver. This is a bronze 'antique' 20mm ring, supposedly without lead or nickel in the metal. I am unsure if the ring size is adjustable, but I would think so. It is definitely something to message the store about before ordering. This particular ring has Teresa in it, but they also have Priscilla, Irene, and Ophelia. I am actually pretty happy they don't just have Clare, I like seeing other characters get in on the action! Personally, I think this looks great and because they accept custom orders, I may be able to get it in silver!
This costs right around $10, with about $5 in shipping no matter where this is going in the world!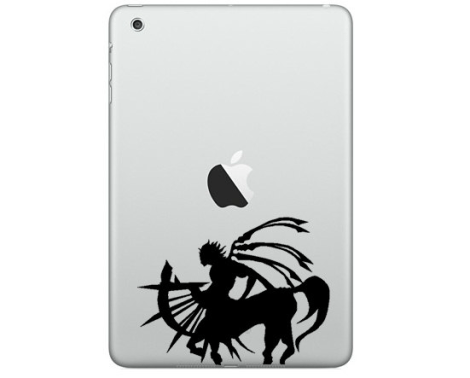 Why is this only for the iPad? I get the feeling I can put this on anything that it can adhere to. This particular sticker is of Isley from Claymore, but they also have Priscilla, Clare, Alicia, and the Clare/Teresa statue. The reviews for these are really good and they come in multiple colors! A few of the color potions include, gold, pink, yellow, brown, and grey. In the description the seller states that this decal is safe on multiple surfaces, including cars. Essentially they are safe to equip to ALL THE THINGS!
Th price starts at five dollars and go up to eight dollars depending on the size. Shipping is $2 within the United States, and $3.50 to anywhere else.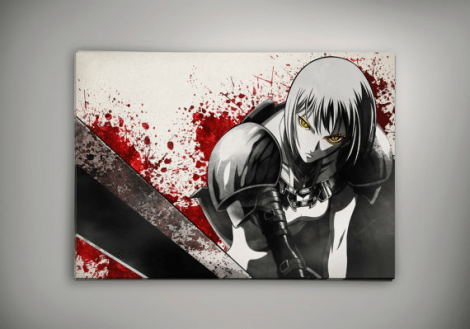 I've posted about EpicShoppe before. They are just fantastic. I like how they got the eye color correct for  when a Claymore kills a Yoma. The shop offers multiple blood covered Claymore poster prints, but this one is my favorite! There is a Teresa one that looks pretty nice, except for the fact that she is sporting massive… well you figure it out.  As per usual the shop is offering their buy two, get one free deal which is really nice to get in on.
The posters come in varying sizes from 4.1 x 5.83″ at $7, 5.83 x 8.27″ at $13, 8.27 x 11.70″ for $19, and 11.70 x 16.55″ for $25. Shipping is $8 overall, no matter if you are in Vietnam or Canada.
I love this derpy pin of Clare and how she is staring at her sword like, "What is this?" The drawing on this pin is hand drawn, as are all of the images from the seller. Think of how cute this would look on a backpack strap or a jacket. They also do custom orders if Clare isn't quite the character you want. I just really enjoy how derpy she looks. It's really cute!
These are definitely better bought in bulk.  This pin is $2, and another $2.50 for shipping in the U.S or $7.50 anywhere else. You only get charged shipping for the first pin, so the more you buy at once, the easier it is to justify the shipping price.