Butterfly #2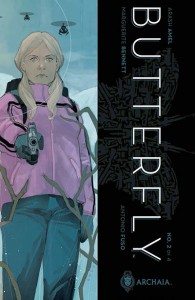 Author: Arash Amel, Marguerite Bennett
Artists: Antonio Fuso
Release Date: October 14th, 2014
Publisher: Boom! Studios
Source: Boom! Studios press archive
Genre(s): Espionage, spy-fiction
Rating: ★★★☆☆
Review Spoilers: Low
Butterfly #2 once again presents a typical spy thriller with a slightly atypical lead character. At the end of the first issue, it was revealed that Rebecca's father wasn't as dead as she thought he was. Tucked away in the French countryside blanketed by snow, her father played stupid and pretended he didn't know who she was. However, after returning to his home with her in tow, he had no choice but to admit to his new wife and child that she was his daughter.
Unfortunately, instead of a joyful reunion there was a lot of anxious memories. While it may have been the father-daughter reunion Rebecca had hoped for, she was still an agent. She was still dangerous. In a moment of surprise and shock she appeared to forget everything she had learned and threw caution to the wind. This ended up endangering her father and his new family.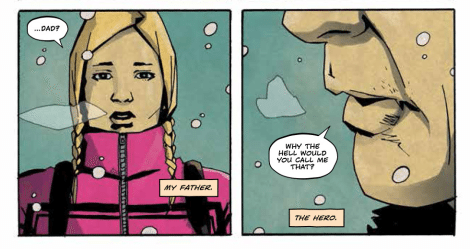 There was a lot of back story as readers got a peek into the life of her father. After all, he was the reason she'd been brought into the agency. His work for the very same project led to her being absorbed into it after his death. She'd followed in his footsteps, and seeing her again led him down a less-than-pleasant memory lane which produced a rather moody tone to this part of the story. It was a good, though, because readers had a chance to finally peek behind the curtain. There was more character building, which is exactly what the second issue should be aiming for.
However, even with all the character building the plot moved forward. I'll leave it to you to read it and get the dirty details. Needless to say, the story slowed to review the past and then quickly picked up the pace again to thrust it forward into the future. All in all, great read, and I look forward to the next issue.
You can read my review of the first issue HERE.