Black Science Vol. 1:
How to Fall Forever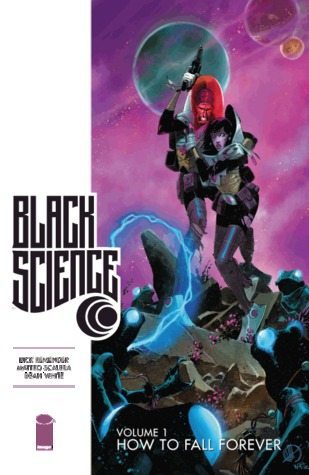 Author: Rick Remender
Artists: Mateo Scalera, Dean White (Colorist)
Release Date: May 28, 2014
Publisher: Image Comics
Source: NetGalley DRC, Owned
Genre(s): Science Fiction
Rating: ★★★★☆
Review Spoilers:  Low
GoodReads | Amazon
Growing up, I loved Sliders. It was one of my absolute favorite shows and it really was a great, mostly family friendly science fiction series. I still get nostalgic for it sometimes and for years there has been a gap in my sci-fi the size of an infinite number of parallel universes. Then Black Science arrived and filled that gap.
Honestly, when I have to describe this book to other people, I kind of go with something along the lines of "it's kind of like a way darker and way more violent Sliders." Granted, it's not a perfect comparison. But still.
In Black Science, egotistical scientist Grant Ward creates a device called the Pillar that can transport people from one dimension to the other. The plan is to discover dimensions where the worst of humanity's problems have already been solved and bring those things back to our world. But everything goes wrong. While giving his children a tour of his lab, the Pillar malfunctions and strands them all in a crazy, alien dimension full of danger.
It only gets worse for them from there.
Every new dimension seems to be more dangerous than the last and they have little way to protect themselves. People die. Grant's children are constantly at risk. And they have no way of knowing where they will go next or how to control it. They just know when they'll have to jump into the next dimension and if they aren't near the pillar? They get left behind.
Black Science is such a phenomenal series that it's hard to put the book down. It's fast paced and unlike a lot of media, no one is safe. The writers don't pull punches and no matter what you think can or should happen there's no garuantee it will. There are no happy endings. Black Science hits hard and the plot moves harder.
Plus it looks amazing. What really drew me to this book was the cover. I didn't know anything about it the first time I saw it but damn. That cover is beautiful and the interior artwork is just absolutely perfect for the story. Scalera is a goddamn genius.
I'll say this, too. I have the first volumes of maybe a dozen different Image series and though there were other series I had been waiting on the next volume for for much longer Black Science took precedent. As we speak, Volume 2 is on it's way to me and I cannot wait.
Science fiction fans need to check out this book. I cannot recommend it highly enough. It's just one of Image's fantastic sci-fi offerings and, really, you should be checking out all of them. We are living in a golden age of science fiction and we all need to be taking advantage of that fact while it lasts!