[youtube=https://www.youtube.com/watch?v=pTDvjMWlrO8&w]
ZBOX – February 2015
ZBOX is the new kid on the block in the world of subscription boxes. They're a UK-based company that ships worldwide. Their February box is their third box and to get a feel of what's in the boxes, check out their past two. Every month ZBOX features awesome items and gear focused on a new pop culture influenced theme. They have announced next month's theme: Retro. Get it quick because I'm sure that'll sell out too.
Without further adieu, let's check out this month's theme of Undead.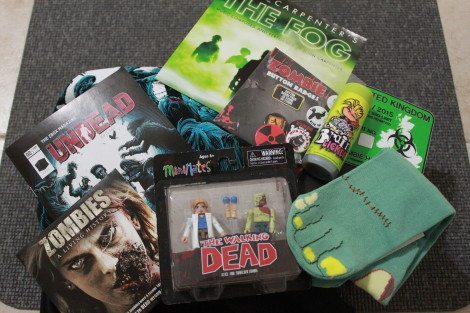 For their third box, I think they have a good thing going. The box design is really nice. I always like it when companies decorate the box because it adds that much more to the overall feel. I like that they do a magazine because you can read the different theme inspired articles – it is very Loot Crate-esque with a description of all the items. For this month's box there are 8 items total.
Let's start with all the ZBOX exclusives beginning with the t-shirt. The t-shirt was exclusively designed for ZBOX by Dan Mumford. It's an awesome undead illustration with amazing detail and a great look to it. Dan has some fantastic pieces of artwork so I'd definitely check him out. The second exclusive is a vinyl record of The Fog soundtrack from John Carpenter's cult classic. The vinyl is a neon green and has a very eerie cover on it. This was produced by Silva Screen Records. The third exclusive is a Zombie Hunting Permit sticker. It says United Kingdom on it, but I'll give it a go in the U.S. and see what happens. The fourth and final exclusive are the zombie badges. You get five buttons to swag up your gear and be apart of the kickass zombie army.
The other four remaining items are The Walking Dead Mini Mates (articulated figurines from the hit TV series), zombie socks (keeping your feet nice and cozy one desecrated look at a time), a History Channel DVD of Zombies: A Living History (if you're going to fight them, might as well get all the information you can on them), and last but not least the Brain Licker (a syrupy sour liquid candy you put in your mouth).
Overall a very well put together box with some great exclusives. I'll definitely be wearing the shirt and socks. The value of the items far surpassed that of the actual price of the box which is always a great thing and for that they receive high marks. There are a lot more exclusives in this box as compared to Loot Crate or Nerd Block, keep that up ZBOX. You're finding your groove and I can't wait to see what else is up your sleeve.
Retail Value: ~$95.00 or £62.00
ZBOX Cost: $30.00 or £19.99
Rating: ★★★☆☆