Synopsis of 7×12: We go on one last ride with the crew as they pack their bags and leave Pawnee. But of course the writers aren't going to leave us without letting us know what happens in our close friends' lives!
Rating: ?????
The final episode followed the crew spending their last day together in the only way that they knew how; completing a totally random and arbitrary task of fixing the swing in the park that started it all. The twist though? As Leslie said her goodbyes to everyone, we were able to peek into the futures for every main character (and a few fan favorites!) and find out the fate of the characters that had been a part of our lives for the past six years.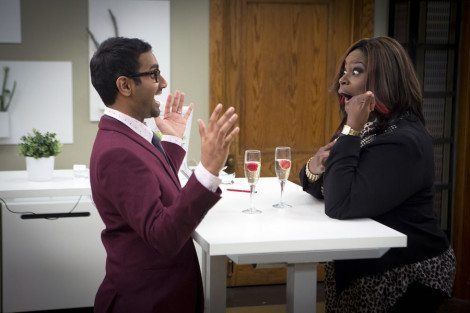 Tom's future was actually the most disappointing, if only because he has to lose it all to gain the fame he so desires. After deciding to stick to a strictly laid out business plan for opening up a series of new restaurants, he hits a low when the United States runs out of beef and he has to shut all his restaurants down. Lucy is there by his side though, and she encourages him to keep going since nothing has held him down for too long. And boy does she get it right. Tom eventually becomes a motivational speaker, famous for his book about how failure is the American success story and how we have to emulate the seven types of people to lead a successful life ("The Ron", "The Leslie", etc.) but how we never want to be a Garry (which Garry realizes is a reference to him in delight). You could say he has a pretty diverse following, Kendrick Lamar is even a huge fan, and he seems happy to be in front of others living for his every word on how they should live their lives.
Donna also has a wonderful future life in Seattle with Joe, where the real estate industry is as busy as the construction of the Space Haystack around the Space Needle. There's one problem in their happy home life though, Joe is absolutely distraught that math has been cancelled in schools across America, and she comes up with a plan. Collaborating with April, who's still at the foundation she moved to DC to work for, they come up with "Teach Yo' Self," a program for students to be able to learn math outside of the classroom. Joe is happy, but doesn't want her spending her money on something she doesn't want, to which she responds that this is what's important to her now. When they all gather together for a get together in 2025 after they all leave Pawnee, Tom chastises her for "going non-profit" on him until she flashes him her new diamond encrusted watch and the two celebrate all that is decadent.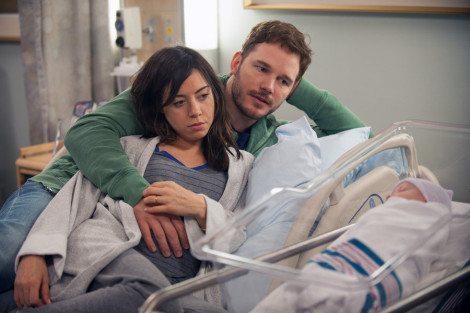 The future for April and Andy featured a different set of challenges though; the decision of whether or not to have children. While in their (way too nice and incredibly expensive) DC apartment on Halloween, the two are preparing to spend the evening with Leslie and Ben when the trick or treaters come by and Andy expresses his interest in having kids. When they go to the Wyatts' expecting to hang out with the entire crew only to find that the kids are out for the night, they talk with their respective friends (Ben pulling Andy to the side to talk which was "super smooth") and come to a decision on children. And on Halloween a year later they welcome Jack (short for a whole lotta stuff but mainly "Jack-o-Lantern") Dwyer to the world. When they reunite in Pawnee in 2025, it's revealed that April is pregnant with their second child, and I'm so happy to see them become parents. Who didn't imagine Andy as the world's greatest dad?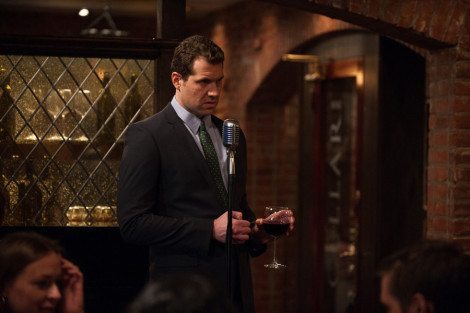 Let's be real though, we were treated to some nice surprises when we found out what happens to Craig, who ends up marrying Typhoon, Ron's hairdresser who becomes such a good friend that he's the best man at their wedding. The two grow up to be fabulously old together, but of course Craig is still his volatile and tempermental self to Typhoon's delight. We also get a glimpse into the future of Jean-Ralphio and Mona-Lisa Saperstein. After begging Leslie to run a scam with him where they pretend to be married but end up falling in love (and then admitting his undying love for her), we find out that in 2012, Jean-Ralphio fakes his death with Mona-Lisa so that they get the life insurance money and live rich lives. As they watch his fake funeral from behind a tree in the Pawnee cemetery, where he's stipulated in his will that they all must listen to "Bend Ova" by Lil Jon ft. Tyga as he's being dropped into the ground, the rabbi discovers them dancing and chases after them, leaving the rest of their fate unknown.
Garry also gets to live an absolutely wonderfully beautiful and long life. The citizens of Pawnee like his so much that they vote him in as Mayor over ten times, and he is just as excited every term to serve the town. He lives out his life in Pawnee, where he celebrates his 100th birthday party with all of his closest loved ones around him and peacefully passes away in his sleep that night as him and Gayle hold hands. Typing this out almost has me in tears as watching it on screen did, but Garry deserved a long and happy life and that's exactly what he got.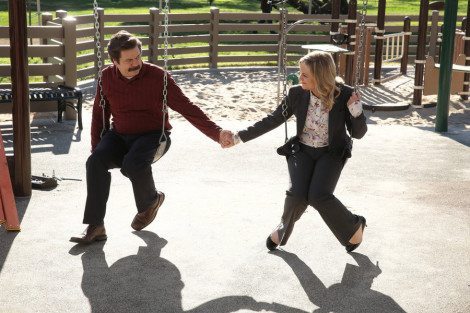 Remember when this season started off and Ron and Leslie were in a huge argument and were no longer friends and how we were all so scared? Yeah, forget that initial heartbreak, the real heart shattering moment was watching how close they stay in the future. One day in the distant future, Ron gets bored with corporate work and decides to just up and quit. After diversifying his portfolio and having two more kids with Diane, he approaches Leslie and Ben with a dilemma, to Leslie's delight of course. He's stuck at a crossroads, his kids are about to go off to school, he wants to continue working, but he doesn't know what he'll do. Leslie refuses to ignore him when he's asking for help this time around, and offers him the role as the head of the Pawnee National Park. Yes, he'd have to work for the federal government, but as Leslie notes, he'd just have to walk around the woods, make sure the earth is taken care of, and potentially talk to bears.
There's no one more qualified for the job than the epitome of machismo himself, Ron Swanson.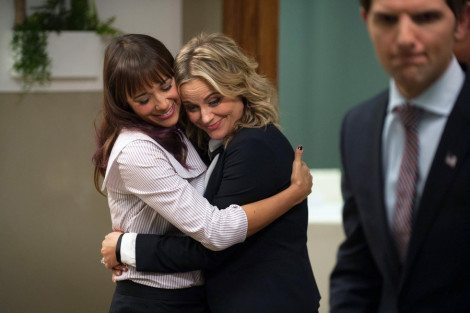 What would a series finale be if not for important main characters from the past coming back for one last hug? Ann Perkins and Chris Traeger "literally" do just that. When they all gather in 2025 for a reunion, the two of them are there along with their children Oliver and Leslie, yes, Leslie. As Oliver and Sonia (Leslie and Ben's daughter) get to know each other, the two mothers hold each other close as they dream about their kids' wedding and how they have to not make it so obvious they want the two of them to end up together. Ann is still loving and warm and Chris is still obsessed with his health and it was all you could have asked for in a quick little spot, ridiculous nicknames included.
But the story has always been about Leslie, and eventually Ben's life and dreams of political stardom. The two do wonderfully in DC. Ben wins the race for Congress, the two become regular dinner guests with the Bidens, and one day, the DNC approaches Leslie about running for Governor of Indiana while Jenn Barkley comes sniffing out Ben at the same time. As the two flit about figuring out who would run, they take the 2025 trip to Pawnee where they finally end up figuring it out, when they go to announce to their friends that they want them there for the coin flip that will decide, Ben pipes up and says that Leslie will be running. It has, after all, been her dream since she was a child.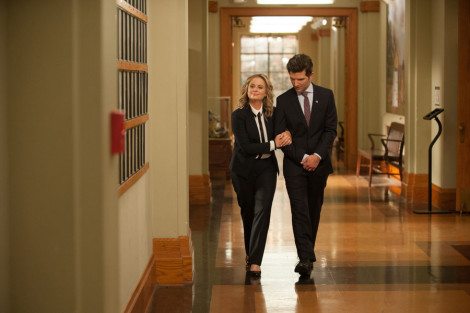 We get a glimpse forward to 2033, where Leslie gives a speech at Indiana University on how she couldn't have gotten to where she was now without the help of her friends as they stare at her lovingly from the crowd. While she only gets "a f****** library" donated in her honor, she has other crazy adventures ahead as she states herself, and do you remember Garry's funeral? How Leslie and Ben had secret service with them? And how Ben was wearing the quintessential political pin of the flag of the United States? Who else thinks that she finally made it to the White House?
But we get brought back to  2017 as they stand around the fixed swing and gather for one final photo. As Tom complains about the lighting, Garry fumbles with the camera, and Donna cracks jokes, Ben turns to Leslie and asks her if she's ready, to which she turns triumphantly to the camera and declares, "I'm ready."
Thank you Parks and Rec. Thank you for the wonderful characters, the jokes that fans and non-fans will be quoting for years to come, and for the tears of a wonderfully written series and finale.
It has been an amazing ride.