Salem, Oregon is kind of a weird place. It is the capitol, but is often overshadowed by its older brother Portland. While Portland is supposedly a weird place, I'd put in for Salem being pretty stiff competition. Yet amongst the weirdness in my little hometown there's a lot of heart, and that was demonstrated in a recent event put on by the organizer behind Northwest Comic Fest.
Every first Wednesday of the month, downtown Salem puts on an event called, yup, "First Wednesday." It is a chance for bands to play and businesses to open their doors to provide an evening community environment. Usually the big events that occur alongside First Wednesday happen in the summer when the clouds have receded and everyone wants to get out of their house. However, February's First Wednesday provided the people of Salem and Keizer with an extra treat.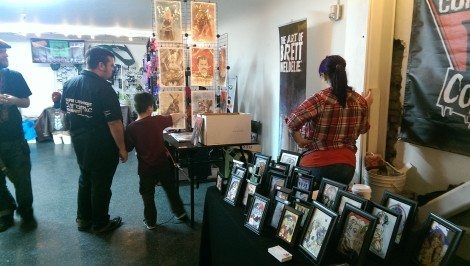 On the coattails of a few comic-based events being cancelled, a new event was created. A lot of local artists and vendors had lost the deposits they'd put down on tables for the events, some of them even lost the entire cost of the table. When this happened, Northwest Comic Fest head Casey Ocupe saw a need and decided to address it. Working with the Salem Arts Building, he managed to secure fifty tables that he would offer up to local artists and vendors at no cost.
People who had been in a pickle due to previous event cancellations would have a chance to make back some of their lost money.
What started as a way to help local artists and vendors quickly became a mini convention unto itself. People flocked to sign-ups and the table spaces filled up rapidly. Both artists who had lost out on previous events and those who hadn't lost anything were welcome to sign up for a chance to vend at First Wednesday. Local businesses in the area partnered with Casey and Northwest Comic Fest to create swag bags for the event.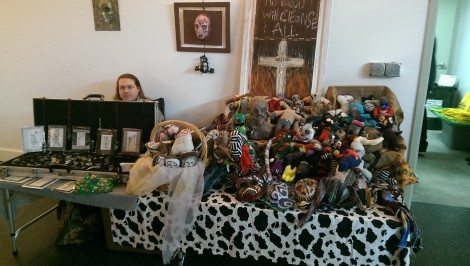 This event provided an avenue for artists and vendors to make back lost money, and added a little spice to a February First Wednesday. The event attracted vendors of all sorts. From cosplay enthusiasts, to comic book artists like Brett Weldele, to creative minds who pick up scraps of metal and create masterpieces. The number and type of vendors were endless, similar to what one would be able to see at a convention.
Geeks, nerds, and everyday people roamed the labyrinth that is the Salem Arts Building to view and purchase all sorts of goods. People dressed up in cosplay, there were photo ops, and Casey Ocupe could be found making the rounds and talking with everyone at the event. The vendors enjoyed it, and I had a chance to spend an hour wandering around the booths and enjoyed it, too. It was an above and beyond event put on by a convention head who, at the end of the day, cares most about providing fun and safe activities for people in his community.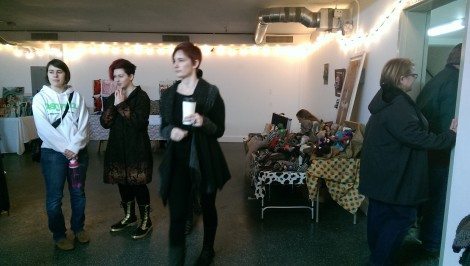 Northwest Comic Fest's mini-con also provided a preview for what the actual convention in August will be. If such a small event turned out to be such a big success, what does that say about the impending convention slated to take place at the Salem Convention Center? In my eyes, it is just going to go up from here.
The best part? Since this First Wednesday event was such a huge success, there's a likelihood that it will be repeated at a later date. That's right, we might get the chance to experience a number of mini-conventions to tide us over until convention season rolls around. In the end, Casey Ocupe and the team at Northwest Comic Fest have great hearts for their community and that in turn is going to lead to a great event.
If you're interested in more information about Northwest Comic Fest, you can check out the website HERE, and my past interview with the guy behind the whole thing HERE.