Synopsis of 7×07: In the one week with only one episode this season, Donna and Joe tie the knot as Leslie and Ben make some life changing decisions all in 24 hours as April makes sure the day runs as smoothly as possible.
Rating: ★★★★★
I don't know about you guys, but this episode was just glorious from start to finish. I don't know if I could have asked for more in terms of character development, jokes, and just seeing everyone in general getting together for a celebration now that conflicts are out of the way.
And I'm going to be one hundred percent real with you all, Donna is one of my favorite characters in general so seeing an episode centered around her (although she doesn't have a lot of screen time) was glorious.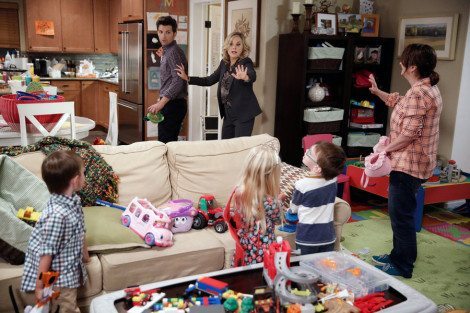 The episode basically told two stories, the one of Donna and Joe's wedding and the other of Ben making potentially life changing career decisions all while inebriated. We get our first glimpse of the triplets in action, and boy were they as crazy as you would have expected from the Wyatt-Knope union. In a great bit from Rachel Dratch as the babysitter, we see how much chaos the kids can create ("They bumped into each other and destroyed everything you own") and I'm really happy that we can finally had a peek into the family life of Leslie. I bemoaned last week that I wanted more than just an assurance that all was fine and this week they granted me my wish.
But before Ben and Leslie can get out the door (they're on their way to Donna's rehearsal dinner) our dear old friend Jennifer Barkley (the always wonderful Kathryn Hanh) appears with a proposition for Ben – run for Congress. Yes, like real life all in DC, Congress. They don't have time to discuss it, but they run out and Ben keeps playing with the idea all night. And he really gets into it once the drinks start flowing.
But Donna's wedding can't go by without any other drama than a drunk Ben and Leslie contemplating huge life decisions, no? While April, her maid of honor, is keeping things relatively drama free (including quarantining any Meagle family members that might be too crazy for the rehearsal dinner, including an overly emotional Ginuwine), Ron is off running his mouth about Lucy and Tom's new relationship, making a comment that Tom would probably marry her tomorrow if given the chance. Tom is mortified while Lucy is just awkwardly trying to brush it off, but it's a classic Ron moment when he won't forgive for what he says and just continues to let Tom become overly paranoid about it.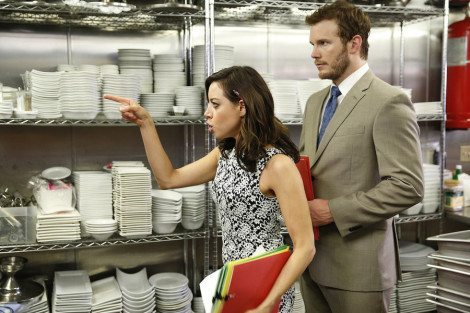 The next morning though, Leslie and Ben wake up absolutely destroyed from the night before and to headlines stating that Ben is going to announce his candidacy, which he has a hard time remembering. As they shuffle off to the wedding, the decision looms over their heads until they walk out the church and are assaulted by the press and they try to find the stuffed zebras their kids are missing. When posed the question, Ben hesitates for a moment before turning on that political aptitude we all know he has and announcing his intention to run. What could this mean for the family that started here in Pawnee, and even turned down the opportunity to move to Chicago? They worry about that the next day over breakfast with Jennifer, and head off to the reception happily.
The wedding itself though goes off without a hitch, even with Donna trying to create some drama with her bridesmaids ("You were right. Your college boyfriend was into me" she declares to her formerly estranged best friend). The vows were simple and beautiful ("I learn something new everyday, like just yesterday when I learned that Pearl Jam's "Vitalogy" is about you"), the Shia LaBeouf designed gown was gorgeous, and the party was popping afterwards.
The team was all back together, everyone was happy, and a single tear fell from my eye as I joyfully took in the banter going around the table. That is, until Donna's long lost estranged brother Lavondrious (shout out to Questlove) appears and destroys a microwave that destroyed their relationship, solemnly declaring, "Now no one gets any popcorn," and leaving me in stitches on the ground.
A super solid episode; classic jokes, great characters, and crazy shenanigans from start to finish.