Captain Marvel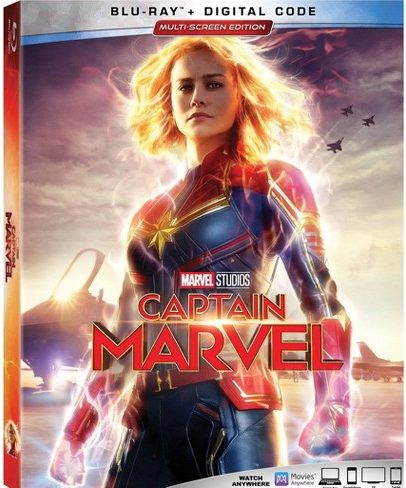 Release Date: June 11, 2019
Cast: Brie Larson, Samuel L. Jackson, Jude Law, Ben Mendelsohn, Lashana Lynch, Annette Bening
Studio: Marvel Studios
Extra Feature Rating: ★★★☆☆
Rating: ★★★★☆
Review Spoilers: Low
Amazon | IMDB | Wikipedia | RT
I'm going to make a confession here: I saw Endgame before I ever saw Captain Marvel. I know, I know. How could I possibly skip a film like Captain Marvel in theatres? Trust me – it wasn't by choice. I took the kids to see Captain Marvel and got finagled into seeing a completely different movie (which will remain unnamed since it was from a rival company). But now that I've finally gotten a chance to check it out I have to say: Captain Marvel rocks.
The character's minimal appearance in Endgame left me wondering how Captain Marvel fits into the larger Marvel narrative but having now seen the character's origins I'm super stoked for her to pick up the torch and shepherd in the next generation of Marvel films. From the story we're told, she's one of the very first heroes in the cinematic universe and the films we've seen over the years forged the perfect path for her fiery return.
Captain Marvel has been touted as an origin story not just of Carol Danvers' Captain Marvel but also Nick Fury – and the Avengers Initiative as we came to know it. It's does a fantastic job of knitting together the history of the MCU betwen Captain America's heyday and the introduction of Iron Man proving that there's always been some pretty crazy stuff going on even without the traditional superheroes around.
I loved a lot about this movie. A lot can be said and already has been said about Carol Danvers as a strong, determined, female hero and what she represents to Marvel fans around the world. I was not disappointed in this film at all and Captain Marvel gave me everything I ever could have hoped for and more. I also enjoyed the groundwork that the film laid for future MCU adventures, introducing the Kree and the Skrulls.
You can check out our full review of Captain Marvel here courtesy of Cody Eastlick. Needless to say, we're all pretty big fans.
Special Features
As much as I enjoyed Captain Marvel I was surprisingly left less satisfied with the special features. Some of them were great. There's an excellent gag reel and some really interesting deleted scenes. (Honestly, the more Ben Mendelsohn the better — I'll take whatever deleted scenes you want to give me.) And there are a couple really fun featurettes but over all something just seemed to be missing.
The best special features were The Skrulls and the Kree and Hiss-sterical Cat-titude. The first gives a little more background to the Kree and Skrulls which are introduced in this film. But while they're largely new to the MCU they've been staples of the comics for ages. Unfortunately, it's only three minutes long and focuses mostly on their use in the film. Hiss-sterical Cat-titude, though, is all about Goose and let's be real. Goose is the real MVP of this film. My next ginger tabby may very well end up being named Goose (rather than the previously planned Jones).
The rest of the featurettes aren't by any means bad. Journey Into Visual Effects, What Makes a Memory, and Dream Team give a bit more background into the making of the film. Meanwhile, Becoming a Super Hero, Big Hero Moment, and The Origin of Nick Fury offer a bit more of an emphasis on the characters themselves. It's a great little collection of mostly short bonus features. But considering the impact of Captain Marvel it feels like something else could have been added to really highlight the importance of the character or give more of rundown of the comic book history (all of which is admittedly touched on in some of the featurettes but not to the degree I may have expected).
Final Thoughts
At the end of the day, Captain Marvel is the superhero movie you need especially if you're desperately trying to fill the gap between the theatrical releases of Endgame and Spider-Man: Far From Home like I am. And, if you're like me and missed Carol's theatrical release, now is a great time to hop on board. You didn't have to see this movie before Endgame but it definitely helps and it gives you a new appreciation for the character. Definitely check it out on blu-ray and digital today!