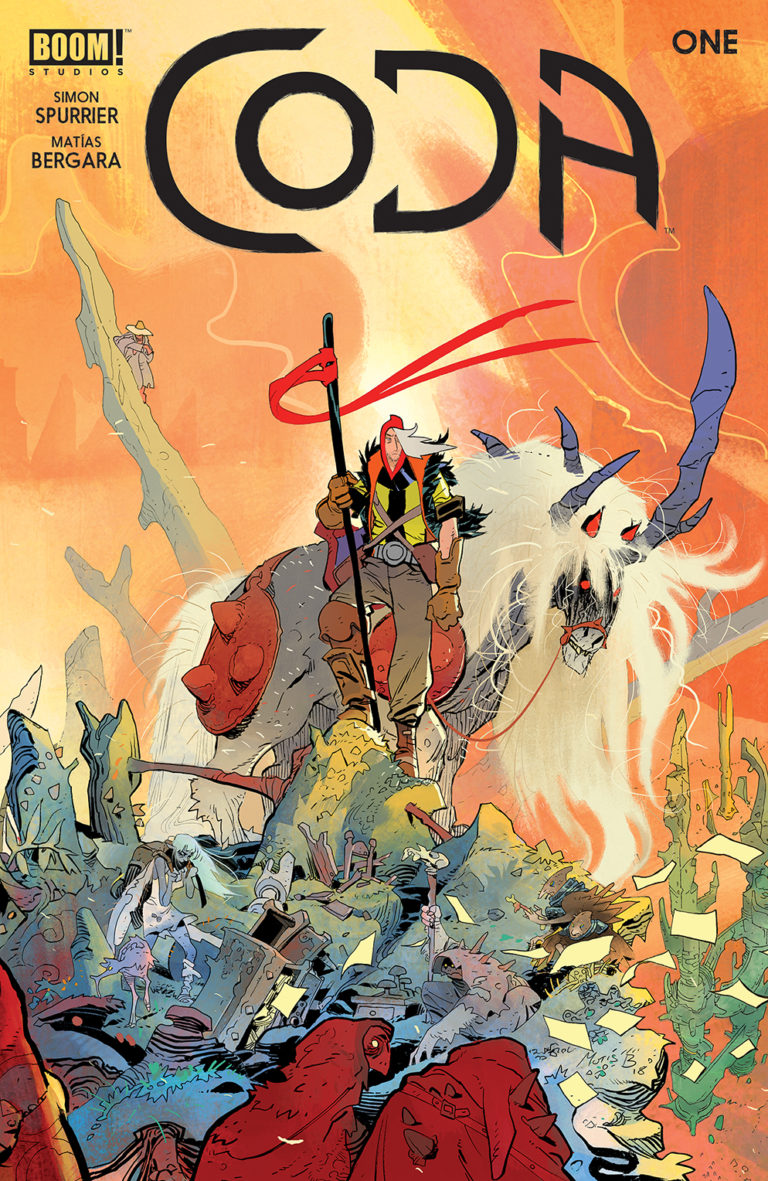 Author: Simon Spurrier
Artist: Matias Bergara
Colorist: Michael Doig
Letterer: Colin Bell
Release Date: May 2, 2018
Publisher: BOOM! Studios
Genre(s): Fantasy, Post-Apocalyptic
Review Spoilers: Mild

There are an abundance of fantasy series flooding the market recently, but don't skip
Coda
because at first glance it looks like more of the same. I won't lie to you, it takes a few pages to get into — surprising since Simon Spurrier usually hooks me in quickly — but the journey makes for an interesting meander through a post-apocalyptic fantasy world that is both brightly colored and insanely bleak.
Magic has all but disappeared from the world by the time readers meet Hum, named for his most common response ('hmh') and on a mission to save his wife. It exists and people remember what it was like to have all that power at their fingertips, but it has become a sought-after commodity. Hum himself ruminates over the current state of affairs with plenty of voice-over exposition. And though the premise is that he doesn't speak much, it felt like Hum managed to speak a fair amount throughout the issue.
Spurrier may have forced his hand with that slightly inconsistent character trait because it's boring to have a main character who doesn't speak, but also because he opted for the immersive experience when it came to introducing readers to Coda. There are familiar things, like bards, magic, and a particularly memorable mermaid, but there are also jarring, unexplained terms ('The Quench,' akker) and undefined races like the Urken that will need more time and issues to fully develop.
Visually, Matias Bergara and Michael Doig bring an effortless, enthralling setting to life from the very first page as Hum explores the bones of an immortal being left immobile. The full-page visual is the first inkling of how grandiose a place this once was. Throughout the first issue, there are plenty of other background cues that hint at how the absence of magic has left a gaping hole in this society. It is the contrasting color palette that draws the focus across the book and works well when making bold shifts in tone. There are horrors lurking in the bright and sunny facade, hidden in plain sight and cheerily presented.
Letterer Colin Bell also helps to inject personality into the book with expert lettering that fits the characters. A paladin has very proper medieval lettering, while other characters mutter or stumble with their speech and the lettering reflects that in size, spacing, and boldness. Readers can feel the sarcasm dripping off characters, the reluctance, the undertones of things unsaid. This extra attention to detail showcases characters without having to say anything at all about them.
Honestly, I'm not attached to Hum so much as I am attached to the world being built with Coda. As jaded and disengaged as the main character is, I found myself alight with interest exploring this new world that the creative team has crafted. Like the rest of these fantasy characters, I'm crying out for more magic in the upcoming issues. Be sure to read through to the end of this oversized first issue for that gut-swooping hook that will definitely have readers eagerly awaiting more.