The Epic Crush of
Genie Lo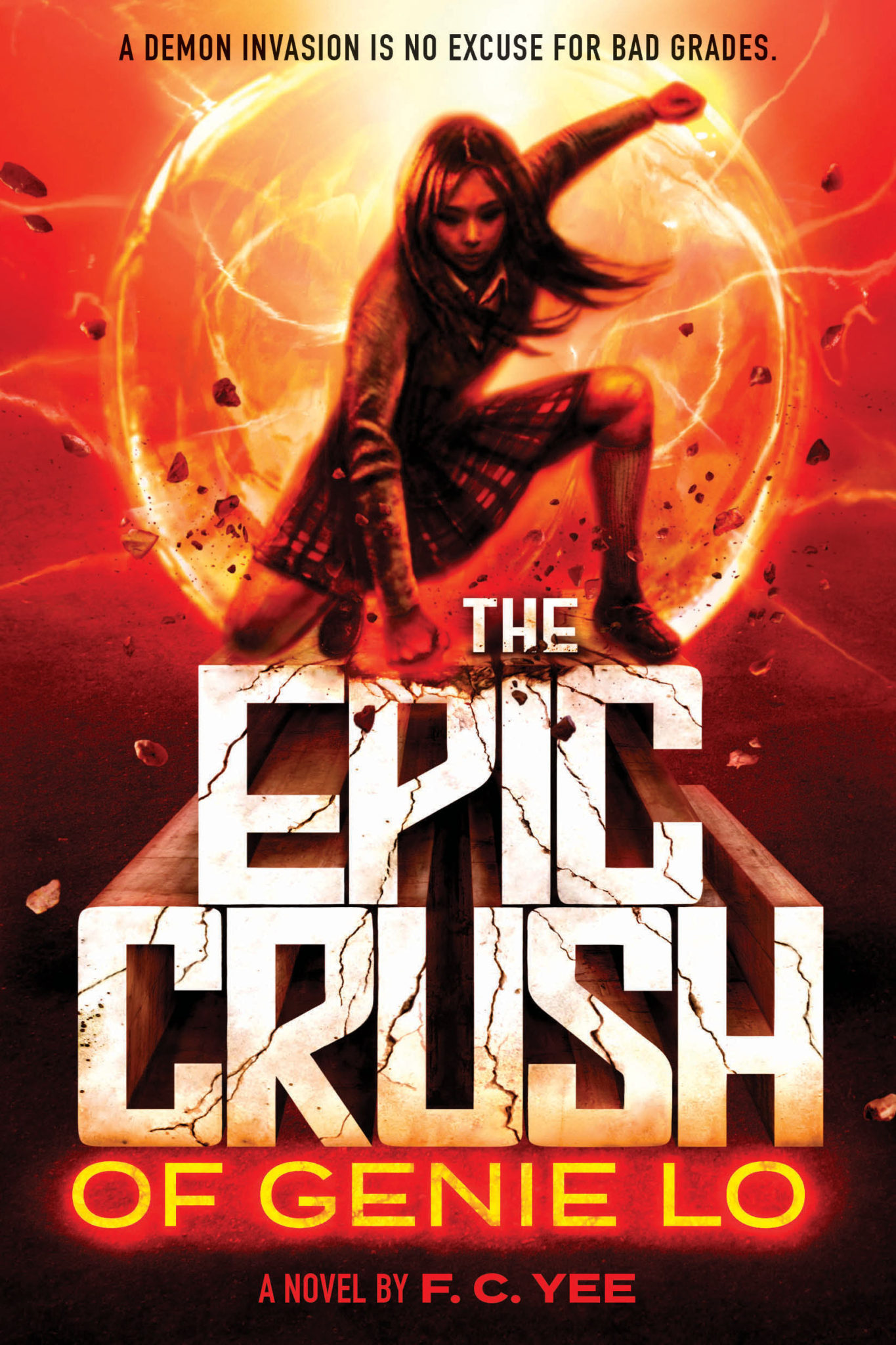 Author: F. C. Yee
Release Date: August 8, 2017
Publisher: Amulet Books
Genre(s): YA Fantasy & Mythology
Review Spoilers: Moderate
GoodReads | Amazon | BN | iBooks | TBD
It's a double dose of Rockstar Book Tours this week here at Nerdophiles. After highlighting the super cute, nerdy contemporary romance Sasquatch, Love, and other Imaginary Things we're back with a much more action-packed sort of romance story. The Epic Crush of Genie Lo is an awesome book that young adult fans are going to fawn over.
Seriously, folks. I'm really excited about this one and I hope you are, too.
If you haven't heard of the book before, check out the synopsis below. You can also feel free to read out review since I took great care to make sure it was spoiler free. The Epic Crush of Genie Lo is a really great book and one that begs to be read with revelations you have to see (or read) for yourself! If you're lucky enough you might just get to since Rockstar Book Tours is giveaway five copies as part of this book tour. Awesome, right?
Check it all out below!
Synopsis
The struggle to get into a top-tier college consumes sixteen-year-old Genie Lo's every waking thought. But when her sleepy Bay Area town comes under siege from hell-spawn straight out of Chinese folklore, her priorities are suddenly and forcefully rearranged.
Her only guide to the demonic chaos breaking out around her is Quentin Sun, a beguiling, maddening new transfer student from overseas. Quentin assures Genie she is strong enough to fight these monsters, for she unknowingly harbors an inner power that can level the very gates of Heaven.
Genie will have to dig deep within herself to summon the otherworldly strength that Quentin keeps talking about. But as she does, she finds the secret of her true nature is entwined with his, in a way she could never have imagined…
Our Review
All right, so, I'm going to come out and say this right at the beginning: The Epic Crush of Genie Lo is probably going to make our Top Ten Books of 2017 list. Ever since I first heard about this book I couldn't wait to read it. Now that I have, I'm just that much more excited for basically everyone else to read it, too. I want everyone to know that up front because there are just so many things I want to say about this book -and yet I don't want to spoil anything.
There is a pretty major reveal that happens fairly early on in The Epic Crush of Genie Lo. It has a huge effect on the book's main character and basically sets up the plot of the whole book – plus it helps frame some of the more important character relationships. So I'm going to try and avoid talking about too much about all of that in this review.
This is a book that you really need to read for yourself. And once you start you won't be able to stop! It's just that great of a read.
The Epic Crush of Genie Lo follows a Chinese-American girl named Genie Lo as she comes up close and personal with the legends and folklore of her family's native China. She discovers that she has inherited strange, supernatural powers as well as a destiny far from the one she would have chosen. Genie would much rather have a future attending some Ivy League school rather than one fighting demons straight from Chinese lore. But with the help of a mysterious boy named Quentin she learns to use those powers to defeat them.
All while trying to keep her normal life together, I might add.
I love Genie as a character. She's just such an amazingly kick-ass heroine — and she's one of the most relatable characters I've come across in young adult fiction in a long while. She's a very determined individual and though she's faced with some truly outrageous, supernatural challenges she always overcomes. She's also headstrong. And she's hard on herself — even when as readers we know that juggling sports, school, and demon hunting is a lot!
The relationships throughout the book are great, too. While this book focuses primarily on her and Quentin (and don't get me wrong – their dynamics are awesome) I found a lot of her other relationships just as compelling. Her home life isn't perfect and while she loves her parents, her relationships with both certainly have their own unique quirks. And I love how her and her best friend, Yunie, are together.
But, yes, she and Quentin are pretty great and I love how their relationship develops over the course of the book. Things aren't rushed. They certainly take their time getting from point A to point B — but how can you not love a little bickering and teasing along the way? But if romance isn't your thing don't worry. You can still enjoy this book. I'm not a huge romance fan and the book focuses more on Genie and the demonic activity most of the time. So while it says 'Epic Crush' don't let that discourage you from reading!
Now, as far as the plot goes, the book owes a lot to the classic Chinese folktales about Sun Wukong – the Monkey King. If you're not familiar with the story don't worry. Debut author F.C. Yee does an amazing job of not just explaining it to readers but having Genie Lo herself explain it. Readers who may already be familiar with the story will appreciate her 'CliffsNotes' versions of the stories. Meanwhile readers who may not have heard the story before will likely find themselves eagerly looking to learn more. I can only hope that this book inspired readers – especially younger ones – to get interested in Chinese folklore and mythology in a way that the Rick Riordan books have encouraged kids to look into Greek and Roman mythology.
All in all, The Epic Crush of Genie Lo is a great book with a fantastic, kick-ass heroine. If you're looking for a fun read full of excitement and adventure this is the book for you. Also, according to the author there's a sequel in the works! (So get excited, people.)
Giveaway
I'll never understand how everyone in the world hasn't already entered this giveaway. But now you know about it and you can enter! Our host, Rockstar Book Tours, is giving away five finished copies of The Epic Crush of Genie Lo and with any luck you can get one. After reading that synopsis and review how could you not want one, right? (Sadly, the giveaway is open to US residents only.)
About the Author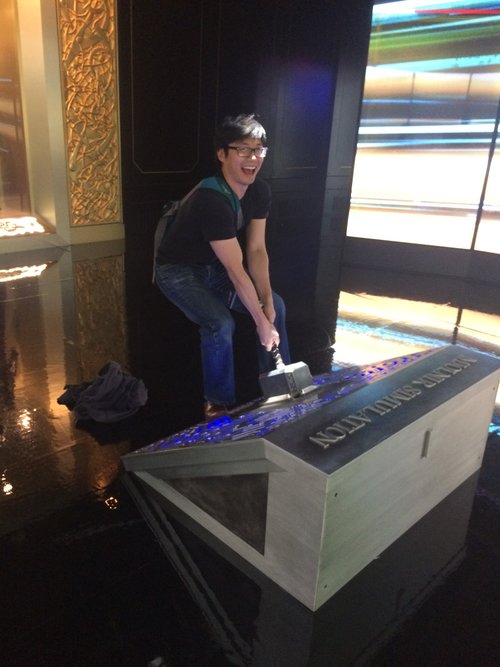 F. C. Yee grew up in New Jersey and went to school in New England, but has called the San Francisco Bay Area home ever since he beat a friend at a board game and shouted "That's how we do it in NorCal, baby!" Outside of writing, he practices capoeira, a Brazilian form of martial arts, and has a day job mostly involving spreadsheets.
Website | Twitter | Facebook | Goodreads | Instagram