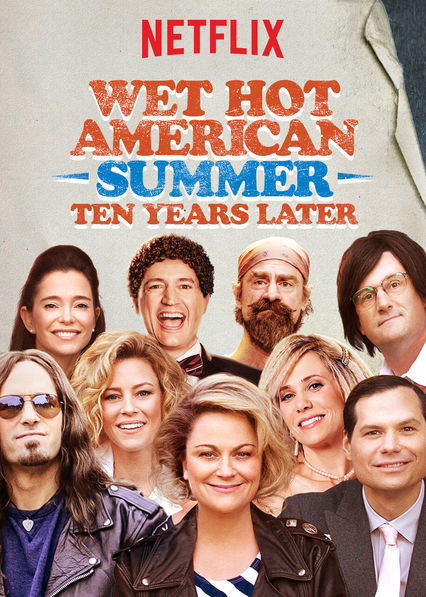 Cast: Michael Showalter, Michael Ian Black, Amy Poehler, Paul Rudd, H. Jon Benjamin, Christopher Meloni, Janeane Garofalo, Adam Scott, Chris Pine, David Wain, Alyssa Milano
Produced By: Abominable Pictures
Distributed By: Netflix
Written By: David Wain and Michael Showalter
Genres: Satire, Comedy, Summer Camp


Rating:

Review Spoilers:Light
Netflix | IMDB | Wikipedia

Has it really been ten years since we all visited Camp Firewood? Of course not, but Wet Hot American Summer: Ten Years Later dropped on August 4, just two years after the nostalgic prequel series First Day of Camp and 16 years after its original film.

For anyone who hasn't seen the original Wet Hot American Summer movie, drop whatever you're doing and go watch it. It's a hilariously weird summer classic that features Bradley Cooper making out with Michael Ian Black, a young Amy Poehler pre-Leslie Knope, and H. John Benjamin voicing A Can of Mixed Vegetables before he voiced a super secret spy or a burger-flipping dad.

At the end of that first movie, the ensemble cast agrees to meet at 9:30 exactly ten years later, so that McKinley can make his 11am appointment. To fully appreciate Ten Years Later, it is imperative to watch First Day. There are several major plot points that hinge on understanding why Ronald Regan and Chris Pine show up in Ten Years Later.
The Cast
Don't worry, everyone's favorites show up in Ten Years Later, but don't expect all same summer tropes. This time, co-creators David Wain and Michae Showalter pull from 1990's reunion movies like The Big Chill.
There are a few new faces too, namely Mark Feuerstein as Mark and Sarah Burns as Claire. These two characters never appear in either the movie or prequel, but Wain and Showalter thought it would be great to shoehorn in like they'd always been there. Which is an interesting take for an ensemble film that's already teeming to the brim with hilarious and lovable characters.
Another notable new face is Adam Scott stepping for Bradley Cooper as Ben. Bradley Cooper had scheduling issues, but Adam Scott is a welcome addition to any comedy, especially as a character named Ben.
The Plot
The plot revolves around the expected camp shenanigans. But there is also plenty of the unexpected insanity that threads itself through all of Camp Firewood. Michael Showalter as former President Ronald Reagan takes a turn in a scene that is one of the strangest, uncomfortable, and simultaneously hilarious things I've seen on any Netflix show.
While this sequel doesn't quite break the mold like the original did, it does give any fan some much-needed finality, some new twists, and good laughs. If you're any kind of fan of the original/prequel series, spend the last month of summer visiting your old friends at Camp Firewood. Walla-walla-hoo! Walla-Walla-Hey!