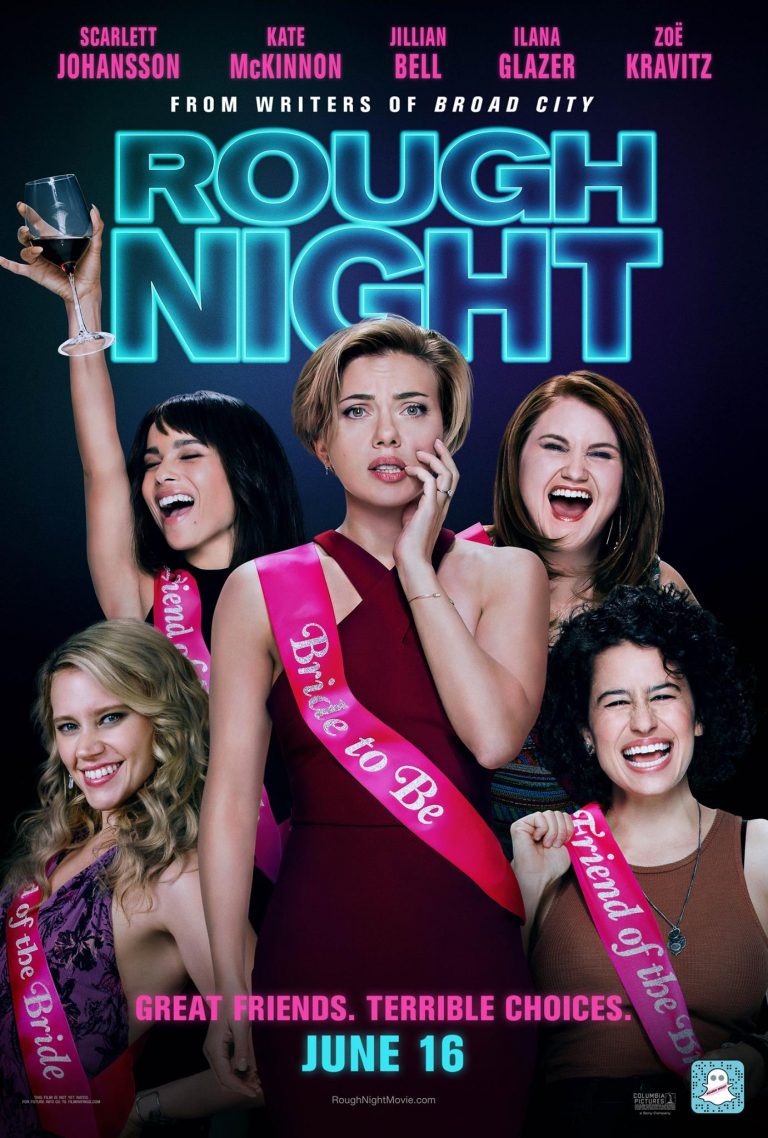 Release Date: June 16th, 2017
Cast: Scarlett Johansson, Kate McKinnon, Jillian Bell, Ilana Glazer, Zoë Kravitz, Paul W. Downs
Director: Lucia Aniello
Studio: Matt Tolmach Productions, Paulilu Productions
Distributor: Columbia Pictures
Genre: Comedy

Review Spoilers
: High
IMDB | Rotten Tomatoes |Wikipedia
From the writers of the very successful and hysterical TV show Broad City comes the next raunchy comedy, Rough Night. Scarlett Johansson plays Jess, who is amidst a run for office and an engagement. Luckily her friends (Jillian Bell, Ilana Glazer, Zoe Kravitz, and Kate McKinnon) are here to throw her the best bachelorette weekend in Miami. You know, so long as it all goes according to plan. Spoiler Alert: it doesn't.
You'd think a movie written by some of the folks behind Broad City would be hysterical and smart. But despite that pedigree and the charismatic line-up of ladies, this movie flounders pretty frequently. The humor is basic vulgarity. Chicks talk about tampons man! Guys are grossed out by the word tampon! No doubt it resonates with some folks, but eh.
Bachelorette parties mean lots of phalluses all over the place! Cut loose, do drugs! Hire a stripper! Accidentally kill the stripper! *record scratch* Wait, what? Yeah. The crux of this movie follows these ladies accidentally offing a dude and then trying to cover it up. No doubt it is going to get a lot of comparison to 1998's Very Bad Things.
From that point of the movie it goes on a downhill slope. Once your supposedly 'good' cast kill a man, even accidentally, it's hard to maintain humor. You can care about them, you can worry about their success or failure, you can even laugh at their misfortunes, but it is very difficult to enjoy them making jokes.
The small moments of magic in the film belong to the fringe characters played by Paul W. Downs and his male friends (including Eric Andre) during their bachelor party and his following quest. Also, the real stripper who makes an appearance late in the flick. Maybe this is because those character are able to flip the script, they are able to behave against the norm for a male bachelor party.
The levity the main crew show is eventually lampshaded, but not until the credits roll and the audience is treated to a mid credit musical sequence in which Kate McKinnon sings a song about the killing of a man bringing their friend group together while a crowd looks on in shocked horror.
Unfortunately, for most this movie, we are those people.