Synopsis for 1×1: The CW's new rom-com starts with a meet cute and ends with the upcoming apocalypse. Tori Anderson and Joshua Sasse have chemistry to spare, but will it be enough for them to make it to the end times?
No Tomorrow is the CW's way of building on their quirky female-driven sitcoms/rom-coms. It's a great premise and they set it up really well in the pilot. While I am not quite sure where this will go, much like Evie, I'm glad to be on the adventure. The show stars Tori Anderson as Evie and Joshua Sasse as Xavier. It's based of the Brazilian show Como Aproveitar o Fim do Mundo (How to Enjoy the End of the World). 
The show opens with Evie, a blonde, uptight, awkward floor manager, giving a flailing pep talk to her underlings. Wide shot to a warehouse a la Amazon. Hmmmm, interesting job choice for a sitcom, writers.
But wait! One of Evie's coworkers is fired by the Evil Boss Deirdre. Since a new job is suddenly available, Evie tells her cowkers Hank and Kareema that she wants it. It's a dream job, complete with traveling and working with charities. But alas,  Deirdre will never give Evie the job because she thinks Evie is "not a leader."
Cut to a food truck for lunch, and a warehouse for a cafeteria. Evie, much to the boredom of her friends, starts in on the story of the Rutabaga Guy. The Rutabaga Guy is actually an insanely gorgeous Brit who she meets at a farmer's market. He introduces himself as "Xavier. With an X."  Kareema is convinced that this guy is just a projection of all of Evie's fantasies. "Don't be one of those women defined by the quest to find the guy. It's boring." This will be my new mantra when evaluating TV shows and movies.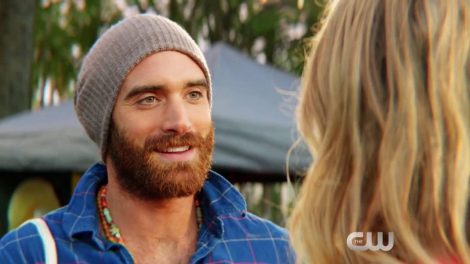 Evie heads home. Evie dresses in her cutest Whitesnake shirt and walks the box to his place. The box is from a company called Carpe Diem (this show is heavy on the symbols). When she arrives, he answers the door, as beautiful as she remembers. The box is full of sour beer, which if you live in Seattle you know is a thing. Evie instead spits it out. Xavier, ever the nice guy, offers her another drink inside.
"It's like you live inside an Skymall Catalog," Evie says. Xavier's house has no paint on the walls, but a ton of cool gadgets and toys and games. It's what you thought of when you were 6 years old and were imagining your dream house. At this point, Xavier admits that he has no job. He instead lives everyday like it'll be his last because he's convinced the world will end in 8 months and 12 days. Literal sirens go off.
Evie tries to leave, but Xavier convinces her to stay and hear him out. He starts with a 233 slide Powerpoint, but quickly changes to a romantic telescope on a deck complete with a view of the Space Needle. He asks her what she would stop doing if it was the end of world.
She lists what all girls would list: stop wearing a bra and stop waxing. At this point, he busts out his Apocalyst. I repeat: APOCALYST! I love it. Inside the Apocalyst is a variety of goals: run with the bulls, touch the North Pole, find the hot Rutabaga girl. Yep, Hot Rutabaga Girl is our pal Evie. It's like fate.
Hank thinks otherwise. He thinks Xavier is nuts, but mostly because Hank is convinced the Russians are going to kill us all first using nuclear warfare. Evie doesn't even tell her family about Xavier. They're too busy telling her how great she was when she used to sing and it's too bad she puked onstage in the 5th grade play.
Timothy, the guy Evie is currently on a break from, arrives bearing gifts. They're gathered for Evie's nephew's birthday. Timothy, much to Evie's chagrin, proposes. It's awkward and she tells him that she'll let him know. Like she's responding to an invite to a baseball game. Her sister has some great zingers here about how you can change a man and how if you don't have babies by your mid-thirties, your ovaries are basically a three-day old quiche.
When Evie arrives back home, Xavier is waiting at her doorstep. He asks her if she'll join him on his adventures because he likes her bum (but we, the audience, are let in on the secret that he really, truly does like her.) She relents and takes the list. "Talk to Dad" is the first thing she chooses; he says he's not ready. Go to the beach with Jesse? Can't, because Jesse is in jail. Take a ride with Big Carl? Sure!
Next things next! Evie and Xavier ride in a dune buggy. And believe it or not, uptight, scaredy-cat Evie loves it. And as soon as they're done, it's back to his place where they, well, you can guess! But as those two are getting frisky, Timothy and Hank are at pub trivia. Timothy laments that he things Evie will turn down his proposal, right as the trivia hosts starts to flirt with him.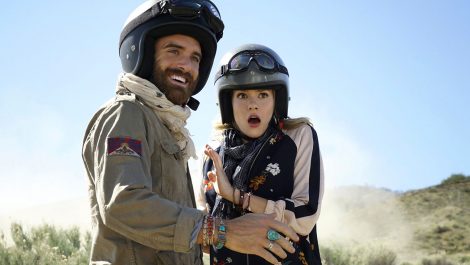 The next morning, Evie wakes up and realizes she's late for work. Keeping her job is very important to her, even though she clearly hates it. Xavier insists that they do something off her list. While her first examples is lackluster (microwaving aluminum foil; using a pogo stick), they eventually land on singing in public. While at work, Evie has all the floor guys playing basketball, which she used as an incentive to increase productivity. Smart girl!
That night at the bar, Evie checks her phone and has 5 missed calls from Hank. But before she can find out why, she gets picked for a raffle and has to head onstage to collect her prize. The prize is she gets TO ROCK!!! Whitesnake starts to play. Xavier has clearly set all of this up.
When she starts to lose her nerve, Xavier threatens to start stripping until she really starts to sing. This guy gets shirtless a lot in this show and it is truly a gift. Evie thinks so as well, since she starts to let loose and gets all Coyote Ugly to the "Here I Go Again on My Own."
Hank arrives and asks "what did you do???" Apparently, Deirdre got a nasty resignation letter from Evie's email. Turns out it was Xavier, trying to give her a nudge. As can be expected, Evie flips out and throws a drink in his face. Except the glass is empty.
So Hank throws a full glass on him because that's what friends are for. Once at home, Evie attempts to get her life back in order. She straightens her table and calls Timothy. Timothy uses his computer smarts to help her get her job back, but only after Deirdre makes a bizarre request. Deirdre has the hots for Hank, her assistant, and Evie must help get them together. Good luck, girl!
She heads home after winning back her job, and finds a pogo stick from Xavier sitting on her porch. After a failed attempt to get rid of it, she starts to jump on it. And Xavier sees it from his telescope. He also sees her fall and bump her head. He even calls 911 and gets her to the hospital.
Once at the hospital, Evie learns that she has a heart condition that requires immediate surgery. Xavier's expiration date becomes more palatable when Evie faces her own mortality. It's her turning point. She immediately breaks it off with Timothy. She goes to yell at Xavier. And for the first time in the show, she takes control of her life.
That moment is what I had been waiting for and it is why I will keep watching the show. She also made a list of her own. And since she's reconciled with Xavier, they agree to do one thing of her list. Turns out aluminum foil will explode in the microwave and break your fuse. It will also conjure your imprisoned cousin, Jesse who is now a fugitive! But with only 8 months to live, what do you have to lose!