Synopsis of 5×08: The backstories of literally everyone are filled in as part of a midseason episode that should have been the second episode.
Rating: ★☆☆☆☆
Now that's more like it!
After last week's half of this here two-parter gave some undue hope that Heroes Reborn may be able to pick itself up, "June 13th – Part 2" returns us to the standard Heroes Reborn mold of being almost exclusively terrible. While Part 1 was an injection of energy and earned pathos into this fathomless cesspool, the remainder of our sojourn to the past bares a much greater resemblance to the near-incomprehensible episodes of yesteryear than to its better half.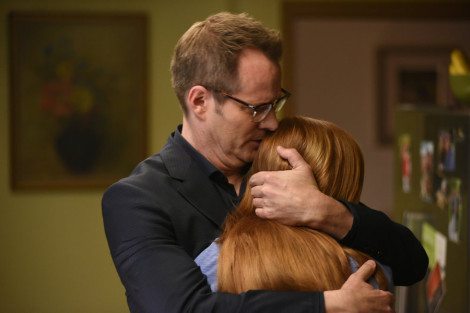 "June 13th – Part 2" so succinctly and imaginatively throws away the careful emotional work of the previous episode that I am almost impressed. Claire's death, which was so affecting last week, is quickly undercut here with Confusing Petrelli Power Nonsense. Luke's repiloting as a hero at the Odessa Bombing is summarily tossed off by Joanne behaving like a crazy psychopath that Luke should leave immediately. But more on that later. More on all of this later.
There is such a wealth of incongruous shenanigans in "June 13th – Part 2" I am almost tempted to split this dissection into its own two part endeavor with an incredible letdown of a finale. I have to give Heroes Reborn this much: At least if it's going to go out, it's doing so in the most insane way possible. It's suicide by illegitimacy. It's flabbergasting and bewitching to behold, like two school buses in a T-Bone collision.
With "Part 1" I posited that it should have indeed been the pilot. I envisioned a world where Heroes Reborn keeps no secrets and begins in a thrilling and emotionally impactful way. "Part 2" would not have been the greatest second episode in history, but it is definitely the beginning of a narrative that we are only (finally) beholding in the middle of the nun-shunning narrative. The use of memory erasure would have been child-stranglingly frustrating for a sophomore episode, but it's still better than this. Anything is better than this.
But let's try. Let's try to do this as earnestly and professionally as we can.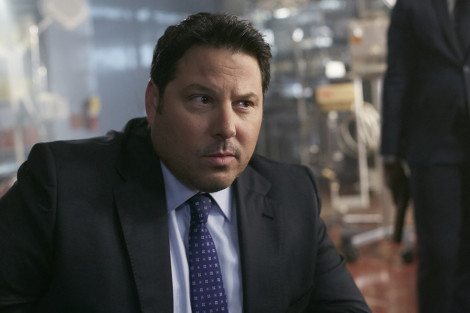 In the world of Heroes Reborn, there was an explosion at the Odessa Evo Summit that killed off a huge percentage of the world's Evo population. Given the relative quality of Heroes Reborn, I can only assume a similar event unfolded in our own reality, only with a conference of proofreaders. I'm sorry. I couldn't help myself.
"Part 2" picks up just where "Part 1" left off, when the Noah Bennett of the past tackles the Noah Bennett of the future, interrupting his killshot on Erica and causing it instead to make contact with her leg. Quentin, who is looking for his sister, pulls Erica out of danger so that he might get answers out of her. It is at this point, thirty seconds in, that Heroes Reborn breaks its own rules. Clearly established in the original Heroes is the idea that travelling back in time cannot change the time stream, that time and space will always right themselves. Heroes Reborn says, "Nah. Screw you, Heroes and your concepts you established multiple times. I don't need you. Also, I wish I were you. Please. Teach me."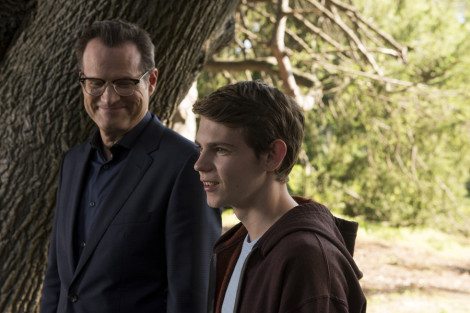 So Quentin leaves the Noahs alone to have some dumb time travel dialogue. Says one Noah to the other, "But how did you—how did I get here?" No, Heroes Reborn. Stop it. Go away. Time travel is not that hard a concept for Noah "I Have Seen Almost Literally Everything" Bennet to grasp. He has seen almost literally everything. Please, be better than the dumbest option available. Just once.
Caspar and Molly are also involved in the conversation because… I, uh… A dastardly Harris watches from the shadows because no one on this show checks around for evil spies even one stupid time. Noah informs Noah of Claire dying. He's pretty sad about it. This is the first of many times in this episode we watch someone react to Claire's death. Noah and Molly go off to find Hiro, leaving the Noah of 2014 to get his memory erased by Caspar. But Harris interrupts, knocking Caspar unconscious. Not able to find the Noah that is so 3000 and eight, he grabs the Noah that is so 2000 and late.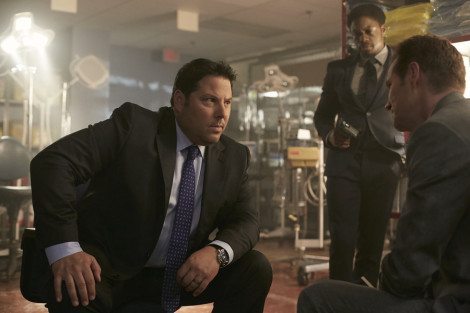 Noah is brought into a storage room to be interrogated by Special Guest Star Greg Grunberg. Matt Parkman makes his brief and disappointing first appearance on Heroes Reborn, here working for Renautus. This does not make sense with Matt Parkman as an altruistic character, but he gets a line of dialogue to explain it away so it must be okay. Parkman starts mentally interrogating Noah of the Before Times (taking careful time to act sad after hearing about Claire), but a conveniently placed penny wipes Noah's memory, so no more interrogation.
Harris expresses that he needs to "kill the spare," but is knocked unconscious by Caspar. Anywhere else, this would feel like righteous comeuppance. Here, it is just a thing that happens. At least one Harris has been killed in almost every episode of Heroes Reborn. It is no longer remotely exciting to see this guy go down. It just isn't.
Caspar erases Noah's memory of the day and leaves him the wreckage where we see him in "Brave New World." It's almost a reveal but isn't. We don't need to see the same guy's memory erased twice in the same episode. This is a hole we do not need filled.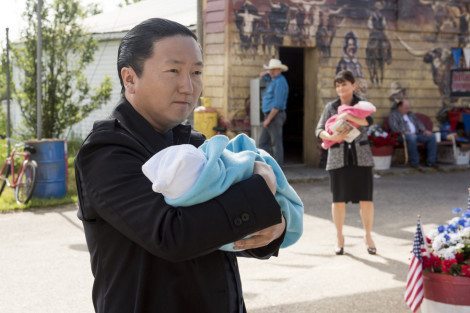 Elsewhere, we find out what happened to Hiro and Angela after they disappeared into 1999 with the babies Nathan and Malina (Mawleena?). Indeed, they did land in 1999, but not in the Riviera where they wanted to go. They stayed in Odessa, because everything in this stupid show comes back to Odessa. Hiro tries to teleport them again, but discovers his powers are kaput. Noticing that her own powers ain't what they used to be, Angela surmises that Nathan has the power to drain the powers of others. "Don't let him near his sister!" she says, holding baby Meulina (Muhleanah?) one foot away from Nathan, the same Nathan she just spent nine months gestating in the womb next to. The two part ways. Baby Nathan poops. Poop jokes are very funny.
In 2014, Molly and Noah 2.0 arrive at a house, where they are greeted by a Hiro Nakamura with a community theatre's attempt at old age make-up. He welcomes Noah in like an old friend, saying "Took you long enough" like there wasn't a very specific date where this was going to occur. Namely, the titular date of the episode.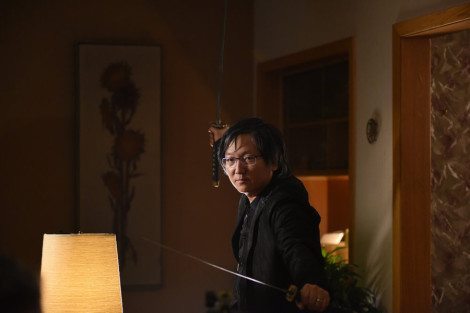 Hiro welcomes the two of them in, and we meet Nathan as we have known him for most of the series, speaking fluent Japanese and calling Hiro "Father." His mother is also in the picture. We met her last week as a nurse in the hospital on June 13th, but this weird little plot contrivance is honestly the easiest thing to roll with in the whole episode. Hiro explains that Nathan drains the powers of others, but can only hold on to one power at a time.
Molly Walker is also standing in this room, but she never loses her powers and Nathan never gains them. Screw you, show. Caspar shows up, having a very busy day, and now the plot is caught up. It's been about seven seconds since the last Harris has died, so it's time for another Harris to die.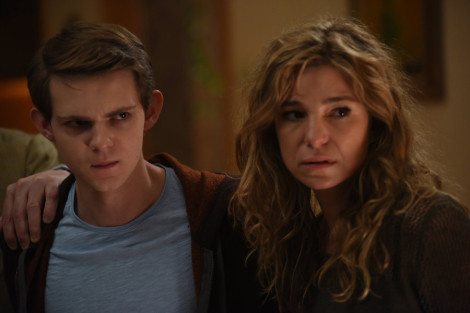 Realizing they're in trouble, it's time to teleport some mothers. Hiro stays behind to defend the house against many Harrises (who just never look like they're actually in each other's' presence) and die off screen. You may read the previous as "Not actually die." Molly teleports to India to tell Mohinder's mother of his offscreen passing because sure. I guess they're friends. They certainly got to know each other when Mohinder experimented on her for a shady organization in Season One. Molly + Mohinder = BBFs.
Noah goes to visit Angela, who is raising Mulina (Moeleina?). Angela looks real damn old. She says that Nathan and Marleena (Mollina?) are going to save the world beneath a clock tower at a very specific time I don't remember in Odessa, Texas because everything on this stupid show happens in Odessa, Texas. Nathan expresses the desire to help people and Angela says, "He really is a Petrelli." And, just, no? Of the four Petrellis we came to know on Heroes, only one of them was truly heroic. Not exactly the most obvious hereditary trait in the Petrelli clan. No, that trait would be not knowing when to stay dead and leave Heroes forever.
Nathan, Caspar, and Mom teleport somewhere. Caspar trains a penny to erase Nathan's memory and, despite protesting relentlessly, Nathan catches the penny anyway and can't remember any of his own backstory. Noah is teleported back to 2015, where Quentin is not only not dead but working for Erika. It's a treacherous betrayal contingent on our love of the character of Quentin of which we have none.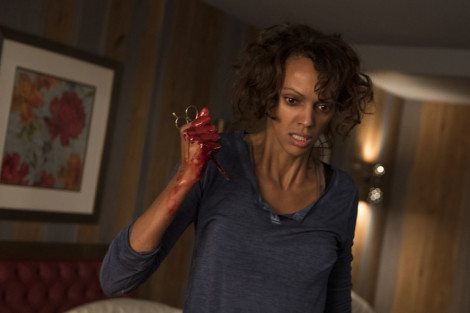 Somewhere in a hotel, Luke and Joanne are confronted by the snowman from last episode, who just wants to thank Luke for heroically saving his life like a hero. Joanne hates this man because he is an Evo in what must be the fastest turn to racism in human history. Joanne attacks the man, who attacks her back, before being attacked by Luke, who gets attacked back, before Joanne attacks the snowman with a pair of scissors, killing him way dead. When Luke asks if his wife's okay because she just murdered a man, she smiles, hands covered in blood. This is one of those occasions where you leave your wife. She's a racist murderbeast now. That is grounds for a divorce.
Carlos and Miko also receive backstories this episode. One is boring and unnecessary, the other confusing. Neither is worth discussing.
Finally, we understand what has been happening on the show so far, just in time to not care.
Throughout this whole terrible episode, I kept thinking about its similarities to the Lost episode "LaFleur" probably the second-finest hour the show ever produced and one of its many masterpieces. The episode involves some incredible time travel shenanigans, filling in gaps in character narratives and setting the table for the final roller coaster for the season to come. It's a dense, precisely, emotionally weighty episode with an incredible character journey at its center that Heroes Reborn boldly reinterprets as a garbage episode for dumb idiots. Let's just get this show over with.