It Ended Badly: Thirteen of the Worst Breakups in History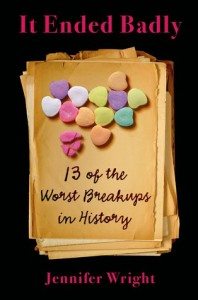 Author: Jennifer Wright
Release Date: November 3, 2015
Publisher: Henry Holt and Co.
Source: Netgalley
Genre(s): historical non-fiction, humor
Rating: ★★★★☆
Review Spoilers:  N/A
GoodReads | Amazon
Jennifer Wright's book, It Ended Badly, is the literary equivalent of ice cream and Kleenex. Whether you've recently gotten out of a committed relationship or just got ghosted after your seventh Tinder date this month, your pal Jennifer is here with a bucket of snark, some Regency television, and words of wisdom to remind you that you're coping marvelously, darling. Let's be real. Historically speaking, "You could be doing so much worse." (Which are coincidentally the same words I live by.)
It Ended Badly details 13 different historical breakups tailor-made to different romantic situations. Here's the first page:
"In the end, only three things matter: how much you loved, how gently you lived, and how gracefully you let go of things not meant for you." – Buddha
"We are never ever ever getting back together. Like, never." – Taylor Swift
Let's preface this review with the fact that any book that starts with a quote by the Buddha and pairs it with a quote from Taylor Swift is gonna be my jam.
I really enjoyed this book. Normally I don't read a lot of non-fiction, but the subject matter of this book made me morbidly curious.  I liked my European history classes, but historical biographies usually don't interest me. Breakups, however, do.
It Ended Badly is separated into 13 different historical accounts of miserable breakups: the introduction neatly categorizes them into a choose-your-own self medication for whatever breakup you've just experienced.
With everything from being the Beyoncé in your relationship (e.g. "If you are accomplished and independent and fierce", the story of Eleanor of Aquitaine and Henry II) to the shamespiral that is texting the ex (or as I refer to it more colloquially, 'exting') in the Caroline Lamb and Lord Byron chapter, this book is brilliant for the brokenhearted. It Ended Badly is a happy marriage of historical information with author commentary. Neither can live without the other, and both depend on the author's expansive historical expertise and sparkling sense of humor.
Author Jennifer Wright is pretty much the best friend we all need in our lives post-breakup. She's a feminist, she's witty, she's full of helpful historical facts from terrible breakups to help you heal, and she wants to have a BBC party with you next weekend.
She tells it like it is- that you are WORTH it and if you need to eat your way through a four foot wall of ice cream to heal then YOU DO YOU because in Jennifer's words, "YOU ARE A HERO." Sing it. #ChurchofJennifer
Wright is full of tidbits you never learned in history class, like how a pregnant Lucrezia Borgia testified in front of Vatican judges that she was a virgin and received an annulment, and she provides side commentary to keep the drier historical facts interesting.
I also enjoyed the author's use of captioned pictures to supplement the text–visualizing how 'hot' Henry VIII or Lord Byron might have been with stories of their relationship exploits adds a sense of life and immediacy to these historical figures. Pictures paired with the stories give the readers the sense that even though forms of communication have changed over time, the dating game has not. Royalty were just as childish, distraught, and heartbroken as you were–and my goodness they coped by behaving badly.
I will forever sing the praises of the author's voice, but I did have a few issues with the structure of this book.
First, the review copy which I was provided had quite a few jarring grammatical errors and spelling mistakes which I assume will be fixed in the printed version.
Also, Wright's historical expertise sometimes became too thick to wade through in one sentence. The book was so jam-packed with facts in every sentence that I found myself re-reading paragraphs because I missed important historical details which became relevant later in the narrative.
13 tales ended up getting a bit repetitive with the same narrative structure and premise, and I feel this book wasn't meant to be consumed in one sitting. If the reader spaced out the narrative then the structure and fact-innundation wouldn't have been as intense.
That being said, I would highly recommend this book to any one of my friends, regardless of their relationship status. Jennifer Wright is a national treasure and I've never learned as much about historical figures while being so entertained as I have in It Ended Badly.
Final Thoughts: Even though it was sometimes difficult to keep up with the tsunami-wave of historical facts in every sentence, the author's commentary and humor made It Ended Badly an enjoyable read, regardless of the reader's relationship status.


A review copy of this title was provided by the publisher via NetGalley in exchange for a fair and honest review.