Portland has quickly become known for a number of things over the past ten years. Being weird, amazing craft brew, and Voodoo donuts are only a small sampling of what Portland, Oregon has to offer both locals and tourists alike. It has also become a bustling comic book scene, with multiple artists and writers for big time publishers choosing to call Portland home. Not only does it now house two comic book conventions, Rose City Comic Con and Wizard World: Portland, but it has a bustling comic book store scene. Thanks to friend of the blog, Justin Zimmerman, I got a chance to experience a small sample of what the PDX comic scene has to offer.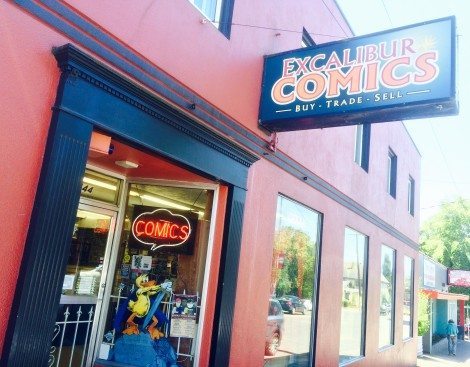 Excalibur Comics
The first stop on this amazing comic quest was none other than Excalibur Comics, located in Southeast Portland. Walking in felt like home as I was greeted with tables as far as the eye could see full of boxes with back issues of more comics than I would know what to do with. The walls were also lined with bookcases filled to the brim with newer issues, and the store was easy to navigate in order to locate exactly what I wanted. I picked up some interesting new comics and had a chance to meet one of the owners, Debbie, who was extremely hospitable and cheerfully greeted everyone who came into the store. The best part? They're community minded, and recently donated a ton of comics to a local food bank to hand out to kids free of charge.
From Excalibur, I picked up Descender issues #2 and #3, Airboy #1 per Justin's suggestion, and Sons of the Devil issue #1. You can check out Excalibur Comic's on Twitter, Facebook, or in person at 2444 SE Hawthorne Blvd, Portland, OR 97214.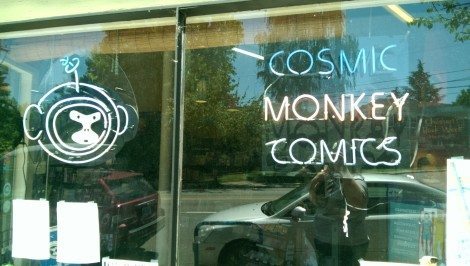 Cosmic Monkey Comics
Excalibur was homey, but Cosmic Monkey Comics was overwhelming because of the vast selection of stuff. While Excalibur focused on solely comics, Cosmic Monkey offered a variety of products. Though the emphasis was still very much on the comic books themselves, there were also a number of other pop culture related books and merchandise for sale. Everything was well organized, and outside of the shelves upon shelves of newly released issues, there was an entire back room filled to the brim with back issues. The location was unbeatable, and the staff were friendly and informative. I was able to fill in some of the holes and cross off a few comics on my list that I hadn't been able to find at Excalibur and was all around a happy camper.
From Cosmic Monkey Comics, I picked up Descender issue #1, Marvel Secret Wars issues #0 and #1, and the variant cover of Lantern City issue #1 drawn by my favorite local artist Brett Weldele. You can find more about Cosmic Monkey Comics on Twitter, Facebook, and in person at 5335 NE Sandy Blvd, Portland, OR 97213.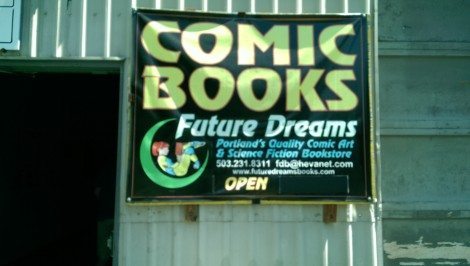 Future Dream Books
The final store we visited in our short tour of Portland comic book shops was probably the weirdest, which meant it fit right into the Portland scene. Future Dream Books is located in the basement of a warehouse type building, and finding it left me wondering if this hadn't been some big plan on Justin's part to lure me somewhere to murder me. Thankfully, it wasn't, and at the bottom of a number of stairs was a space literally overflowing with books. It is not somewhere for the neat freaks, and people who are claustrophobic might have to make their trip pretty quick.
However, the chaos was neatly organized and it became pretty easy to figure out how to locate a certain comic. The vast amount of stuff was unbeatable, and we were able to find anything from comics, to old science fiction paperback novels, to classic toys and other pop culture items that would make any geek melt into a puddle on nostalgia.
From Future Dream Books I picked up The Sandman: Overture Special Edition issues #1 and #2. You can learn more about this quirky little place by checking out their Website, or visiting in person at 1847 E Burnside St, Portland, OR 97214.
Of course, this was only a sampling of the comic book shops Portland has to offer. We focused mostly on the big ones to the East of Downtown Portland. There's no doubt more to come as we venture further into the belly of the comic book beast that is Portland, Oregon.