Synopsis: The curtain closes on the show and for the characters as the series wraps up (or does it) in the finale.
Rating: ★★☆☆☆
I'm really, really, really uncomfortable and that's all I can really say right now. I'm also really confused as to how I'm supposed to feel because this episode felt completely disjointed and the end just didn't give me a sense of closure so I'm kind of sitting here in a fog because a part of me is disgusted while another part of me is sympathizing with characters I hated so I'm unhappy about this whole thing. But this wreck of a season is over and I couldn't be more happy about that.
This week's episode had two distinct parts – the end of Dandy and the end of Elsa. While the other characters' stories were finished in some way or another, the two main players were these two and Elsa, of course, was the star of it all.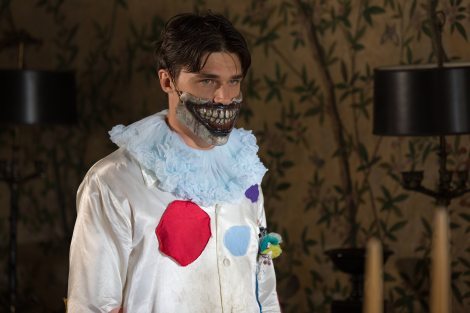 The season finale began where the first episode ended, the freak show with an eager Dandy ready to be a part of it. While Dandy was being his usual controlling self, the other freaks didn't take kindly to the way he was treating them, and had a little revenge of their own by knocking him to the ground and spitting on him. This didn't bode well for them, since the next day Dandy declared it was showtime and went around the camp shooting everyone in his wake point blank. And when I say everyone, I really mean everyone. Desiree manages to hide herself and Eve ends up being killed while going after Dandy, but he manages to kill them all off in an incredibly violent massacre that was unsettling to watch on the screen.
But wait, he doesn't kill everyone. Bette and Dot are tied up in their tent, and when we next see them they're walking down the aisle, Dandy crying tears of joy as he sees his bride (Bette) and her sister together. After they exchanged rings and vows he begins to talk about how he cannot wait to consummate the marriage and how he hopes that Dot will "join in" from time to time, unless she wants to see him when she insults his manhood. It was a disgusting scene but I wasn't ready for what transpired after. As they sit at the table and Dandy begins to talk about all of their plans for the future and how they'll have so many "freak babies," he starts to feel ill, and that's when he realizes that the twin's newly hired chef and butler (Desiree and Jimmy who escaped with their lives) have poisoned him. As he goes after them he blacks out, and wakes up naked in a glass tank. You see, if he wants to be the star, why not give him a great chance to perform? Chained and naked, Desiree, Jimmy, Dot, and Bette taunt Dandy with how he's the biggest freak of all, or how they never really loved him before turning on the water and sitting back and watching the show unfold. I'm not going to lie, I wasn't feeling bad for Dandy (except for the fact that his initially awesome storyline turned to nothing the last third of the season), but man Finn Wittrock is damn good actor and watching this pathetic child squirm and throw a temper tantrum as he drowned was fascinating. Uncomfortable, but fascinating.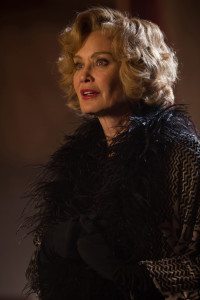 The rest of the episode focused on the fate of Elsa after she ended up in Hollywood. As was predicted a few episodes back, Elsa did make it big, with the help of her manager /husband (David Burtka in his over hyped guest spot). Somehow Elsa made it big as a variety show performer, even getting to the point that she earned a Star on the Hollywood Walk of Fame, had three gold records, and was essentially America's darling of television. It seemed that she had everything she could have ever wanted, but something was haunting her.
You see, after eight years (a time jump that left me confused as to how old Elsa is supposed to be) she's grown tired of her husband that she demeans and uses some of her old tricks on, she demands more from those around her, and she still does not know love. After all this time she finally meets back up with Massimo where she asks him to run away with her so that they could love and live their lives together, but he has heartbreaking news for her – he's come to say goodbye. He has cancer and has less than a month to live, but he wanted to see her one last time before he left this world.
Drunk and home alone, her husband comes in with the president of their studio and things take a horrible turn. All this time they've been demanding that Elsa perform a Halloween show, but for some reason she just refuses to do that. She thinks they've come to berate her about that again, but things are different – her old videos (including the one where she lost her legs) have been discovered and a reporter plans on releasing the finds. They've also discovered another curious fact – she used to run a freak show in Jupiter, FL where all of the freaks were found dead right after she left. After eight years Elsa finally learns the fate of the crew and breaks down, deciding that she will perform on Halloween.
And perform she does. We get one more song number, but during this time we see Desiree and her lover of one episode walk by with two young children, showing that Desiree became the mother she always wanted. Another baby is on the way though with Jimmy and Dot, who have settled down comfortably with Bette and the three (soon to be four!) are living happily together. As Elsa performs, the fog rolls in too early, and Mordrake returns with Twisty in tow, ready to cast judgement. While she's deemed worthy to die, she doesn't belong with them, and wakes up in a whole new place.
The old freak show. Where Suzy, and Paul and Peggy (now married), and Eve are setting up for a show and Ma Petite is so happy to see her friend and Ethel is standing there and chastising Elsa for being late. While last season Fiona was sentenced to a lifetime in Hell with the Axeman, here she's sentenced to a lifetime of bliss and full houses for their performances every night for the show. As Ethel says before the show begins and Elsa receives the fame she's desired the entire time, "Stars never really pay."
As a whole this didn't feel like an ending. Heck, this was lazy writing through and through and after giving it some time to sink it it just wasn't satisfying. I'm still not sure what the plot was, what the theme was supposed to be, and just in general if I'm supposed to care for any of these character's ends. Let's hope that next time they go in with a solid plot and don't add characters, drop characters, change story lines, add in fake twists, and just write a series with a plot that actually works because man was I disappointed by this entire season and by this waste of a finale. A happy ending for Jessica Lange's final moments on the show, but a kick in the gut to viewers.