We don't talk often about music here at Nerdophiles, but many of us are big music lovers. 2014 was filled with albums, singles, and bright new stars reaching the top with their hits. Of course, it isn't up to us to pick out the top hits of the year, instead our staff wanted to share with you just some of our personal favorite albums, concerts, and songs of 2014.
Hot Dreams by Timber Timbre
Timber Timbre blew me away with their previous album Creep on Creepin' On with its soulful, eery, haunting tunes; it had me adamantly waiting for their next installment Hot Dreams. While it departed from that certain dark rhythm that its predecessor had Hot Dreams threw Timber Timbre's tone back in time with the sound of synthesizers and slow curling rhythms. It feels like you're being lead through a dream set in an 80's movie. It holds the same dissonance that Timber Timbre seems to pull off so well all the well keeping in line with that retro vintage feel. Favorites include "Hot Dreams", "Run From Me", "This Low Commotion".  — Picked by Therese
---
1989 by Taylor Swift
When I heard that Taylor Swift was releasing a pop album, I was fairly skeptical. That being said, when the entire album dropped, I realized how well it fit together as a cohesive tracklist. This album is special because each song focuses in on a particular feeling – for example, "Style" has a retro, upbeat teen invincibility flavor to it, while "Out of the Woods" is pretty much a literal snapshot of the euphoria and anxiety of an uncertain relationship [or my senior year of college].  If anyone's here to take you through the highs and the lows of an emotion, or you need the perfect soundtrack for a memory, look to Taylor. Haters may hate, but this sound is so different than her previous work that if you weren't a fan in the past, Taylor Swift's 1989 could definitely change your mind.— Picked by Elise Kulik

---
Transgender Dysphoria Blues by Against Me!
I got into Against Me! after lead singer Laura Jane Grace came out as a transwoman in a Rolling Stone interview. The narrative of the band's music works better that way with all of Grace's hints. However, in Transgender Dysphoria Blues, the first album the band has released since Grace came out, she's holding nothing back. The truth of everything going on in her head, especially in the title track, 'Osama Bin Ladin as the Crucified Christ,' and 'Fuckmylife666,' is brutal and raw. Even though I'm not transgender and I don't think I could ever truly understand what that means, I still found myself crying while listening to this record on full volume. Perhaps it is the fact that loneliness and depression are universal, but mostly because it takes a lot to be so honest with the entire world. Especially about things they can't begin to understand.  — Picked by Ashley 
---
Forever by Mystery Skulls
Mystery Skulls has been one of those artists that I've been following for a few years now and I can't stop raving about this album. Luis Dubuc, the man behind the mystery, has been on the scene for awhile, but with Forever as his first studio release under this moniker, he's finally about to make it big. If you're on Tumblr, you might have seen his now famous animated music video from "Ghost," which has inspired countless cosplay and fan art. Make sure you listen to the tilte track "Forever" and rock out with Nile Rodgers and Brandy on "Magic" and "Number 1" – guarantee they get you dancing. Released on October 27th by Warner Bros Records, he's about to embark on a 2015 tour and that's a ticket I urge you to buy – he knows how to keep a crowd going. — Picked by Kathryn
---
Here and Nowhere Else by Cloud Nothings
 While Cloud Nothing's fantastic 2012 album Attack on Memory took more of an experimental focus, this time they returned to more straightforward chorus-verse songwriting, and thus they created some of the most instantly enjoyable and simultaneously deep songs that the emo genre has seen probably since The Devil and God Are Raging Inside Me. Every decision pays off – the mixing that has the drums just as loud as the vocals, the careful use of changing tempos on "Now Here In," the blunt honesty of "I'm Not Part Of Me," the way that "Psychic Trauma" slowly becomes more deranged and intense, Dylan Baldi's pointedly screeching vocals on "No Thoughts" – and every song would be the best song on a lesser album. Together, they make up the most memorable and potent album of 2014. — Picked by Steve
---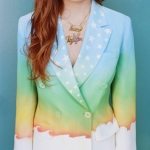 The Voyager by Jenny Lewis
You may know Jenny Lewis as the former frontwoman for Rilo Kiley, a member of The Postal Service, or possibly as the child actress in that Fred Savage movie about the Nintendo Power Glove. If you don't know her, The Voyager is a good place to start. It's a breakup album (with a lover and with a band) that works through some deep emotions. Lewis sings with an honesty and observational wit that seems to come naturally to the singer-songwriter. But the album is not just about leaving a boy or a band, it is about accepting the past and moving forward. It is a musical catharsis. It's been 6 years since Lewis' last solo album, but The Voyager was well worth the wait. — Picked by Song
---
Monumentour with Fall Out Boy and Paramore
If there was an emo event of the century, this would probably be it. The long awaited co-headlining tour between the two band needed to be a spectacle and oh my god, it was. With Fall Out Boy's kinetic screens and Patrick owning the stage like no one's business and the infectious energy of the openers, New Politics, it was hard not to be constantly hyped during the show. The biggest surprise for me though was just how much fun Paramore was. I have never been a huge Paramore fan, but Haley Williams was so bubbly and colorful, it was hard not to fall in love with her infectious energy. Mixed with the high energy Atlanta crowd, this was easily my favorite show all year. (And yeah, that includes that time Professor Shyguy pushed me over and Butch Walker playing in my childhood theater.) — Picked by Ashley
---
Run The Jewels 2 by Run The Jewels
Killer Mike and El-P's debut album as a duo, Run the Jewels, was already one of the best hip hop albums of 2013; the new sequel takes everything about the first one and does it even better. While El-P's intricate lyrics seemed somewhat off-balance with Killer Mike's more in-your-face approach, this time they're unquestionably on the same level on every song. While El-P's production was already sophisticated and unique on the first one, this time he's significantly upped his game and delivered his most uproarious and memorable music yet on tracks like "Blockbuster Night Pt. 1" and "Lie, Cheat, Steal." And while the two stuck mostly to braggadocios hardcore rapping on the first release, this time they delve into much more intense and original topics on tracks like "Crown" and "Early." All this and it's free to download on their website? — Picked by Steve
---
The Neutral Milk Hotel reunion tour
Seeing Neutral Milk Hotel live felt like traveling through time. I'd always thought of them as a relic of the past, and like The Velvet Underground, Nirvana or any number of others, it was impossible that I'd ever see them live. But this April in the Rialto Theater in Tucson, the last non-festival stop on their reunion, it was like they'd never left. The band delivered an amazingly energetic and tight setlist that spanned the entirety of their classic album In The Aeroplane Over The Sea, as well as lesser-known classics like "Song Against Sex" and "Engine." But concerts are a two-way conversation, and the crowd made this one of the best shows I've ever seen. There wasn't a single person in the theater who didn't love the band to death, so whether that meant a spontaneous dance party during "Holland, 1945" or a mesmerizing sing-along to "Two-Headed Boy," the environment was one of unbelievable love and passion. — Picked by Steve
---
Just One Of The Guys by Jenny Lewis
[youtube http://www.youtube.com/watch?v=Irvcf6dCk-k]
In another universe Jenny Lewis, Anne Hathaway, Brie Larson, and Kristen Stewart might make up the coolest band ever. This is probably the closest we'll ever get to that. Here, the girls try to be just one of the guys, complete with some sweet facial hair and dope Adidas track suits. — Picked by Song
---
7/11 by Beyonce
[youtube http://www.youtube.com/watch?v=k4YRWT_Aldo]
In a departure from her elaborate and highly produced music videos, the seemingly self-shot 7/11 video is a pleasant surprise. Queen B shows she and her friends have fun just like the rest of us commoners: dancing in underwear and making goofy internet videos. — Picked by Song
---
Blank Space by Taylor Swift
[youtube http://www.youtube.com/watch?v=e-ORhEE9VVg]
Taylor Swift goes full-on Gone Girl and proves she has a pretty good sense of humor about what the press thinks of her. Haters gonna hate (hate hate hate hate), after all. — Picked by Song
---
Telegraph Ave ("Oakland" by Lloyd) by Childish Gambino
[youtube http://www.youtube.com/watch?v=p3f-eDzkxcw]
While everyone has been naming Childish Gambino's Sweatpants video one of the year's best (as they should, its great), Telegraph Ave deserves some recognition too. It's one of the most cinematic music videos in a long time, the shot transition at the :47 mark is just beautiful. Filmed on the Hawaiian island of Kauai, the whole video is gorgeous. The twist at the very end will have you rewatching, and reexamining, everything about it. — Picked by Song
---
Uptown Funk by Marc Ronson feat. Bruno Mars
A latecomer in terms of pop songs for the year, I would not be surprised if this song blows up in 2015. In the 30th anniversary of the classic Purple Rain, how appropriate is it that Mars is channelling his inner Morris Day in a track that sounds like it would have felt right at home on Ice Cream Castles? The video is also entertaining as hell with a total 80s "Recall to the 60s" vibe, but it was the live performances on SNL and The Voice that really drove this song home. If Jack "Don't Thank Janelle Monae" Antonoff is trying to bring back New Wave with Bleachers, I say let Mars and Ronson bring back Minneapolis Sound. — Picked by Ashley
---
Secrets by Mary Lambert
[youtube http://www.youtube.com/watch?v=cqqqV50zaAc]
This is probably my all time favorite song released this year. I had no idea who Mary Lambert was, but when this song came on the radio as I was cruising along Interstate 5 I knew I had to investigate it further. Later that evening I bought my own copy off of iTunes and have never looked back. It is one of my favorite songs because it sends out a message of freedom. We're all messed up, we all have our quirks, our hardships, and those things we don't like about ourselves. Instead of hiding them, though, Mary Lambert encourages people to be open about what they're going through because we shouldn't care what other people think. We shouldn't live our lives in the shadows out of fear of being discovered. It is an uplifting song with a great beat and I love it.  — Picked by Katie
---
Fancy by Iggy Azalea
[youtube=https://www.youtube.com/watch?v=O-zpOMYRi0w]
How can I let this song go without giving it just a little shoutout (not that it needs it). Despite all of the hate, drama, and bad press Iggy seems to be getting lately, I couldn't get enough of this song. I loved the electronic bop of the beat and Charli XCX's collaboration with Iggy, but even more than that, I loved the homage to Clueless. Seeing Iggy in Cher's classic yellow tartan schoolgirl suit was enough to claim love at first sight, let's not even talk about that freeway scene. I think we can all agree "Fancy" might be a little overplayed on the radio stations, but I can't help loving it sometimes. — Picked by Therese
We must have missed more than a few good additions! Your turn, what would you choose as your favorites of this year?