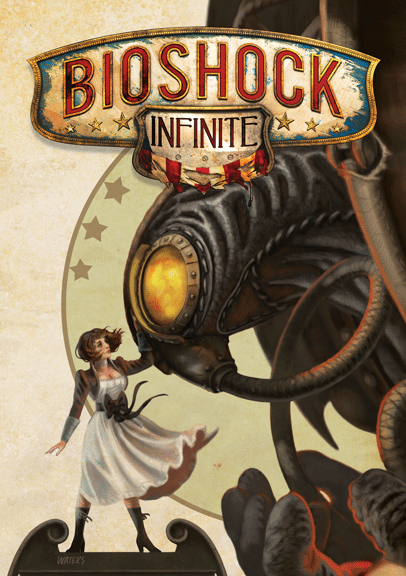 I think we can all pretty much agree that BioShock: Infinite is an absolutely gorgeous game. The environment is bright, colorful, dynamic and engaging. The character designs are absolutely perfect for the alternate history setting. Every area works together to paint a seamless portrait of a crazy, floating dystopia built on the long corrupted American Dream. To put it simply, there are some games that prove all the haters wrong. They are in fact a phenomenal art form. BioShock: Infinite proves that better than most.
Now, me? I'm pretty much into games for the story. I can put up with shoddy graphics if I have to in order to pick up what could be a phenomenal plot. Thankfully, BioShock: Infinite doesn't ask me to do that. But I say that because I'm not the sort that usually picks up artbooks and puts a whole lot of thought into the creative process that goes into designing games. I appreciate the effort and I love good looking games as much as anyone else. The Art of BioShock Infinite, though, is an artbook I'm glad I didn't pass over. I got a chance to check out an advanced digital copy of the book and it's just as goddamn gorgeous as the game.
Full of sketches, raw drawings, and finely inked illustrations, the book walks you through just how the designers created the world of Columbia. You'll see various different evolving models for different enemies and in-game characters. There are also chapters for the individual characters. You'll see different concept art for Elizabeth and Booker and how they finalized those characters, their attire, etc. The best chapter of the book? The one that's dedicated to all of the posters and propaganda strewn throughout the game. I thought it was cool, anyway. And the chapter dedicated to painted scenes of Columbia is really worth the price of the book itself.
If you're a BioShock fan and/or you collect artbooks like this one, it's certainly one to check out. I wouldn't pass it up, at least. I mean, I don't really buy artbooks ever but if they are all as cool as this one I might need to consider it. Maybe one day when I'm a super wealthy lawyer… Haha, as if that will ever happen. But seriously. I wish I could rip some of the pages and post them up here for you guys to see because it really is a cool little artbook.
The book goes on sale April 9th so if you want to add to your BioShock collection get on it!