When Star Wars: The Force Awakens first began its promotional campaign and glimpses of the main character were revealed, my heart stopped. Don't get me wrong, I love Princess Leia. I loved watching her, in the original trilogy, "run with the boys" so to speak. She not only kept up with them but surpassed them in so many ways. She was a wonderful character. Yet I didn't feel a great attachment to her. To be fair, I didn't have anyone in the movies who really struck a chord with me. Of course it didn't lessen my enjoyment of the original trilogy by any means, it just meant I didn't feel as passionately connected to the Star Wars universe.
Yet The Force Awakens offered me a new chance to connect with a character, and I was both in awe and concerned. My doubts grew about her as the early campaign marched on and she became lost in the marketing. All the toys were of the male characters, new and old. I couldn't, for the life of me, walk into any store and find a decent looking Rey action figure. I began to wonder if Rey, as originally promised, would actually be the main lead. Would she get buried beneath the story lines of the other characters around her? Had JJ Abrams and the crew played a bait and switch, claiming she was the star when in reality they would pass off the role to someone else?
Then the rapidly released TV spots leading up to opening night assuaged my fears. All I could do was wait anxiously and wonder what it would be like to meet this character. The reboot alone was exciting, but there was something about a young female taking the lead, being in the middle of it all, that called out to me. It was a story I wanted so badly to be everything it was promised to be because it was the story I'd wanted as a child and failed to receive time and time again.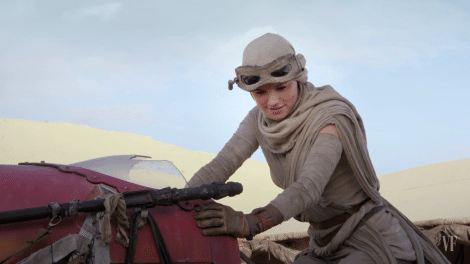 Opening night I sat on the edge of my seat as I watched the Star Wars universe once again unfold on the big screen, and I grinned like a fool when we finally met Rey. She was the hero we all needed, and Star Wars: The Force Awakens did right by her.
First, Rey was autonomous. Her strength surpassed Luke's in so many ways because her situation required it of her. After having been left on a desert planet as a child of no more than eight, she had to learn the harsh realities of life quickly. Not only did she learn them, she excelled at them. She figured out her place in the world and learned how to survive in the midst of an existence which set her up for failure. Unlike Luke, who at least had extended family, she had no one except herself and, instead of becoming closed off and bitter (like so many female characters end up portrayed), she just became her own person.
When Finn came on the scene, he tried time and time again to rescue her and she tossed his attempts aside. Not because she was mean, or unappreciative of his efforts, but simply because she didn't need it. If anything, his attempts were actually slowing her down. Lawrence Kasden and JJ Abrams, as writers, made it clear from the very start that Rey was not the princess in distress. She was not sitting in a castle guarded by dragons waiting for her prince to rescue her. Instead, she was a capable, independent, and strong young woman who could take the punches as they came and could think quickly on her feet.
She could outpace, literally and figuratively, any of the male characters pursuing her.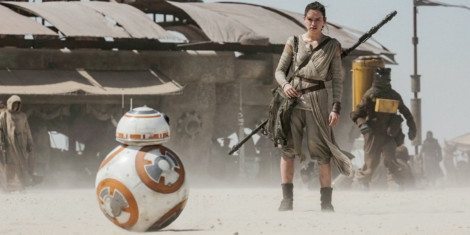 That leads me to the second point about Rey, which is the fact she got to experience the hero's journey. Kasden and Abrams didn't feel the need to reinvent the wheel with The Force Awakens. Instead, they used a very standard story format to take Rey through a journey that is usually offered up to male characters. If there was any question about whether or not she was really at the center of it all, it was extinguished the moment she rejected the hero's call. All of the actions leading up to that moment, where she rejected the lightsaber's call and ran away from her destiny, could have been explained away by other character roles. Yet what happened next in the movie cemented her as the epic hero the whole story revolved around.
It was empowering to watch her, and to see my own story within hers. I can understand why so many people loved Luke in the original trilogy. I finally got it, watching the story of a hero made for me play out on the screen.
The final point, and perhaps the most important one that makes her the hero we needed, was the simple fact that she was real. There was no pressure from her or other forces to be anything or anyone other than who she was. Even when she realized she could use the force, and saw the shock in Kylo Ren's face when she saw into his mind just as he saw into hers, she never lost who she was. She continued to be the same person she was when she was scavenging on the desert planet where she'd been abandoned. There was no major transformation or a call for her to be anyone other than who she was. She didn't have expectations to meet except the ones she chose to meet on her own terms.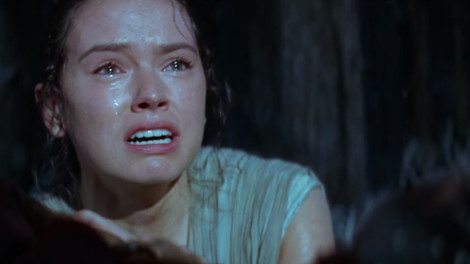 Rey remained authentic and true to herself throughout the entirety of the movie. Her reactions to the events around her were organic. There were no over-the-top emotional reactions. There was no need for her to become perfect at whatever she was doing. Instead, Kasden and Abrams maintained a very real character whose primary identity never faltered throughout the film. That kind of consistency in a hero was refreshing. In the same way, she was still allowed her touching moments, or her need to rely on the supporting cast around her, without it taking away from her hero status.
She could be a hero just as she was, which is a powerful message for anyone watching the movie. We don't have to have super powers, or meet certain criteria, or think a certain way in order to become heroes in our lives. Instead, we can be like Rey. We can become heroes simply through accepting our circumstances and learning how to roll with the punches while never losing sight of the importance of those around us.
In the end, Star Wars: The Force Awakens didn't just offer the audience a strong and relatable female hero, but a greater example of the importance of relationships and social connections. The best part about Rey was not that she was the only character, but that she had the supports she needed to become the hero. Without Finn's antics, she would not have had the chance to defy the expectations of those around her. She also would not have been able to experience friendship and connection, which is what the light side of the Force is all about. Without Han Solos' gruff guidance and recognition of her abilities, she may not have had the confidence to finally face down Kylo Ren and accept her destiny. Without BB-8, she may have never left her scavenging life.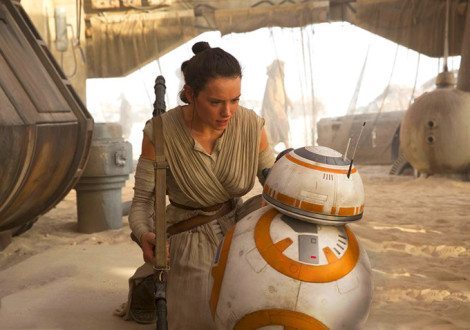 Rey was the hero we needed not only because of who she became as a character, but because of what she showed the audience. Even heroes need support, and it is those around each and every one of us who inspire us to be better versions of ourselves. That's what Rey ultimately was as a hero: the best version of herself she could be, shaped by the events and people in her life.
I'm excited to see where Episode VIII will take her.